Calendar of events for the Andlinger Center for Energy and the Environment
Distinguished Postdoctoral Fellow Seminar Series – Summer 2020
Distinguished Postdoctoral Fellows collaborate with Princeton faculty and/or senior researchers within an energy or environment-related field to articulate an interdisciplinary research plan that is aligned with the mission of the Andlinger Center. Every week, starting on June 24, a Distinguished Postdoctoral Fellow will hold a public seminar to talk about his/her research and to answer questions from the academic community and prospective postdocs.
Algorithm-assisted design: supporting integrative design in the built environment
Algorithm-Assisted Design: Supporting Integrative Design in the Built Environment

 

Abstract
It has been estimated that by the year 2050, 64-69% of the world population will reside in urban areas. Urbanisation has been associated with an increase in energy usage. It is widely accepted that a well-designed built environment can mitigate this increase in energy usage. This requires designers (architects, landscape, and urban designers) to focus on assessing the environmental impacts of their designs when historically, they have been primarily focused on addressing social and political issues. To address the environmental issues associated with rapid urbanisation, designers will have to collaborate with engineers and scientists. However, designers, engineers and scientists lack a common ground for the exchange of knowledge because of the difference in their education and training. I propose the adoption of an algorithm-assisted design process to bridge the knowledge gap, where routine tasks are identified and performed automatically by algorithms, so that designers have more time to perform creative tasks. For example, by automatically visualising domain-specific data on a common platform, designers, engineers and scientists can spend more time interpreting the results for design than on data processing.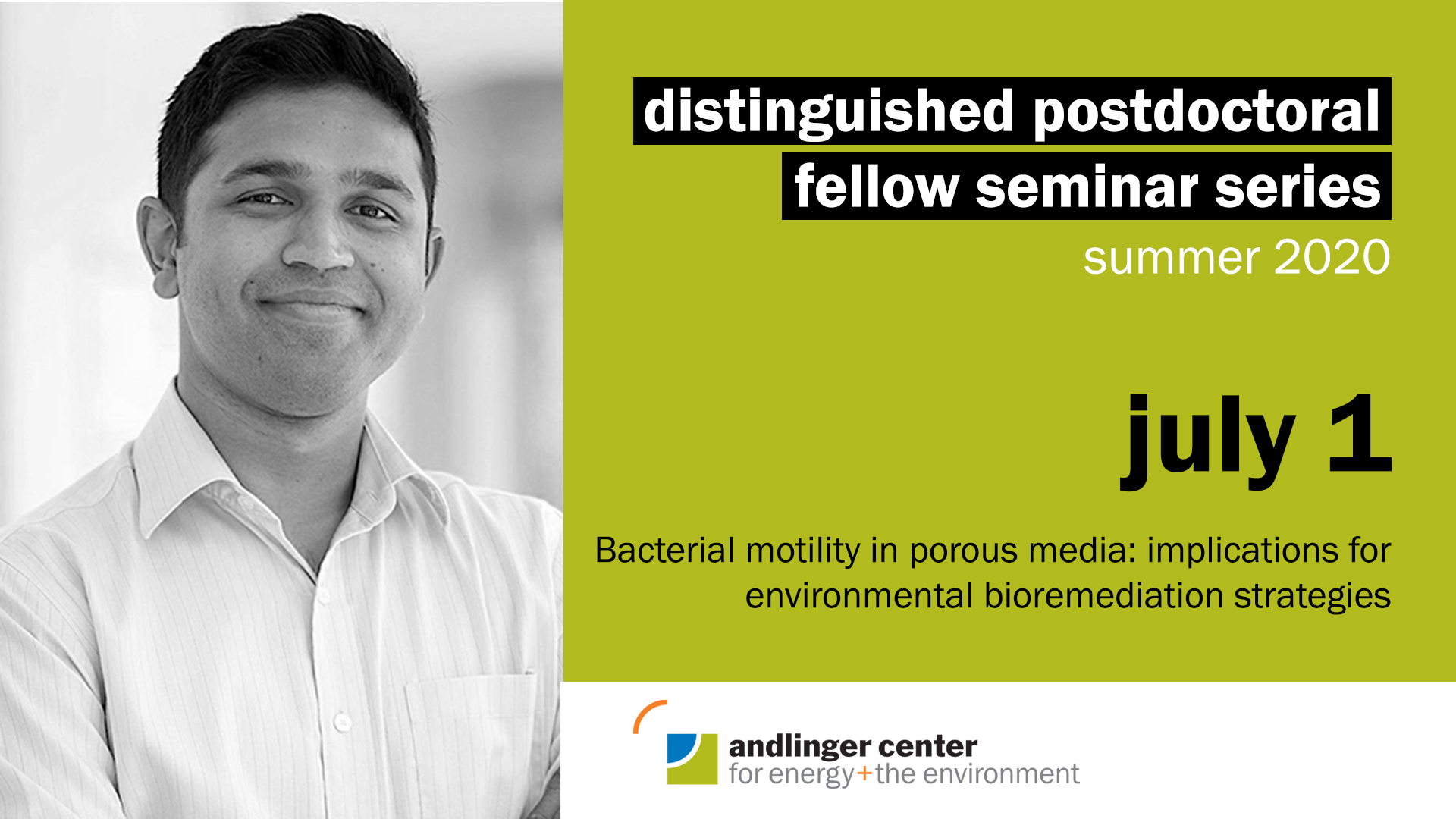 Bacterial motility in porous media: implications for environmental bioremediation strategies
Bacterial motility in porous media: implications for environmental bioremediation strategies

 

Abstract
While bacterial motility is well-studied on flat surfaces or in unconfined liquid media, in environment and energy applications, most bacteria are found in disordered porous media, such as soils, sediments, and subsurface formations. Understanding how porous confinement alters bacterial motility is therefore critical to processes ranging from fouling of oil reservoirs, sustaining plant growth, and remediating contaminants in soil. To address these problems, we have designed transparent porous media that enable direct visualization of bacteria in situ. Using this platform, first, we interrogate the migration of E. coli bacteria through the 3D pore space. Direct visualization enables us to reveal a new mode of hopping and trapping motility exhibited by individual cells, in stark contrast to the paradigm of run-and-tumble motility, in which cells are intermittently and transiently trapped as they navigate the pore space. Further, analysis of these hopping and trapping dynamics enables prediction of single-cell transport over large length and time scales. Second, we use 3D bioprinting to embed dense colonies of E. coli inside porous medium and investigate how bacterial hopping and trapping motility manifests in multicellular communities. We find that cellular chemotaxis drives collective migration and that this process depends sensitively on pore-scale confinement, colony density, and differential metabolism of nutrients. Finally, we focus on design strategies of synthetic porous media which enable us to bioprint and grow precisely structured bacterial biofilms—a powerful tool to create artificial biofilms for water remediation. Together, these studies highlight how this transparent porous medium provides a powerful platform to design and interrogate bacterial communities at their natural habitat—with implications for bioremediation and purifying contaminated water.
Disaster resilience of distributed energy resources to earthquakes and hurricanes
Disaster Resilience of Distributed Energy Resources to Earthquakes and Hurricanes

 

Abstract
Distributed energy resources (DERs) are expected to increase the resilience of power systems to natural disasters by introducing multiple power-generation and-storage units close to the users. This presentation will show the findings of evaluating the increase in post-disaster power accessibility spurred by the rapid adoption of DERs after earthquakes and hurricanes. First, I will present a methodology that quantifies the power-generation performance of microgrid clusters and households with rooftop solar panels after earthquakes. Our assessment leveraged a novel high-resolution dataset on the current household adoption of solar panels, estimated using computer vision and satellite imagery. The methodology is applied to San Carlos, California, to demonstrate how the deployment of microgrids can increase its earthquake resilience. Second, I will present a methodology to quantify the power generation of solar panels during and after hurricanes. Exposed to high wind conditions and lower solar irradiance levels, solar panels can drastically reduce their capacity to generate energy. Our methodology combines hurricane hazard and vulnerability assessments with a proposed model to track irradiance decay during hurricanes. Our methodology is applied to the entire EastCoast of the United States to highlight hotspots where solar generation is at the highest risk.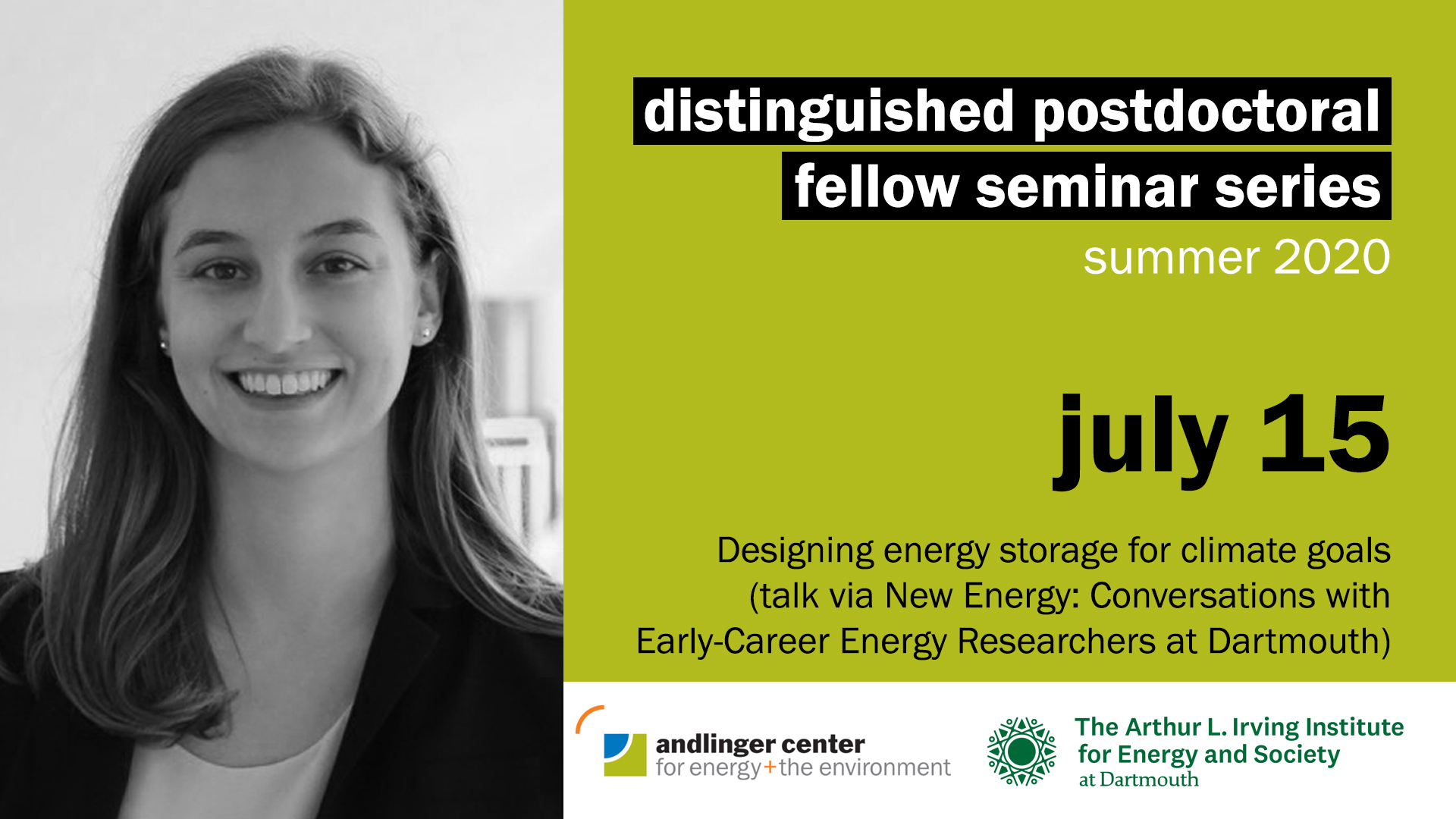 Designing energy storage for climate goals