May 21, 2019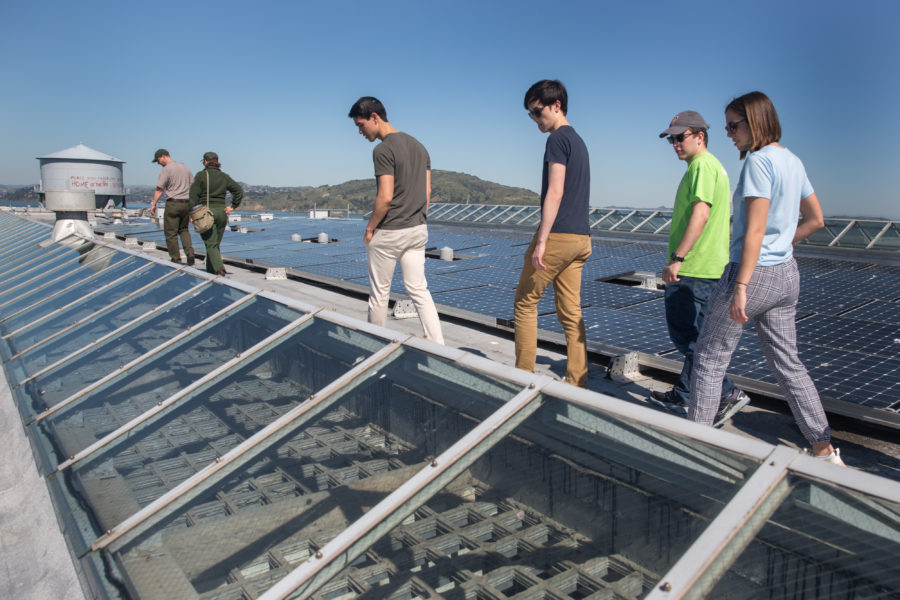 By Molly A. Seltzer
On Alcatraz Island, five students from Princeton University peered across the San Francisco skyline from a solar rooftop. Their visit to the historic prison's electricity microgrid was one stop on a spring break trip to see emerging energy technologies, part of a new course on energy innovation and entrepreneurship.
"Before this class I didn't even know what the energy sector looked like," said Diego Fierros, a senior studying mechanical and aerospace engineering. "It was a giant engineering conglomerate."
The trip took students to the front lines of Silicon Valley, from startups and incubators to multi-million-dollar solar and battery companies, including Tesla and SunRun, to see up close how entrepreneurs are commercializing new energy technologies.
On Alcatraz, the students saw the microgrid that powers the island, composed of solar panels and batteries. The ability to use solar energy to support most of the island's operations, despite periodic cloudiness and nightly darkness, reflects decades of improvements in battery cost and technology, said Darren Hammell, the president and CEO of Princeton Power Systems. Hammell is teaching the course as part of his tenure as a Gerhard R. Andlinger Visiting Fellow in Energy and the Environment.
Hammell had behind the scenes access to the Alcatraz power systems because his company built and deployed the island's microgrid. He founded Princeton Power Systems as an undergraduate at Princeton in 2001 and developed the course this year to bring a business and entrepreneurship perspective to students studying energy technologies.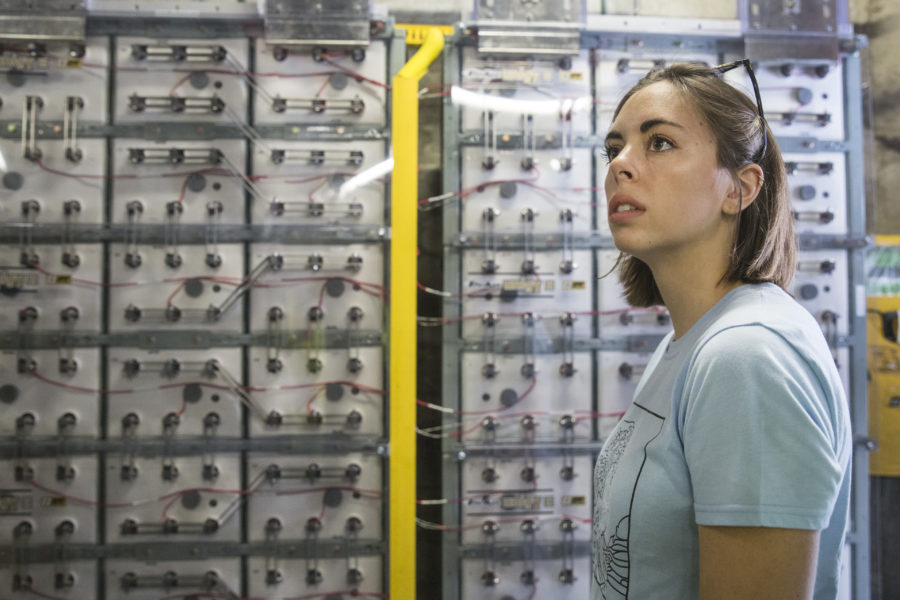 "It's important for students to understand not just the engineering aspects of energy projects and technologies, but the policy and economic context," said Hammell, who will teach the course again in the fall. "They need to be able to assess potential applications, markets and customers, and how a new innovation might be positioned within the existing industry."
The class centered on companies that build and deploy hardware. According to Hammell, it is especially important for young innovators to gain this perspective because hardware development often comes with long lead times and high upfront capital costs, which can be significant barriers to effectively commercializing useful technologies.
Through case studies on existing companies and via collaborative discussions and presentations on company business models, the students learned many factors that affect how a technology is scaled up. The trip allowed students to use that knowledge in conversations with company executives.
"We were able to ask them questions about why they made certain decisions," said Erin Redding, a senior in the Woodrow Wilson School of Public and International Affairs. "That was really cool to be able to go from a class project to actually applying that knowledge in conversations with a CEO of a startup."
Redding said that meeting people at the companies showed her different ways to enter the energy field, which had been a challenging question for her as a non-engineer. She said the course and trip catered to a range of majors because of the variety of companies discussed and people met, from a senior member of an engineering team at Tesla to an alumnus who heads energy policy at SunRun.
Harry Lord, a junior studying philosophy, said taking an entrepreneurship class in clean tech helped solidify the business lessons.
"It helps you think about how this is going to work after graduation and how to solve some of the issues we're interested in, [such as] sustainable development" said Lord, who is pursuing a certificate in entrepreneurship. "Understanding how these companies operate was my motivation for taking the course, and that's really been satisfied."
The energy studies course, cross-listed with the Keller Center for Innovation in Engineering Education, reflects a key part of the Andlinger Center's mission of developing long-term solutions to energy and environmental challenges, said Yueh-Lin (Lynn) Loo, director of the Andlinger Center for Energy and the Environment, the Theodora D. '78 and William H. Walton III '74 Professor in Engineering and professor of chemical and biological engineering.
"Creating effective solutions is not only an engineering challenge, but one that must integrate business know-how," said Loo, who is a co-founder of the energy technology company .
Fierros added that the course and trip demonstrated the grit, passion, intellect and business knowledge required to build something from the ground up, an understanding that is hard to acquire from conventional engineering courses.
"Energy Innovation and Entrepreneurship," ENE/EGR 259, will be offered again in fall 2019 and is open to students of all majors. It is part of Darren Hammell's two-year tenure as the Gerhard R. Andlinger Visiting Fellow in Energy and the Environment. Read about the experience and research of Andlinger Center Visiting Fellows.