The Distinguished Postdoctoral Fellows program supports outstanding scholars whose research is related to energy and the environment with a focus on innovative technological solutions, smart economic analyses, and/or impactful policy solutions to our most pressing energy and environmental challenges.
Distinguished Postdoctoral Fellows collaborate with Princeton faculty and/or senior researchers within an energy or environment-related field to articulate an interdisciplinary research plan that is aligned with the mission of the Andlinger Center. Applicants are encouraged to develop research plans that establish new collaborative links to or between faculty and researchers.
This program provides a unique opportunity for postdoctoral fellows to develop their careers through independent and interdisciplinary research, while working with one or more research mentors who are experts in their fields, pursue broad inter-disciplinary research combining science, engineering, technology, policy, and social dimensions, and engage in theoretical and/or experimental research, which is either fundamental or applied in nature.
Distinguished Postdoctoral Fellows
Allyson McGaughey
McGaughey received her doctorate in civil and environmental engineering in 2020 from the University of Southern California, where she studied membrane-based water treatment systems for desalination and wastewater reclamation. Her dissertation focused on the role of material properties in performance for membrane distillation, a thermal desalination process that is promising for the reclamation of high-salinity waste streams.
As a Distinguished Postdoctoral Fellow at the Andlinger Center for Energy and the Environment, McGaughey is working with professors Rodney Priestley and Z. Jason Ren to explore advanced polymer materials for water treatment processes, specifically, highly effective antifouling materials that can improve performance and lower energy consumption.
Aniruddh Mohan
Mohan has a Ph.D. in Engineering & Public Policy from Carnegie Mellon University where he studied the technology policy challenges of electric and automated vehicles. His dissertation highlighted the trade-offs between automation and electrification for light vehicles and the societal costs and benefits of electrifying ride-hailing services.
As a Distinguished Postdoctoral Fellow at the Andlinger Center for Energy and the Environment, Mohan studies the role of emerging technologies in transport, electricity, and carbon removal for achieving deep decarbonization, collaborating with Dr. Eric Larson and Professor Jesse Jenkins.
Nusrat Molla

Nusrat Molla is working to understand community-level impacts of clean energy transitions. She will work with Simon Levin, the James S. McDonnell Distinguished University Professor in Ecology and Evolutionary Biology, and Elke Weber, to study how communities relying on extractive industries will be impacted by clean energy transitions. She plans to combine perspectives from the social sciences with a complex systems modeling approach to understand the social and institutional dynamics that underlie community-level outcomes of energy policies and the factors that govern overall community resilience. Molla plans to conduct fieldwork for her research in the coal-mining regions of Appalachia.
Fernando Temprano-Coleto

Temprano-Coleto earned his Ph.D. in Mechanical Engineering in 2021 from the University of California Santa Barbara. His doctoral research focused on the effect of surfactants on the performance of superhydrophobic surfaces, coatings designed to reduce fluid drag and improve the energy efficiency in areas such as maritime transportation or pipeline hydraulics.
As a Distinguished Postdoctoral Fellow at the Andlinger Center for Energy and the Environment, Temprano-Coleto is working with Professors Howard Stone, Sujit Datta, and Z. Jason Ren to develop techniques based on diffusiophoresis for the manipulation of colloids. These methods are targeted towards the characterization of microplastics, as well as their efficient remediation from natural water.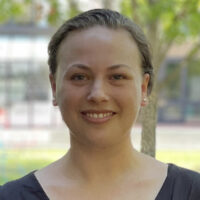 Lara Tomholt

Tomholt holds a Doctor of Design (DDes) degree from Harvard Graduate School of Design. Driven by the need for more energy-efficient building thermoregulation, her research focused on biologically inspired concepts for compliant façades with tunable heat transfer. Her work has the fundamental objective of integrating the fields of science, technology, and design.
As a Distinguished Postdoctoral fellow at the Andlinger Center for Energy and Environment, Tomholt works with professors Reza Moini and Forrest Meggers to explore novel solutions for 3D-printed ceramic systems with energy-efficient heat transfer for building thermoregulation, inspired by architectural design rules of plant leaves.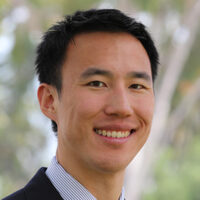 Nathaniel Wei

Nathaniel Wei is working to realize the full potential of wind energy. He will work with Marcus Hultmark, professor of mechanical and aerospace engineering, and Elie Bou-Zeid, professor of civil and environmental engineering, to study how atmospheric dynamics influence wind energy production. He plans to aid in the construction of a state-of-the-art wind tunnel on Princeton's Forrestal Campus to better understand atmospheric surface layer dynamics, which could inform efforts to optimize the power production of wind farms. He also hopes to explore the use of drones to characterize atmospheric flows at scales in between the coarse resolutions of most climate models and the relatively granular resolutions of current experimental techniques, a gap in the scientific literature often referred to as the terra incognita of atmospheric dynamics.
Former postdoctoral and presidential fellows
Ball received her doctorate in chemistry from Columbia University under Professor Colin Nuckolls. Her thesis focused on structure-function relationships between molecular design of organic small molecules and organic electronics. At her time at Columbia, she co-authored over ten publications and was awarded the Presidential Award for Outstanding Teaching for her efforts in the classroom.

Ball joined the Loo Group at Princeton University as a Presidential Postdoctoral Fellow in 2019. Her work in the Loo Group centers on the design of UV absorbers for transparent photovoltaic devices. These devices can be used as the power source for smart windows or for applications where color neutrality is a primary objective.

Tapomoy Bhattacharjee, who earned his doctoral degree in mechanical engineering from the University of Florida in Gainesville, worked on developing ways to design and control bacterial communities at Princeton. Bhattacharjee is developing 3D-printed biofilms to remediate contaminated water. Sujit Datta serves as Bhattacharjee's mentor. Bhattacharjee's work focused on understanding the fundamental mechanisms by which bacterial communities behave, and uses novel fabrication approaches to control and optimize biofilm-mediated remediation. In addition to Professor Datta, Bhattacharjee worked with Professors Peter Jaffé, Howard Stone, and Robert Austin.

In 2012, Bhattacharjee earned a bachelor's degree in chemical engineering from Jadavpur University in Kolkata, India. He then went to University of Florida, where he earned two master degrees in chemical and mechanical engineering in 2014 and 2015, respectively. He earned his doctoral degree in mechanical engineering from the same university.

Caggiano earned her Ph.D. from the Edward J. Bloustein School of Planning and Public Policy at Rutgers University. Her dissertation research, chaired by Drs. Rachael Shwom and Cara Cuite, explored social-behavioral drivers of household resource consumption at the food-energy-water nexus.

As a Distinguished Postdoctoral Fellow at the Andlinger Center for Energy and the Environment, Caggiano is working under the mentorship of professors Elke Weber and Chris Greig to identify pathways for cross-partisan public support for large-scale renewable energy deployment projects in key communities in the U.S. Motivated by ACEE's Rapid Switch research effort and Net-Zero America study, this research contributes to deep decarbonization efforts to mitigate global climate change.

Ceferino earned his doctoral degree in civil and environmental engineering at Stanford University where he studied the effects of large earthquakes on hospital systems in Peru. His thesis focused on the policy implications for emergency planning and how to optimize the flow of patients, caregiving resources, and traffic during disaster emergency responses.

At Princeton University, Ceferino worked with Ning Lin, associate professor of civil and environmental engineering, and Warren Powell, professor of operations research and financial engineering and director of the Program in Engineering and Management Systems. Ceferino's work leveraged Lin's expertise in hurricane and climate change modeling and Powell's expertise in stochastic optimization theory to model power systems during hurricanes, and provided solutions for more resilient infrastructure. He also worked with researchers in the Andlinger Center's Energy Systems Analysis Group. Ceferino joined with the Civil and Urban Engineering Department and the Center for Urban Science and Progress at NYU in 2021.

Rebecca Ciez, who earned her doctoral degree in engineering and public policy from Carnegie Mellon University, works on electric vehicle transportation and electricity generation technologies at Princeton. Daniel Steingart and Elke Weber are her research mentors.

At the Andlinger Center, she looks at the crucial transition of the electrification of transportation, specifically electric vehicle technology, and electricity generation technologies. On the former, she focuses on the interactions between electric vehicle technology and consumer adoption by developing a model of the state of used electric vehicles at their time of sale, and comparing this model with consumer willingness to pay for different vehicle attributes that would justify battery replacement between owners. For the latter, Ciez looks at design choices, operating methods, and how use requirements work together in solar energy generation and storage systems. The output of this research will be useful for informing future research directions and development of new energy storage technologies.

Kian Wee Chen, who earned his doctoral degree in architecture and buildings systems at ETH Zurich in Switzerland, works on sustainable buildings with concentrations in sustainable design and computational design tools. At Princeton, Chen is developing advanced digital tools to create more energy-efficient built environments. Forrest Meggers serves as Chen's mentor. Chen engages with Professors Mark Zondlo, Elie Bou-Zeid, Niraj Jha, and Naveen Verma in his work.

Chen's research specifically looks at sensors, computational algorithms, digital fabrication, and virtual and augmented reality technologies. User-friendly versions of these tools and processes can help designers create and measure prototypes for a more energy-efficient built environment, instead of focusing on technical troubleshooting. Chen hopes to help designers gain better access to advanced building technologies and to encourage their application in the design of a holistic energy solution for the built environment.

Christie completed his doctoral degree in environmental engineering at Vanderbilt University, where he worked to advance water treatment and desalination technologies for high-salinity wastewater. His thesis focused on expanding our understanding of membrane distillation through module-scale thermodynamic analysis and elucidation of the causes and effects of inorganic fouling on membrane surfaces.

As a Presidential Postdoctoral Fellow, Christie worked in the WET (Water & Energy Technologies) Lab of Z. Jason Ren, Professor of Civil and Environmental Engineering and the Andlinger Center for Energy and the Environment. Christie's work explored the intersection of membrane separation and crystal nucleation to sustainably recover solid and liquid resources from wastewater streams associated with coal-fired power plants. Additionally, Christie worked under the mentorship of Rodney Priestley, Pomeroy and Betty Perry Smith Professor of Chemical and Biological Engineering.

Euvrard earned a Ph.D. at CEA Grenoble, France, and University Lille I, France, where she studied electrical doping in organic semiconductors. In 2018, she joined the group of David Mitzi at Duke University as a postdoctoral associate where she focused on perovskite materials for photovoltaic applications.

As a Distinguished Postdoctoral Fellow at the Andlinger Center for Energy and the Environment, Euvrard is working with professors Barry Rand and Antoine Kahn to develop Hall and carrier-resolved photo-Hall effect techniques for organic semiconductors. The techniques are a new and powerful tool that holds promise to rapidly characterize materials for use in energy harvesting devices.

Bastien Wild, who earned his doctoral degree in earth science from the University of Strasbourg in France, works on the degradation of silicate materials, such as cements, rock-forming minerals, and glasses at Princeton. These materials have implications for green cements, carbon dioxide sequestration, and nuclear waste storage. He works under the mentorship of Ian Bourg and Claire White. Wild will also work with Professor Howard Stone.

As a postdoctoral fellow, Wild will focus on the mechanisms underlying the alteration of silicate materials, including minerals, glasses, and cements. In particular, silicate alteration rates have important implications for the long-term carbon cycle, the durability of urban infrastructure, and the feasibility of several low-carbon energy technologies, including green cements, carbon capture and storage, and radioactive waste storage. Despite extensive research efforts, fundamental controls on the rates of silicate weathering remain incompletely understood. Wild's goal is to test the analogy between transport properties at fluid-silicate interfaces and those prevailing in semi-permeable nanofluidic membranes (a synthetic membrane that will selectively allow certain molecules or ions to pass through) in order to better understand overall silicate weathering processes.

Zheng received his Ph.D. degree in Environmental Engineering in 2020 from the University of California, Berkeley. Before that, he obtained his B.S. degree from Zhejiang University of Technology (China) in 2013, and an M.S. degree in 2015 from the University of Maryland, College Park.

As a Distinguished Postdoctoral Fellow at the Andlinger Center for Energy and the Environment, Zheng focuses on developing novel nanomaterials and technologies for energy-efficient carbon capture and mineralization, collaborating with professors Z. Jason Ren and Claire White.