October 11, 2023
Distinguished Postdoctoral Fellows study social systems and analyze atmospheric dynamics
The Andlinger Center has selected Nusrat Molla and Nathaniel Wei as its newest Distinguished Postdoctoral Fellows, working to understand community-level responses to clean energy transitions and explore atmospheric dynamics to realize the full potential of wind energy, respectively.
Nusrat Molla
Molla will work with Simon Levin and Elke Weber to study how communities relying on extractive industries will participate in and adapt to the clean energy transition. Levin is the James S. McDonnell Distinguished University Professor in Ecology and Evolutionary Biology, and Weber is the Gerhard R. Andlinger Professor in Energy and the Environment and professor of psychology and public affairs.
Molla will combine insights from the social sciences with a complex systems modeling approach to understand the social and institutional dynamics underlying community-level outcomes of energy policies. Molla plans to conduct fieldwork in the coal mining regions of Appalachia to understand how communities envision the clean energy transition and identify the key characteristics of a community or social network that govern its overall resilience to change.
"Sustainability transitions, including energy transitions, are being driven not only by technological or infrastructural change. There are a whole host of interacting factors, such as individual behaviors, systems of governance, and collective action, that play a role in how a community adapts to change," said Molla. "I want to understand what those factors are so that individuals and communities who have traditionally relied on extractive industries like coal can diversify the opportunities available to them."
Molla's research at Princeton will parallel work that she undertook during her Ph.D. at the University of California-Davis, in which she studied water resource management in rural agricultural communities in California's San Joaquin Valley, an arid region increasingly facing water shortages. Molla modeled how the players in the system — from small-scale farmers to industrial agriculture operations — interacted with the policies and institutions that affected their water access. She identified who benefited most from current water governance systems, and who would benefit from a number of proposed alternatives.
Through her work at Princeton, Molla will expand her focus to include the energy sector. She aims to better understand how different types of economic structures and social relationships can lead to widely varied trajectories for communities relying on extractive industries.
"There aren't any laws of physics that will tell us how communities will respond to change," Molla said. "But we can find proxies for a lot of these significant factors in data we can measure. For example, we might find ways to measure the level of social support that people have for each other in these communities to understand whether they will have the resources they need to pick up new skills as their community shifts away from coal."
Molla said that rather than try to optimize the system for one desired policy outcome, as is the goal of many engineering-based models, she instead hopes to provide a more holistic understanding of the feedbacks between individual behavior, societal norms, and collective action around energy transitions. Such an approach can help to identify a greater range of potential policy interventions, especially bottom-up approaches that encourage participation from a wider range of stakeholders. By involving more voices in the stakeholder process, Molla said these approaches might also be better at promoting equity and justice than traditional, top-down policy interventions.
"I'm hopeful that the work I do will not only be useful for policymakers or natural resource managers, but for the people living and working in these communities whose lives and actions will shape — and be shaped by — the energy transition," Molla said.
Nathaniel Wei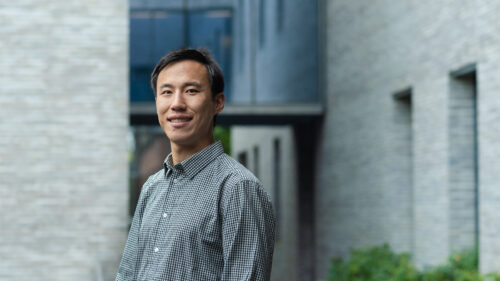 Wei will work with Marcus Hultmark, professor of mechanical and aerospace engineering, and Elie Bou-Zeid, professor of civil and environmental engineering, to study how atmospheric dynamics influence wind energy production.
As a Distinguished Postdoctoral Fellow, Wei will aid in the construction of a wind tunnel on Princeton's Forrestal Campus that, when completed, will enable cutting-edge investigations into atmospheric dynamics. Wei said the fine-tunability of the wind tunnel will allow researchers to study stable boundary layers with unprecedented precision. Stable boundary layers are cool layers of air above the Earth's surface that commonly form over the land at night when ground temperatures drop. By better understanding the dynamics of these layers, researchers can inform efforts to improve the performance of wind turbines at night, when solar panels are no longer producing energy.
In addition to his work on the wind tunnel, Wei plans to leverage the mobile sensing capabilities of drones to fill in missing information about atmospheric flows. While most climate modeling approaches have relatively coarse resolutions of a kilometer or greater, and most experimental techniques are constrained to measure flows at either single points or much smaller volumes, less is understood about atmospheric dynamics between these scales – a gap in the scientific literature that Wei said is often referred to as the terra incognita ("unknown land") of atmospheric dynamics.
"Something like a 100-meter length scale is too small for most climate simulations to capture and too large for existing experimental techniques, even though it has important real-world implications," Wei said. "For example, if you wanted to understand how pollutants from a factory are dispersed to the surrounding environment, a better understanding of atmospheric flows at the 100-meter scale is incredibly important."
Wei's postdoctoral work will expand on a research career dedicated to experimental fluid mechanics and their applications to wind energy. During his graduate work at Stanford University and the California Institute of Technology, Wei researched vertical-axis wind turbines, an alternative to the horizontal-axis wind turbines that most people associate with wind energy. Vertical-axis wind turbines can produce energy regardless of the incoming wind direction, and they have the potential to be packed into much tighter arrays than other forms of wind energy, leading to greater power production per unit of land area. Wei also studied ways to optimize power production from offshore wind farms, counterintuitively finding that allowing floating turbines to rock back and forth in the ocean could actually lead to greater efficiencies than securing them in a fixed location.
During the fellowship, Wei said he looks forward to not only uncovering new insight about how the atmosphere works, but also to the opportunity he will have at the Andlinger Center to interact with energy and environmental researchers from across many disciplines.
"None of the clean energy problems I work on are purely technical in their approach," Wei said. "Even if we knew how to build the world's most optimized wind farm, we would still need to put it somewhere. We would still need the backing of local communities. And even after it gets built, we would need policies in place to support wind development and maintenance. One of the things I am most looking forward to about the Andlinger Center is that I'll have the chance to interact with researchers tackling energy problems from every angle."
The goal of the Distinguished Postdoctoral Fellowship program is to attract promising doctoral graduates who will accelerate important areas of energy and environmental research. Applications for the next cycle of Distinguished Postdoctoral Fellows are currently open until December 15, 2023.