December 14, 2021
By Molly A. Seltzer
Two new Distinguished Postdoctoral Fellows have joined the Andlinger Center. Holly Caggiano is focused on designing techniques to overcome the social barriers to implementing clean energy projects. Fernando Temprano-Coleto aims to create a remediation technique for tiny microplastics that currently evade water treatment and filtration systems.
A behavioral scientist by training, Caggiano will work with Elke Weber, the Gerhard R. Andlinger Professor in Energy and the Environment and professor of psychology and the School of Public and International Affairs, and Chris Greig, a lead author of the Net-Zero America study and the Theodora D. '78 & William H. Walton III '74 Senior Research Scientist at the Andlinger Center. Caggiano studies areas where utility-scale solar and wind farms are in various stages of planning and development and seeks to identify best practices for designing the projects to address community concerns and secure social license for a transition. Rapidly scaling up the deployment of renewable energy projects is critical to meeting net-zero goals for the United States, or the point at which the country emits only as much carbon into the atmosphere as is removed from it each year. According to Caggiano, there has been significant community opposition to this transformation.
"To meet national goals, successful implementation of large-scale renewable energy projects requires focus on local values and what communities can gain, rather than lose, from a transition," said Caggiano. "There have been many examples of cases in which local opposition, concerned with factors like land use and economic shifts, are major bottlenecks to the deployment of renewable energy projects."
During her fellowship, she is collaborating with local governments and non-profit organizations to create a guide for ideal ways to communicate about renewable energy deployment. Wind and solar projects offer opportunities for local employment and economic revitalization, but these opportunities are not always framed clearly when the projects are first presented, prioritized by developers, or supported by policy, she said. Caggiano will conduct interviews, focus groups, and surveys to test different narratives about solar and wind development in various communities. This will help her understand which messages are effective at cultivating buy-in among community leaders, landowners, and residents, and which are not. One of the key questions she wants to understand is how people come together to collectively advance net-zero transitions regardless of geographic area.
"How do these coalitions form? Who leads them and how do they create narratives that then spread throughout their community?" said Caggiano.
Caggiano said she wants to understand both how communities define their problems and also how they envision a just transition. She said it is important to understand their vision so that it can then be reconciled with plans from policymakers and developers. Following the community interviews, Caggiano will explore various policy interventions that enable renewable infrastructure deployment, with a goal of informing practical decision-making in energy policy and planning. In addition to Weber and Greig, she will also collaborate with John Pickering, chief behavioral scientist of E-ffiliates member Evidn, an international behavioral science company, on designing toolkits of best practices. The work builds on Caggiano's Ph.D. thesis in which she studied behavior and perspectives on environment-related decisions at the household level. Caggiano earned a B.S. in environmental policy, institutions and behavior and a Ph.D. in planning and public policy from Rutgers University.
Temprano-Coleto aims to design techniques to sift through, identify, and characterize small plastic particles, which often go undetected in water treatment systems because of their size. Temprano-Coleto said that current practices for spot measuring plastic contamination in water either involve a net, which sweeps up only larger particles, or sampling processes that require lab testing with high-end, expensive equipment. Temprano-Coleto will investigate a process known as diffusiophoresis, in which researchers use a chemical to concentrate plastic particles so they can be more easily cleaned from water. The process works by mixing a chemical into plastic-contaminated water as it flows through a tube. The electric charges associated with the chemical and the surface of the particles force the plastic particles to the edges of the tube, where they accumulate .
"All your particles are concentrated at the wall, leaving a clean stream without plastic in one side of the tube which can be split into a clean channel," said Temprano-Coleto.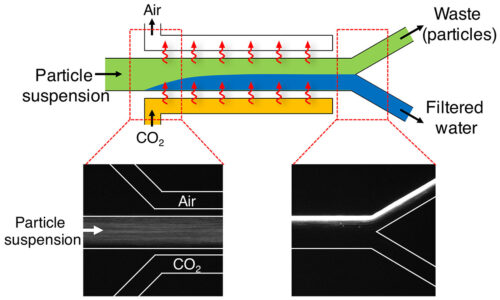 Temprano-Coleto said, if successful, the result would be a membrane-less filtration effect with an efficiency comparable to ultrafiltration. He said the one-step process represents an inexpensive alternative to current wastewater treatment processes, with the potential to eliminate even the smallest microplastic particles. Temprano-Coleto said the notion of a water treatment process without membranes is important when it comes to the microplastics because it is difficult to make membranes with holes narrow enough to filter out such particles. Those membranes also require a lot of energy to push the wastewater through them. Temprano-Coleto is targeting particles that can be half as thin as the width of a strand of human hair or narrower, and can accumulate in fish and other species, harming biodiversity in lakes and oceans and human health. He said an additional benefit of developing this process is that it does not require electricity, meaning it could be used in portable devices for field studies or remote areas.
Howard Stone, the Donald R. Dixon '69 and Elizabeth W. Dixon Professor of Mechanical and Aerospace Engineering and chair of the Department of Mechanical and Aerospace Engineering, has previously experimented with the diffusiophoresis process using carbon dioxide, as well as common salts. Tempano-Coleto will collaborate with Stone on the fluid mechanics involved, this time using a different chemical. He will also work with Sujit Datta, assistant professor of chemical and biological engineering, for his expertise in particle motion in porous media in both experimental and theoretical realms. Z. Jason Ren, professor of civil and environmental engineering and the Andlinger Center for Energy and the Environment, will inform the research and how to bridge the gap between the lab and industrial applications. Temprano-Coleto earned a Ph.D. in mechanical engineering from the University of California-Santa Barbara and a bachelor's degree from Universidad Politécnica de Madrid.
The goal of the Distinguished Postdoctoral Fellowship program is to attract promising doctoral graduates who will accelerate important areas of energy and environmental research. Fellows are encouraged to establish new collaborative links with affiliated faculty and researchers of the center through their research, which may focus on innovative technological solutions, smart economic analyses, or impactful policy solutions.
Learn more about the Distinguished Postdoctoral Fellowship.