December 11, 2019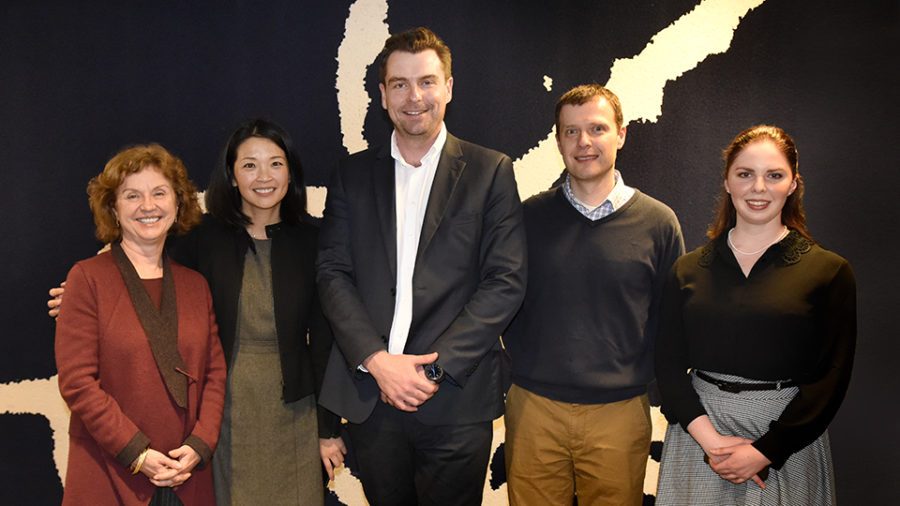 By Molly A. Seltzer
Evidn, an applied behavioral science company, joined Princeton E-ffiliates Partnership (E-ffiliates) on December 1, 2019.
The company specializes in the design, delivery, and evaluation of behavior change programs in the context of complex environmental problems. Evidn is the first company outside of the energy and water sectors to join E-ffiliates, adding a critical and often overlooked perspective to energy and environmental research, said Barry Rand, associate director for external partnerships at the Andlinger Center for Energy and the Environment.

Evidn was founded by behavioral scientists from the University of Queensland (UQ), and is based in Brisbane, Australia and New York. The company has worked with Australian state and federal governments and multinational companies to tackle problems ranging from water pollution to car accident prevention. Their flagship project "Project Cane Changer," is one of the world's largest behavior change programs conducted in agri-environmental settings, recently recognized among the top 10 global examples of how behavioral science can be applied to improve sustainability outcomes by Rare, a leading behavioral non-profit organization. The project aims to improve the water quality of the Great Barrier Reef by reducing fertilizer run-off through working with sugar cane growers, and has achieved a 440% increase in the uptake of best management practices among sugar cane farmers along the coast of Queensland.
At Princeton, Evidn plans to collaborate on research about the factors that may inhibit successful energy transitions, as part of Rapid Switch, an international research initiative that seeks to identify and resolve bottlenecks in global decarbonization. Evidn's researchers will work with Elke Weber, the Gerhard R. Andlinger Professor in Energy and the Environment and professor of psychology and public affairs, and Chris Greig. Greig is a Gerhard R. Andlinger Visiting Fellow in Energy and the Environment and director of the Dow Centre for Sustainable Engineering Innovation at UQ. He said he is excited to partner with Evidn to devise interventions that could help facilitate the adoption of new energy technologies.
"Behavior change will underpin the low-carbon energy transition," said Greig. "Evidn has developed applied behavioral science systems which analyze the driving and restraining forces of behavior across a population and designed interventions that deliver desirable changes in behavior and practice at scale."
Greig said the opportunities for impact range from reducing peak and average residential energy use to increasing climate awareness in investment decision-making. John Pickering, Evidn's chief executive officer, who is also a non-resident fellow at the Andlinger Center for Energy and the Environment, said joining E-ffiliates will help provide the intellectual horsepower to inform both the analysis and change components of interventions that the company implements.
"As the world continues to confront challenges that place a significant burden on our future prosperity – such as climate change and energy access – there has never been a more important time to make scientific breakthroughs and to effectively translate that knowledge into meaningful change in the world," said Pickering.
Rand, who is also an associate professor of electrical engineering and the Andlinger Center for Energy and the Environment, said the new collaboration showcases the heart of E-ffiliates and its mission of leveraging partnerships to solve problems.
"The new partnership reflects a growing recognition that behavior is key to unlocking mass changes in the way we use resources and design systems. We look forward to this crucial perspective from Evidn."
Princeton E-ffiliates Partnership, administered by the Andlinger Center for Energy and the Environment, offers corporations an opportunity to engage in big-picture thinking and pursue transformational innovations. E-ffiliates members have provided $9.5 million in cumulative funding for research projects, supported 70 faculty, researchers, and students, and facilitated 44 collaborations across the University.