December 4, 2019
By the Andlinger Center for Energy and the Environment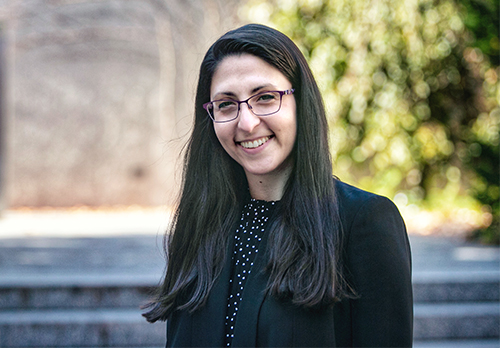 Vivian F. Fuhrman joined the Andlinger Center for Energy and the Environment on October 28 as assistant director for external partnerships. Fuhrman brings over a decade of experience working on policy and programs at the intersection of environmental and public health. In support of the associate director for external partnerships, Barry Rand, she will cultivate connections between the Andlinger Center and external stakeholders who are interested in collaborating with academic experts to develop energy and environmental solutions. Fuhrman will support Princeton E-ffiliates Partnership (E-ffiliates), a corporate membership program administered by the Andlinger Center. Beyond E-ffiliates, she will work to enhance interactions with government agencies, foundations, and non-profit organizations, cultivating relationships and strengthening engagement.
Fuhrman has extensive experience facilitating communication and cooperation between groups that work on environmental challenges through positions in energy and environmental consulting, management, legislative support, and research. She earned a Ph.D. in environmental risk and policy from Ben Gurion University in Israel, where she used risk assessment to determine the health and regulatory implications of emerging contaminants in the aquatic environment. She earned a bachelor's degree in political science from Duke University and a master's degree in environmental studies from the University of Pennsylvania. She also conducted graduate research on environmental protection at the Arava Institute for Environmental Studies. Most recently, Fuhrman directed the safe drug disposal program of a national non-profit focused on managing consumer waste to protect waterways and support a circular economy. She is also a board member of the Global Water Alliance, which unites academia, government, and the private sector to increase equitable access to clean water through development projects and educational work.
Princeton E-ffiliates Partnership offers corporations an opportunity to engage in big-picture thinking and pursue transformational innovations. Through E-ffiliates, corporate members have provided $9.5 million in cumulative funding for research projects, supported 70 faculty, researchers, and students, and facilitated 44 collaborations across the University.