January 12, 2023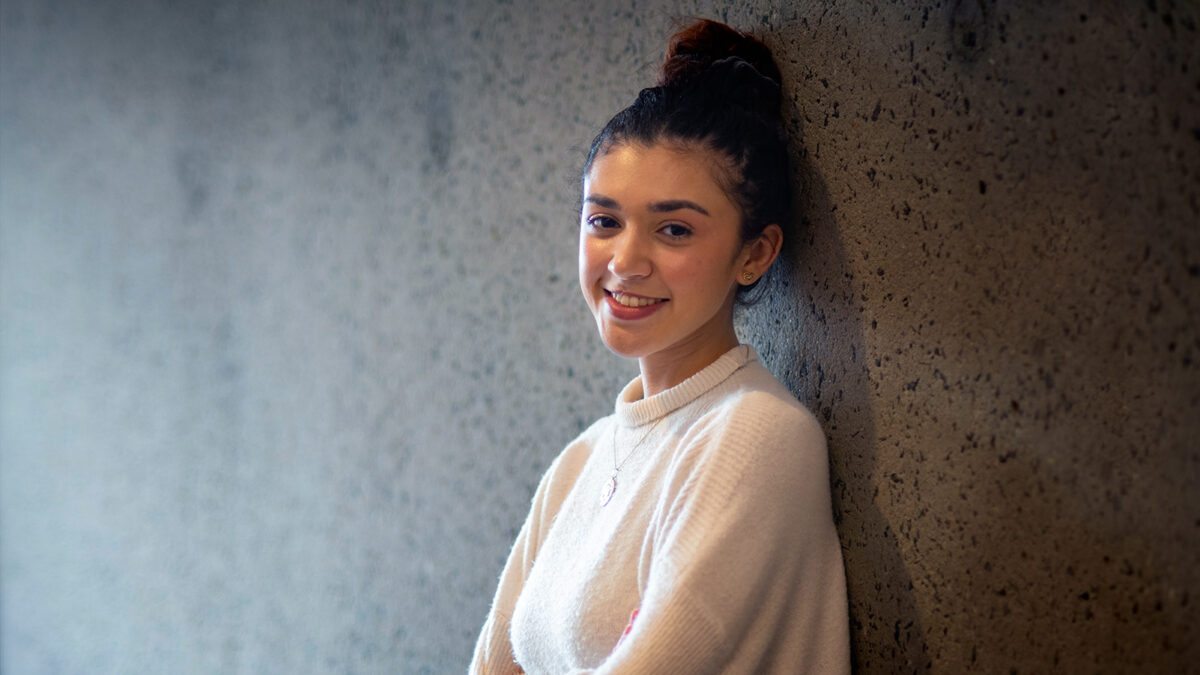 Arielle Rivera: Lighting Puerto Rico's energy future
By Colton Poore
When Hurricane Maria rocked the island of Puerto Rico in 2017, causing massive damage and long-lasting power outages for millions of people, Arielle Rivera saw a major problem that needed fixing. She and her immediate family, who live on the U.S. mainland, lost touch with several of their relatives on the island.
"We weren't able to reach them through their cell phones for weeks," said Rivera, a senior studying electrical and computer engineering. "It's hard to describe the anxiety that we and other families felt."
In addition to its tragic impact on human lives, Rivera said Hurricane Maria made it clear that Puerto Rico's energy infrastructure was exceedingly frail. Consequently, Rivera arrived at Princeton in 2019 sure she wanted to work on planning a resilient energy-grid system in Puerto Rico.
After her first year and with support from the Service Focus program at Princeton, Rivera collaborated with a community organization in Puerto Rico, La Cooperativa Hidroeléctrica de la Montaña, working to provide cost-effective, resilient energy to sparsely populated communities in the island's Cordillera Central. People in this mountainous region went months without electricity following Hurricane Maria. Rivera helped the cooperative develop an investment memorandum to secure project funding and drafted materials to publicize its initiatives.
Although her work was originally remote due to the pandemic, Rivera eventually flew to Puerto Rico and met with the leaders of the cooperative, as well as residents of the mountain communities they serve. "Driving through the winding roads in the mountains, I really understood the challenges in restoring electricity to this region," she said, but also noted how the experience emphasized the communities' strategic efforts to provide reliable hydroelectric and distributed solar energy for the people living in the region.
In the summer of 2021, she continued her work in Puerto Rico by participating in an internship with the Environmental Defense Fund, supported by the Andlinger Center for Energy and the Environment through the Peter B. Lewis Fund for Student Innovation in Energy and the Environment. During the internship, Rivera studied the potential for rooftop solar-storage projects on Culebra, a small island off the coast of Puerto Rico. She worked directly with community organizations to analyze their business strategies and ensure that the projects could be sustainable.
"Culebra is Puerto Rico's least populous municipality," Rivera said, "so if you want to plan a rooftop solar-storage project in the region, you have to scope out options for operations and maintenance of the system ahead of time. You have to think about what labor incentives to offer locals on the island and also the incentives for people to come from the main island and maintain these systems, all while making sure that post-installation costs don't raise electricity rates for residents."
The experience, she said, helped her relate high-level planning considerations with the on-the-ground realities of implementing energy projects.
Now, for her senior thesis, Rivera is working with Jesse Jenkins, assistant professor of mechanical and aerospace engineering and the Andlinger Center for Energy and the Environment. They are exploring how Puerto Rico can make its electricity supply more resilient to climate disasters while meeting its ambitious energy goals: 40% renewable generation by 2025, the phaseout of coal-fired generation by 2028, and, ultimately, 100% renewable energy generation by 2050.
Rivera is especially interested in finding ways to connect her experiences working with local communities into her grid-modeling research by exploring how to integrate social impacts into technical models, which she believes is a gap in many studies. According to Rivera, finding ways to build those connections could be key in rolling out more robust systems.
Along with the understanding she has gained about energy system planning, Rivera said that her experiences have helped her reconnect with her family's culture. "Living in the U.S., I always had an expectation of what Hispanic identities are supposed to look like," she said. But because she only spoke English growing up, she said it was sometimes difficult to communicate with much of her family.
By working with organizations and individuals on the ground in Puerto Rico, pursuing coursework in Spanish and a certificate in Latin American studies, and meeting other Puerto Rican students on campus, Rivera has been able to deepen what she sees as an important part of her identity.
"Although this isn't a path I expected to take, I'm thankful for the opportunities I've had to connect with people and learn about their experiences," she said. "Now I've been able to explore my family's culture outside of my hometown in Maryland."
Along with her research and internship involvements, Rivera is the vice president of the Society of Hispanic Professional Engineers and was previously a project manager for the Engineers Without Borders Perú team and a co-lead of Princeton University Energy Association's community service and advocacy committee.