July 22, 2019
On June 27, Andlinger Center Director, Yueh-Lin (Lynn) Loo joined executives from industry and government to discuss "Technologies Needed to Meet the Dual Energy Challenge" at the Aspen Ideas Festival.
Jessica Li, a 2018 Princeton alumna and a public and government affairs adviser for ExxonMobil, attended the panel. Her coverage below highlights the role of cross-sector partnerships in meeting this century's energy challenges.
By Jessica Li '18
Through creative collaborations, researchers are making strides towards solutions that tackle climate change, said Lynn Loo, director of the Andlinger Center for Energy and the Environment during a panel at the 2019 Aspen Ideas Festival.
Loo, the Theodora D. '78 and William H. Walton III '74 Professor in Engineering, spoke alongside Martin Keller, director of the National Renewable Energy Laboratory (NREL), and Oliver Fetzer, chief executive officer of Synthetic Genomics, a biotechnology company. All are partners of ExxonMobil, the panel's sponsor, and spoke with the company's research and development vice president, Vijay Swarup, who moderated the discussion. They discussed the multifaceted energy challenges that the world faces today and why they are so complex.
"When you hit a switch, have you ever wondered whether the light would turn on?" asked Swarup. While many would take the outcome of this simple maneuver for granted, one out of every seven people on earth lack any access to power, and another two would find their supply limited.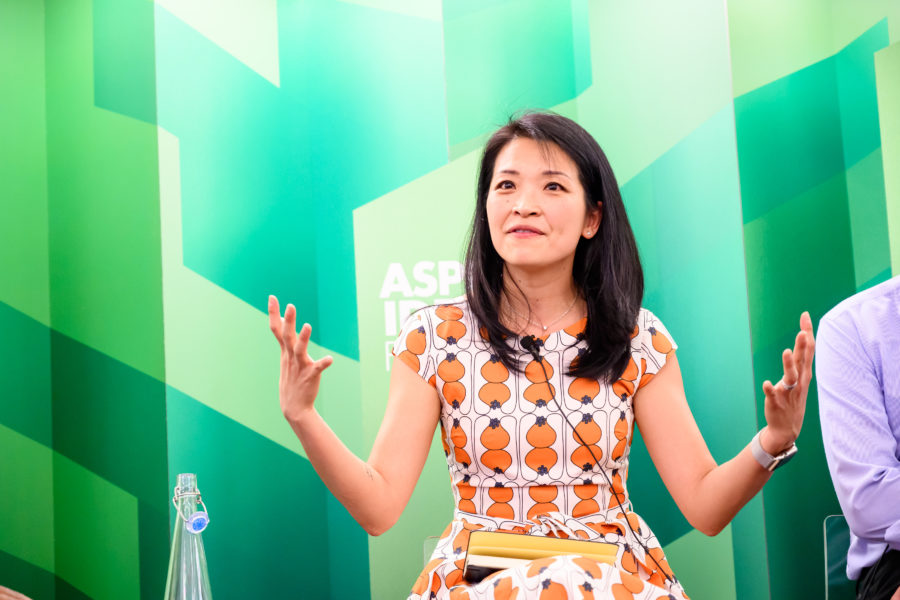 Even as reliable energy has transformed from a luxury to a necessity for many in the developed world, creating that same quality of life for a growing middle class emerging from energy poverty across the globe is an enduring mission. Simultaneously, a better climate future urgently calls for scalable technologies that lower greenhouse gas emissions, and this, Swarup said, is the "dual challenge."
"How do you develop the next set of technologies to meet this challenge? Our thinking is through collaborations," Swarup explained.
Research at the Andlinger Center is a case in point, said Loo. The center partners with companies through Princeton E-ffiliates Partnership, a corporate membership program, to support projects where university researchers and corporate partners can engage in effective technical exchange.
"The role of the Andlinger Center is to ideate and innovate, all the while lowering the barriers of collaboration with industry to bring products to commercialization," said Loo. "Coming out from graduate school, most of us do not have an industry perspective."
Loo recounted how her passion for energy materialized in her graduate research of solar cells that eventually led to the birth of a company she co-founded, Andluca Technologies. Princeton now houses 27 projects supported and developed in collaboration with ExxonMobil, ranging from geologic studies of the ocean's role in climate to improved air quality monitoring via satellite data to battery life extension for electric vehicles, and another 18 with support from other partners, including American Tower Corporation, PSEG, and NRG Energy. By coupling industry insight with faculties representing a myriad of disciplines from architecture to mechanical engineering, the Andlinger Center produces a multiplier effect for scientific progress, Loo explained.
"This challenge is too big for one lab or university to solve. That's why we're creating partnerships not just with other labs, but also with industry," said NREL's Keller.
Eventually, novel technologies require a pilot deployment, and Synthetic Genomics has piloted and ushered in multiple breakthroughs in lower-emission algae biofuel research in collaboration with ExxonMobil throughout their ten-year partnership.
"Impact is not measured by the publications I make, but by whether I can make the world a better place," said Fetzer. "Little companies like mine fight for survival on a monthly basis, so sitting around is not an option. Shortening the timeline for initial research to commercialization will provide immense advantages for tackling the dual challenge."
Ultimately, Fetzer added, creating change requires the expertise of scientists and the vision of people who care.