June 10, 2020
By Molly A. Seltzer
On May 29, the Andlinger Center for Energy and the Environment congratulated the graduates of the Class of 2020 and their families. Andlinger Center faculty and leadership celebrated the contributions of seniors who earned certificates in the center's two programs, the Program in Sustainable Energy and the Program in Technology and Society: Energy Track.
Z. Jason Ren, acting director of the Andlinger Center for Energy and the Environment and associate director for research at the center, opened the virtual ceremony by recognizing the unique accomplishments of the Class of 2020.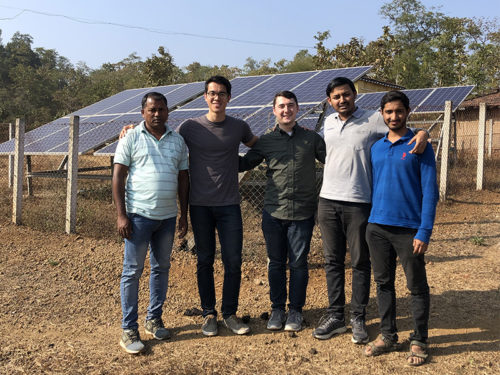 "We are happy to be able to celebrate your accomplishments, albeit remotely, during this very unusual graduation year. Quite frankly, I think you guys are making history," said Ren, who is also professor of civil and environmental engineering and the Andlinger Center. "I'm very proud of you." 
The 13 students presented their theses in a virtual certificate symposium earlier in the month. The theses included a system that improves the design and ease of installation of drip irrigation, next-generation hover boards, and an analysis of the effect solar panels have on the value of homes in California.
Each year one senior is awarded the Andlinger Center Senior Thesis Prize in Energy and the Environment for a thesis that exemplifies outstanding research and demonstrates a strong commitment to understanding and solving the world's energy and environmental problems. This year, the senior thesis prize was awarded to Neil Slighton, who earned a certificate in the Program in Technology & Society: Energy Track. His thesis focuses on ways to electrify rural communities in India, building on the existing physical infrastructure of the centralized grid to create mini-grids. Slighton, who majored in operations research and financial engineering, applied machine learning techniques to develop a model for optimizing the design of regional electric mini-grids in rural India. He used data that he collected on a research trip to India over winter break to Mumbai, Pune, and communities in the Tansa Wildlife Sanctuary. 
Barry Rand, associate director for external partnerships and associate professor of electrical engineering and the Andlinger Center for Energy and the Environment, presented the award to Slighton. Rand said Slighton presents a compelling argument in that mini-grids could have an important role to play in supplementing India's centralized electricity grid. The grid physically reaches its most rural regions yet is unreliable in delivering even modest levels of electricity over its wires to many of them.
"Visiting rural India was important because it is a major setting where micro-grids could be applied. The Indian electricity sector is stressed. The symptoms of this stress show in rural areas where electricity access is either unreliable or expensive," said Slighton. "As such rural India holds a large portion of the world's under-electrified populations. In all, India is unique in that it is both a past testing ground for mini-grids and possibly a future setting for them."
Slighton's thesis advisor, Eric Larson, senior research engineer and head of the Energy Systems Analysis Group, called the analysis a "persuasive validation exercise that compares model results from a single community with real data." Slighton said this single validation can be used to show that the model can be extended and used for multi-community analyses with a 30-year planning horizon, which is typical of many government planning agencies. Slighton hopes his models will be used to help inform government planning and policies. After graduation Slighton will work at Boston Consulting Group.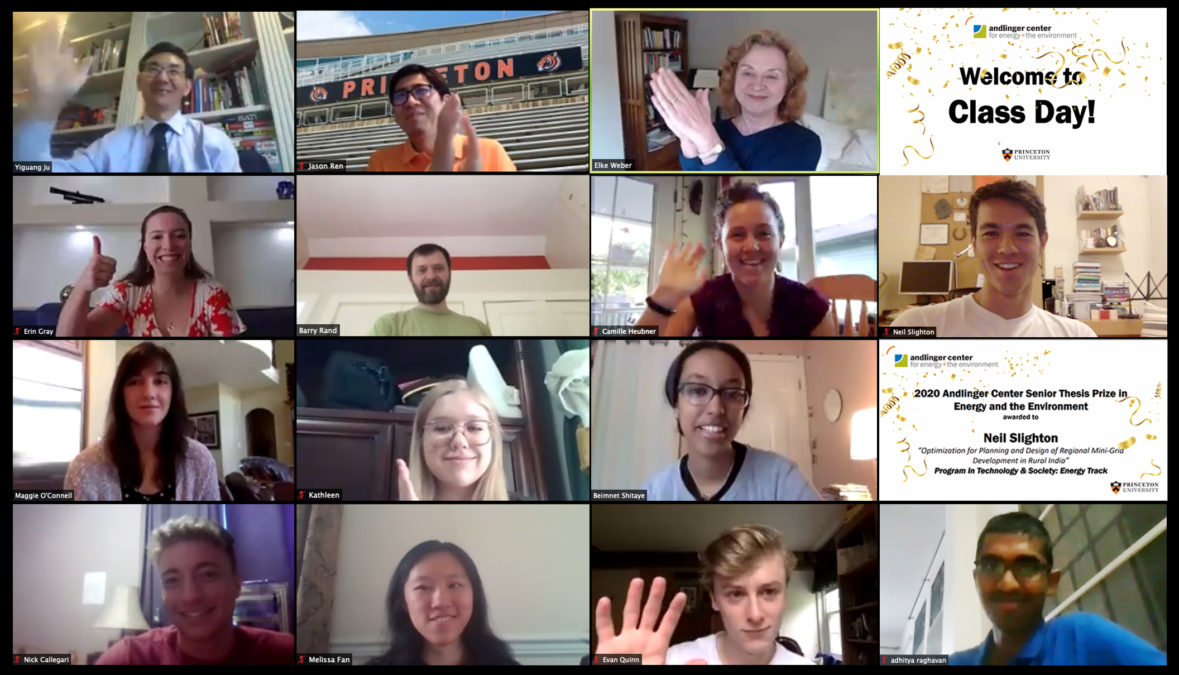 Elke Weber, associate director for education at the center, said that all of the students enriched, not only themselves, but the entire Princeton community. "We hope that the knowledge they have gained here will inform and enrich their perspectives as they move forward in their careers," said Weber, who is also the Gerhard R. Andlinger Professor in Energy and the Environment and professor of psychology and public affairs.
The career paths of the graduates include fellowships in wind power, in water and energy projects, and in policy issues. Many also will continue their studies with masters and Ph.D. programs in mechanical engineering, chemical and biological engineering, and innovation and entrepreneurship. Others have secured jobs as analysts and consultants in various industries and at non-profit organizations.
Weber also thanked the graduates' families, "whose guidance and support has sustained our seniors throughout the four years of personal and academic challenges."  The ceremony closed with warm congratulations from the center leadership team and a request to stay in touch as the graduates embark on their career and life journeys.