March 14, 2019
By Molly A. Seltzer
Claire White, assistant professor of civil and environmental engineering and the Andlinger Center for Energy and the Environment, has received the 2019 Gustavo Colonnetti medal from the International Union of Laboratories and Experts in Construction Materials, Systems and Structures.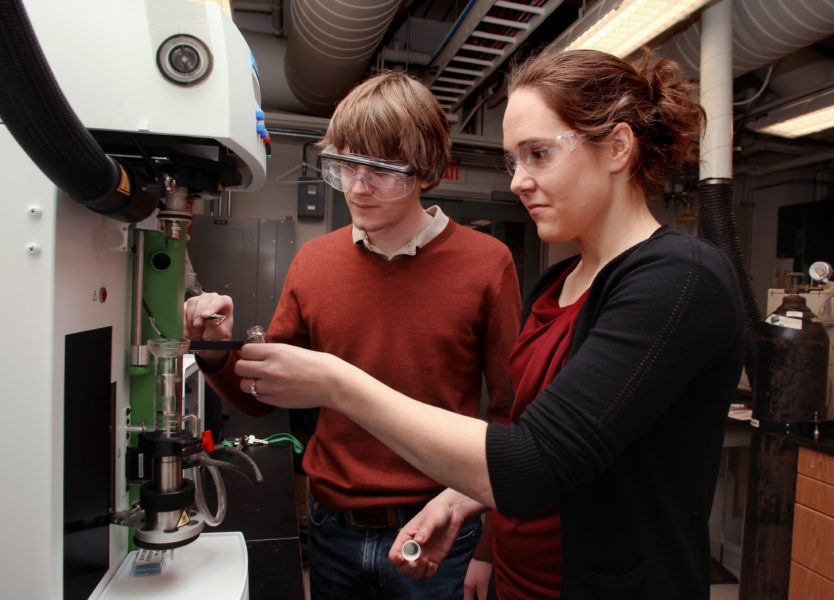 The Paris-based organization recognized White for her contributions to the development of sustainable construction materials, specifically low-CO2 formulations of concrete. In a statement announcing the award, the organization said White is being recognized for "uncovering and controlling the chemical mechanisms responsible for formation and long-term degradation of alternative cements."
White's sustainable cements group investigates alkali-activated materials, an alternative to standard Portland cement, one that requires heating materials at very high temperatures to create. The manufacture of alkali-activated materials produces much less CO2 than conventional cements, and White's research has advanced the understanding of the chemistries and properties of the alkali-activated materials, including their durability and resistance to carbonation. Her group also studies amorphous carbonates and layered materials, and develops modeling tools, which can be used to reveal important structural information about the formation of certain materials and other characteristics which are difficult to measure experimentally.
 The Colonnetti medal recognizes researchers under the age of 35 who have made outstanding scientific contributions to the field of construction materials and structure. White is scheduled to receive the award at the Second RILEM Spring Convention in Rovinj, Croatia on March 20. She will give a lecture entitled, "Uncovering and Optimizing the Chemical Mechanisms in Alkali-activated Materials and Related Engineering Systems." 
In 2016 White was awarded a CAREER grant from the National Science Foundation. She has won other NSF awards for her cement research, as well as a teaching award from Princeton's School of Engineering and Applied Science. White most recently received an award from Princeton E-ffiliates Partnership to explore the development of a new material that could be used to efficiently capture carbon at industrial plants. She received her doctorate from the University of Melbourne and worked as a postdoctoral researcher at Los Alamos National Laboratory before joining the Princeton faculty in 2013.