July 20, 2022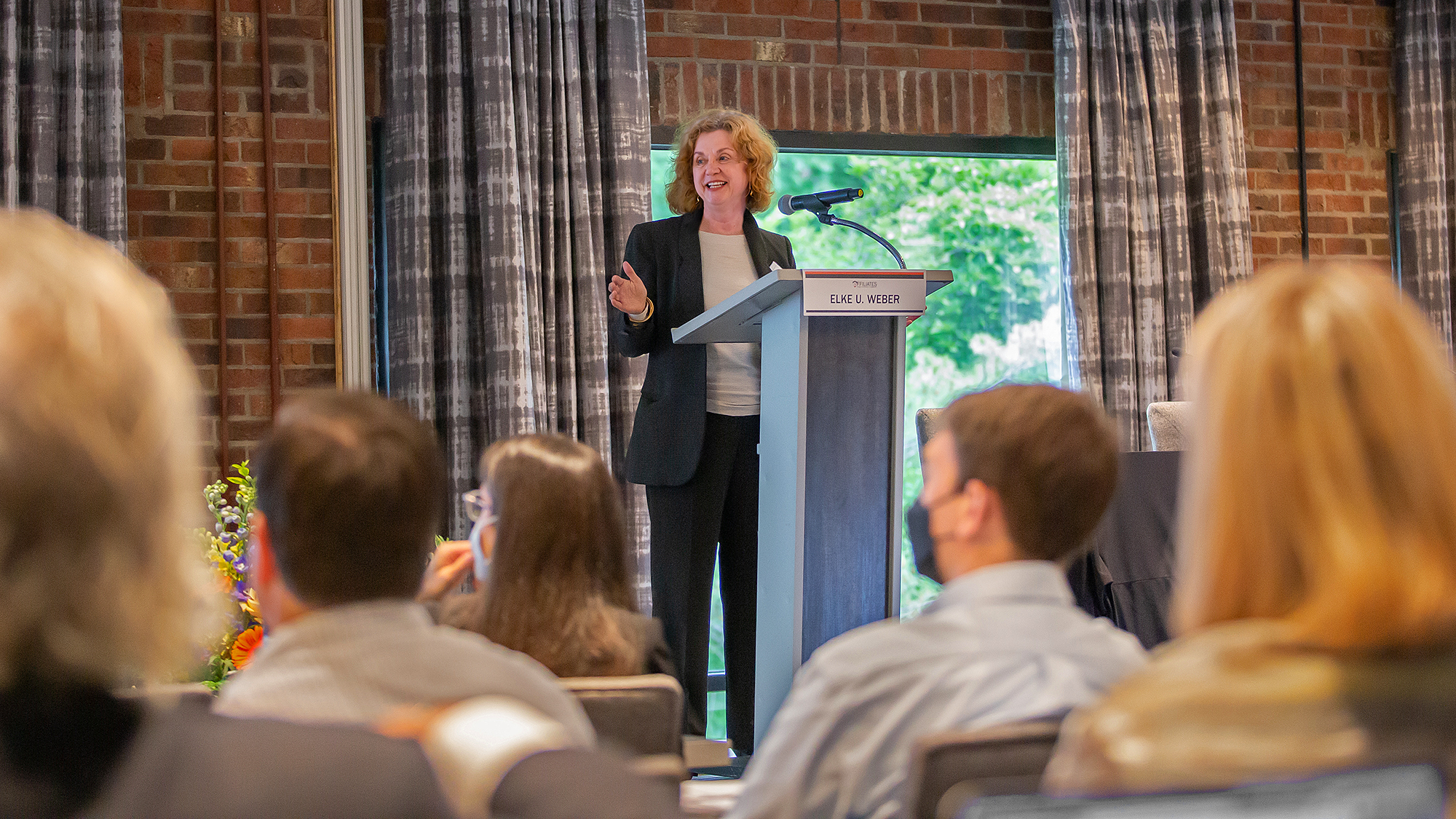 Corporate-academic retreat highlights role of behavioral science in combatting climate change
By Michele Hujber, For the Andlinger Center for Energy and the Environment
Behavioral science – the study of why people act as they do – can help companies facing inevitable changes to their businesses because of climate change, panelists said at the ninth annual retreat of the Princeton E-ffiliates Partnership (E-ffiliates).
"Corporations and others are being asked for change by investors, banks, government employees, and suppliers," said Elke Weber, Princeton University's Gerhard R. Andlinger Professor in Energy and the Environment. "Behavioral science is an important tool for increasing the positive consequences of change."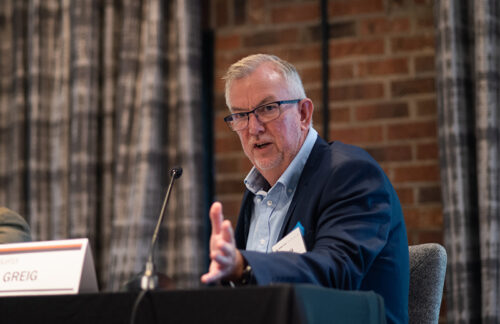 The E-ffiliates retreat is an annual gathering of company and non-profit leaders, academic researchers, government representatives, and others. This year's event, held on June 1, was the first to focus on the social sciences. It explored the private sector's behavior, decision-making, and communications, and how the sector could use behavioral science insight to help mitigate climate change.
E-ffiliates is a membership-based program administered by the Andlinger Center for Energy and the Environment. It offers companies opportunities to collaborate with academic experts and pursue innovations in energy and the environment.
"It's important to bring this diverse mix of companies together to have conversations about changes they are making to deal with important climate change challenges," said Chris Greig, acting associate director for external partnerships at the Andlinger Center for Energy and the Environment. "Our members encouraged us to focus the retreat topic on social and behavioral sciences to provide insights into how companies will motivate this change, elevate this issue, and bring it into their sponsored research."
Weber, associate director for education at the Andlinger Center for Energy and the Environment, and professor of psychology and public affairs, highlighted her report titled, "Behavioral science tools to strengthen energy and environmental policy."
She outlined behavioral science tools for organizations to enact longer-term thinking about climate change mitigation. For example, she said that corporations can frame their thinking about the changes required to mitigate climate change as an opportunity rather than a liability.
Cheryl Ginyard-Jones, group director for growth and performance in the Americas at Worley, said Worley is taking advantage of such opportunities by building up its work related to climate change. She said that having company commitments to address climate change is important but isn't enough. "We're transforming how we are doing projects," she said. "In many instances, we are moving beyond the customer-vendor relationship to one of partnership.  We are working alongside our customers to build climate-impacting solutions." 
Panelists shared concrete examples of working with internal and external audiences on climate change mitigation that yielded key lessons and best practices. Erica J. Borggren, vice president of Customer Solutions at ComEd, an Exelon Company, emphasized that customers take action in response to comparisons, usage insights, and tips.  She reported that ComEd's Home Energy Reports, which compare customers' energy efficiency to their neighbors' energy efficiency, resulted in those customers acting to conserve energy, with over 253 GWhs saved in northern Illinois and 131 kWh saved by the average report-receiving customer last year alone. 
Sara Constantino, assistant professor of psychology and public policy at Northeastern University, shared research outcomes that reinforced this real-world example. She stressed the importance for corporations to show their stakeholders that they are making real commitments.
Christopher Graves, founder and president of the Ogilvy Center for Behavioral Science, emphasized that "Even if someone's thinking is self-destructive, they don't see it as irrational. It makes sense to them." He noted, "My studies decode a sort of sensemaking genome so we can better match engagement, message framing, and communications." He suggested ways to use this knowledge to help motivate and inform.  
In a panel where speakers showcased how investors and shareholders hold influence in climate action, Valerie C. Smith, chief sustainability officer and managing director at Citi, noted that a shareholder proposal for Citi to commit to net-zero pushed them to make that commitment sooner rather than later.
The Citi investors had been working with panelist Danielle Fugere, president of As You Sow, a non-profit that helps shareholders advocate for sustainable practices by companies in which they invest.
Saphira Rekker, a senior lecturer in finance at the University of Queensland, noted, "Our financial system is incredibly intertwined with the functioning of our social and environmental systems."
Panelists agreed that there are gaps in behavioral science research that academia and the private sector could tackle together. Gita V. Johar, Meyer Fieldberg Professor of Business at Columbia University's Business School, noted that organizations are looking for the tools that academics discover through their research and that scholars and organizations can test and refine together.
Overall, the panelists were optimistic that corporations would be able to move climate change actions forward, and that each could assist in their distinct impact areas. Jason Jacobs, partner of MCJ Collective, and keynote panelist, noted that even though he came into the climate change arena knowing very little about the issue, he was using his entrepreneurial and innovation skills to move the needle by amplifying influential voices on the topic. Jacobs said that the people he works with on his podcast are those who are motivated to act by the catastrophes related to climate change.
"I look for creative companies that have stepped up and are 'punching above their weight class,' sticking their neck out to find ways to deal with climate change," Jacobs said.
Weber also noted that personal experience with the negative impacts of climate change and local context matter. For many people in corporate environments, the impacts of climate change remain abstract, she said. Behavioral science can help customize communication so that it resonates in a specific context, for a specific community. Weber said that behavioral science solutions are heterogenic; "What works in New Jersey may not work in New Delhi," she said. 
Greig, Theodora D. '78 and William H. Walton Ill '74 Senior Research Scientist at the Andlinger Center said the retreat made clear that behavioral science can contribute to climate change action, especially through partnerships with the private sector and other stakeholders.
"These collaborations are critical to the fabric of a successful energy system transition for successfully fighting climate change," Greig said.
"Change is inevitable," Weber said. "The best we can do is to increase its capacity to change for the better. And that's what science is all about."