October 5, 2018
By Sharon Adarlo
The Andlinger Center for Energy and the Environment has appointed two young researchers to its Distinguished Postdoctoral Fellows program to develop systems for designing energy-efficient buildings and to create 3D-printed water filters.
The two postdocs are the second cohort for the program, which aims to advance careers and spur innovative research.
Kian Wee Chen, who earned his doctoral degree in architecture and buildings systems at ETH Zurich in Zurich, Switzerland, will work on sensors, virtual reality, and other digital tools to aid in creating more energy-efficient built environments. Forrest Meggers, assistant professor of architecture and the Andlinger Center for Energy and the Environment, will serve as Chen's primary mentor.
Tapomoy Bhattacharjee, who earned his doctoral degree in mechanical engineering from the University of Florida in Gainesville, Florida, will be developing 3D-printed biofilms to remediate contaminated water. Sujit Datta, assistant professor of chemical and biological engineering, will serve as Bhattacharjee's primary mentor.
The goal of the fellowship program is to attract promising doctoral graduates who will accelerate important areas of energy and environmental research. Fellows are encouraged to establish new collaborative links with affiliated faculty and researchers of the center through their research, which may focus on innovative technological solutions, smart economic analyses, or impactful policy solutions.
"By being in a position to leverage the diverse expertise at the Andlinger Center and across campus, the fellows will build bridges through their research, and enrich the teaching, research and impact of the center," said Yueh-Lin (Lynn) Loo, director of the Andlinger Center. "The projects that our new fellows are undertaking are collaborative in nature, straddle different disciplines, seek to solve pressing problems, and are also innovative and exciting," said Loo, the Theodora D. '78 and William H. Walton III '74 Professor in Engineering, and professor of chemical and biological engineering.
Kian Wee Chen
For his fellowship, Chen plans on developing advanced yet user-friendly digital tools and processes for designers – architects, urban designers, and planners – so they are able to create environments that are more energy efficient.
Designers usually have to accommodate political and social factors in their designs. Now they must also factor in the impact of climate change. Making rapid prototypes or models of their designs and measuring their energy efficiency or impact on the environment could help in this quest. Unfortunately, according to Chen, designers often don't have a strong background in sustainable energy technologies, a solid grasp on digital tools to create  such prototypes, or the technical skills to measure their prototypes' effectiveness. To close that gap, Chen proposes to create digital tools that are streamlined and can be used by a designer without a deep technical background.
Chen's research will specifically look at sensors, computational algorithms, digital fabrication, and virtual and augmented reality technologies. User-friendly versions of these tools and processes can help designers create and measure prototypes for a more energy-efficient built environment, instead of focusing on technical troubleshooting.
"(Through the sensors) I hope to help designers gain better access to advanced building technologies and encourage their application in the design of a holistic energy solution for the built environment," said Chen. "As the design of a built environment is one that transcends disciplinary boundaries, I believe the interdisciplinary nature of the Andlinger Center for Energy and Environment will provide the ideal environment for supporting my research career. The potential exposure to a myriad of perspectives from multiple disciplines will provide me with a holistic view of the built environment, which is essential to my research aim of supporting designers to develop and realize well-designed built environments."
In addition to working with Meggers, Chen plans to engage Professor Mark Zondlo, who develops sensors for air quality measurement, and Professors Elie Bou-Zeid, Naveen Verma, and Niraj Jha who have conducted building level and urban-scale sensing campaigns. Professor Mike Freedman and Professor Thomas Funkhouser can provide techniques for processing the collected data ranging from temperature to 3D geometry data.
Chen earned a bachelor's degree in architecture from the National University of Singapore in 2009 with concentrations in sustainable design and computational design tools. He then earned a master's degree in architecture in 2010 with a specialization in design technology and sustainability from the same institution. For his doctoral degree, he studied at the Future Cities Laboratory, Singapore-ETH Centre, at the Department of Architecture of ETH Zurich from 2011 to 2015.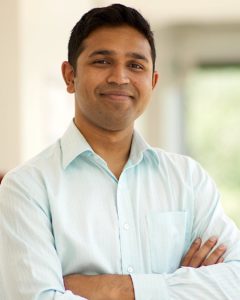 Tapomoy Bhattacharjee
For his fellowship research, Bhattacharjee plans on developing a novel technique to purify water by using 3D-printed biofilms, a technology that will be relatively economical, generates little waste to the environment, and is energy efficient. 
Cleaning up contaminated water can be costly and difficult. Researchers have looked at bacteria that can survive toxic environments as a remediation tool. They have specifically looked at bacterial biofilms to treat wastewater, contaminated soils and aquifers, and metal ore leaching. Biofilms are bacteria that have come together to form surface-attached communities in reaction to being in a harsh environment, such as contaminated water.
While they hold promise for water remediation, biofilms are hard to control. It's difficult to create a biofilm that has a controlled composition, structure, and function – thus limiting their use in remediation. To address these problems, Bhattacharjee will create unique 3D-printed biofilms that will be deployed to clean contaminated water.
Bhattacharjee's work will specifically use a technique he developed to 3D print delicate cellular structures. He will use a soft polymer support medium and inject it with bacteria. Biofilms that can clean water are made up of different bacterial species. To mimic nature, Bhattacharjee will create 3D-printed biofilms with various bacteria types positioned in different places on the soft polymer support medium.
"The fellowship from Andlinger Center has provided me the ideal opportunity to explore and challenge my scientific and engineering skillset to address the real-world problem of water purification," said Bhattacharjee. "What this program has done is something amazing; it has opened the door for a truly diverse community of researchers including biologists, environmental scientists, public policy experts and engineers. Such a collaborative environment is crucial for overcoming regular hurdles in research life. I'm looking forward to leveraging this experience to the fullest."
In addition to Professor Datta, Bhattacharjee will work with Professor Peter Jaffe to understand and control the chemistry of the remediation process, and with Professor Robert Austin to use directed evolution to optimize biofilm-mediated remediation. Further, working with Professor Howard Stone, Bhattacharjee hopes to understand how fluid flow impacts the biofilm.
In 2012, Bhattacharjee earned a bachelor's degree in chemical engineering from Jadavpur University in Kolkata, India. He then went to University of Florida, where he earned two master degrees in chemical and mechanical engineering in 2014 and 2015, respectively. He earned his doctoral degree in mechanical engineering from the same university in May of this year.