September 15, 2023
Emily A. Carter honored as the 2024 William H. Nichols medalist
By Princeton Plasma Physics communications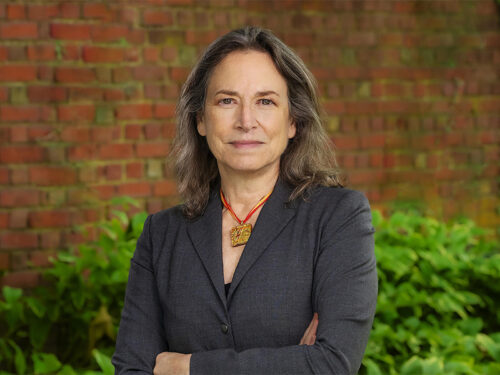 Emily A. Carter is the winner of the William H. Nichols Medal for 2024, a prestigious annual honor bestowed by the American Chemical Society's (ACS) New York Section for outstanding contributions in chemistry. The Section chose Carter for "groundbreaking quantum insights in sustainable catalysis."
Carter is the associate laboratory director for applied materials and sustainability sciences at the U.S. Department of Energy's Princeton Plasma Physics Laboratory (PPPL) and the Gerhard R. Andlinger Professor in Energy and the Environment and professor of mechanical and aerospace engineering at Princeton University.
Carter joined PPPL as its inaugural senior strategic advisor for sustainability science in 2022, where she is overseeing the Laboratory's diversification efforts. The newly formed Applied Materials and Sustainability Sciences directorate which Carter leads, is applying the Lab's expertise in plasma and computational science to advance innovations in microelectronics, quantum information, and sustainability sciences — enhancing U.S. competitiveness and contributing to reaching a net-zero-carbon-emissions world.
Throughout her career, Carter has been selected for prominent leadership positions, spearheading the development and administration of cutting-edge departments, centers, programs and research initiatives.
Before coming to Princeton University in 2004, she was on the faculty at the University of California, Los Angeles (UCLA), for 16 years. In 2010, she became the founding director of Princeton's Andlinger Center for Energy and the Environment, which she led until 2016. She then served as dean of Princeton's School of Engineering and Applied Science before being recruited back to UCLA where she was executive vice chancellor and provost and distinguished professor of chemical and biomolecular engineering. She returned to Princeton and PPPL to advance sustainability science at the Laboratory at this time of unprecedented federal focus on climate change mitigation and to build partnerships across government national laboratory, academic, and industry ecosystems.
Carter earned her bachelor's degree in chemistry from the University of California, Berkeley, and her doctoral degree in chemistry at the California Institute of Technology. She has received numerous honors throughout her career, including election to the National Academy of Sciences, the American Academy of Arts and Sciences, the National Academy of Inventors, the National Academy of Engineering, and the European Academy of Sciences.
She will receive the William H. Nichols Medal, the oldest honor of the American Chemical Society, presented annually since 1903, at an April 12, 2024, gala award dinner at the conclusion of a daylong symposium in New York.
This story originally appeared on The Princeton Plasma Physics website.