April 9, 2020
 By Molly A. Seltzer
Jesse Jenkins is one of 16 national experts selected from across disciplines to investigate ways to accelerate decarbonization of the U.S. economy for the National Academies of Sciences, Engineering, and Medicine. Jenkins, assistant professor of mechanical and aerospace engineering and the Andlinger Center for Energy and the Environment, was selected for his expertise on energy systems modeling and decarbonizing the electricity sector.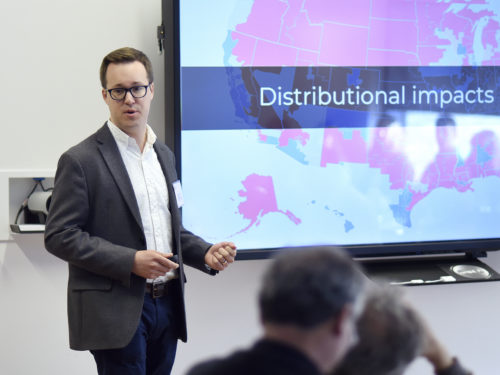 The committee will assess the technological, policy, social, and behavioral dimensions of removing carbon from the atmosphere and preventing future carbon dioxide emissions. The goal is to produce analysis which will identify the status of technologies, policies, and societal factors that could contribute to reducing greenhouse gases, and identify areas where there are research and policy gaps. The studies will explore questions about the conditions needed for technological development and deployment, and about how federal, state, and local policies could align to benefit mitigation, adaptation, resilience, and economic development efforts. The committee will also assess how changes in one sector, like transportation, could impact the environmental and economic performance of other sectors of the economy. Initial results and recommendations are expected to be released in two reports, one in early 2021 and the other in early 2022.
The committee is chaired by Stephen Pacala, the Frederick D. Petrie Professor of Ecology and Evolutionary Biology at Princeton, who was also the chair of a National Academies committee that authored a 2019 report on negative emissions technologies.
The work of the committee will build on insights and findings from a Princeton research project, Net-Zero America Project (NZAP), which is modeling several pathways to reach net zero greenhouse gas emissions across the U.S. economy by 2050. NZAP is mapping the scale and pace of infrastructure required to be built across the country to reach the goal. Jenkins and Pacala are both investigators on NZAP.
Read more about the National Academies "Committee on Accelerating Decarbonization in the United States: Technology, Policy, and Societal Dimensions."
More information about Jenkins' work:
New energy scholar speaks out on transforming energy systems
Seminar: "Getting to zero: Can America transition to a net-zero emissions energy system?"