June 23, 2017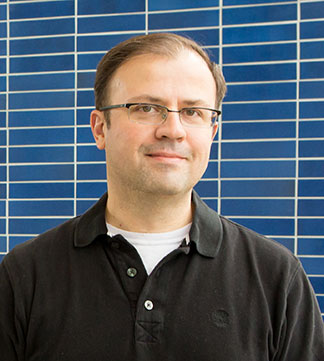 Jose Avalos, an assistant professor jointly appointed to Princeton University's chemical and biological engineering department and the Andlinger Center for Energy and the Environment, has been named a Pew scholar in the biomedical sciences.
Avalos is among 22 early-career researchers across the country who will receive four years of flexible funding via the Pew Charitable Trusts to pursue foundational research in human biology and disease. Avalos was selected for his body of work and the potential impact of his research. Avalos will use the funding to study mitochondrial biology, a field relevant to both human health and the engineering of biofuels.
Avalos has engineered the mitochondria of yeast to significantly boost the production of advanced biofuels, such as isobutanol and isopentanol. These alcohols are better replacements for gasoline than ethanol, as they are more energy dense and have better compatibility with our gasoline infrastructure. His research team also investigates microbial engineering for the sustainable production of commodity chemicals as alternatives to those are typically derived from petroleum, as well as specialty chemicals that can be used in fragrances, dyes, or pharmaceuticals.
Avalos has previously received support for his biofuels work from Andlinger Center's Princeton E-ffiliates Partnership, a corporate membership program that forges collaborations between academic experts on campus and industry.
Avalos joined Princeton in 2015. Since then, he won a fellowship from the Alfred P. Sloan Foundation and funding from the Eric and Wendy Schmidt Transformative Technology Fund, among other honors.
Avalos has a bachelor's degree in chemical engineering from Universidad Iberoamericana in Mexico City; a master's degree in biochemical research from Imperial College, University of London; and a doctoral degree in biochemistry, cellular, and molecular biology from Johns Hopkins University, School of Medicine.
Pew scholars are selected from a pool of nominations from some 180-leading academic and research institutions in the U.S. In addition to Avalos, Mohamed S. Abou Donia, assistant professor of molecular biology, is the second Pew scholar from Princeton in this year's cohort.
For more on the Pew scholar honor, read here.