April 29, 2021
By Molly A. Seltzer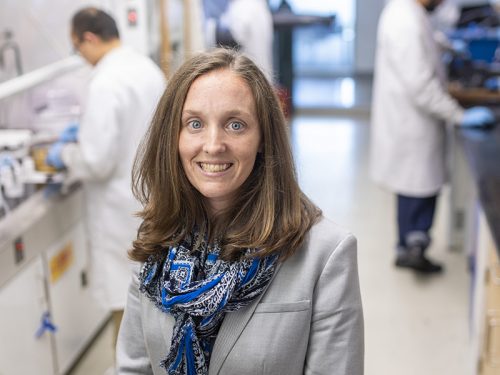 Kelsey Hatzell joins Princeton University as an assistant professor of mechanical and aerospace engineering and the Andlinger Center for Energy and the Environment, effective July 1, 2021. She comes to Princeton from Vanderbilt University where she has been an assistant professor of mechanical engineering and assistant professor of chemical and biomolecular engineering. A specialist in the field of batteries and energy storage, she leads the "Inks and Interfaces" lab. Her lab focuses on the fundamental questions related to dynamic processes that occur at solid-solid and solid-liquid interfaces in batteries and energy conversion systems, along with translational research related to battery manufacturing.
Her expertise is in solid-state batteries, which use a solid electrolyte instead of a liquid- or polymer-gel electrolyte used in common lithium-ion batteries. Solid-state batteries allow for more energy-dense anodes, meaning electric vehicles can potentially run for more mileage before needing to recharge. They also are not flammable, averting safety risks that have arisen around some lithium-ion batteries in cars and other applications. Beyond batteries, Hatzell studies other types of energy storage systems, namely thermal energy storage, for long-duration uses.
Hatzell received a B.S.E. and B.A. in economics from Swarthmore College, a M.S. in mechanical engineering from Pennsylvania State University, and a Ph.D. in materials science and engineering from Drexel University. Hatzell was a National Science Foundation Graduate Research Fellow and subsequently an ITRI-Rosenfeld Postdoctoral Fellow at Lawrence Berkeley National Laboratory. Since joining Vanderbilt University, Hatzell received the ORAU Powe Junior Faculty Award, an NSF CAREER Award, ECS Toyota Young Investigator Award, and the Nelson "Buck" Robinson award from the Materials Research Society. Hatzell was also named a SCIALOG Fellow in energy storage by the Research Corporation for Scientific Advancement in energy storage and an Alfred P. Sloan Research Fellow in Chemistry.