April 30, 2019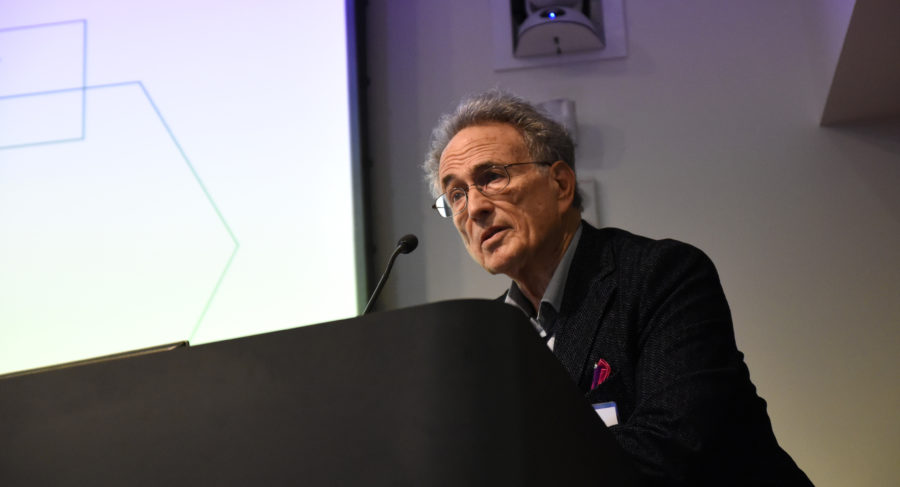 On April 15, the Andlinger Center honored Professor Robert H. Socolow at  "Destiny Studies for a Small Planet," a daylong symposium held April 15 in Socolow's honor that examined six broad topics that were central to Socolow's nearly five decade career at Princeton career and crucial to solving our most pressing environmental challenges. The event was organized by Princeton Environmental Institute and cosponsored by the Andlinger Center for Energy and the Environment, the department of mechanical and aerospace engineering, the School of Engineering and Applied Science, and the University Center for Human Values.
Andlinger Center director, Yueh-Lin (Lynn) Loo, opened the day with introductory remarks about Socolow's impact on energy and environmental issues through his research and through his vision and leadership.
She pointed to his out-of-the box approach to nurturing research that didn't fit neatly into academic departments. Loo spoke to his role in building the Center for Energy and Environmental Studies, which he ran for two decades. Under Socolow's leadership, the Center became renowned for its research on energy systems analysis Energy Systems Analysis Group, when air quality, nuclear proliferation, energy supply, and climate change were all critical, burgeoning topics. The Energy Systems Analysis Group is now an active research group of the Andlinger Center.
Loo also spoke to Socolow's mastery of communications and leadership in executing the Energy Technology Distillates, a series of reports released by the Andlinger Center that provides accessible, neutral information on emerging and low-carbon energy technologies. The most recent Distillate, Wind Power, was released in March. Loo said Socolow distinguished himself as an invaluable part of the Andlinger Center community, of Princeton, and of the world's academic arsenal on energy and environmental topics. Loo thanked Rob for his vision, commitment, and leadership on these critical issues, in the service of humanity.
For full coverage of the event, see the story on the Princeton University homepage: https://www.princeton.edu/news/2019/04/22/symposium-honoring-socolow-looks-forward-48-years-climate-action