August 6, 2021
By Molly A. Seltzer
Worley, a global provider of engineering, procurement and construction services, and new member of Princeton E-ffiliates Partnership, released a thought leadership paper on Monday in collaboration with Andlinger Center's Chris Greig, the Theodora D. '78 & William H. Walton III '74 Senior Research Scientist.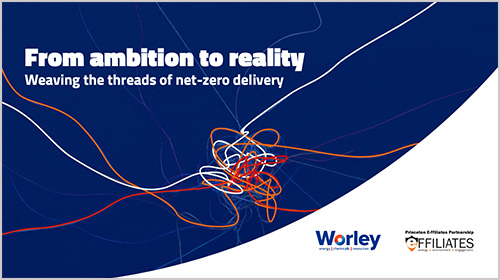 "From ambition to reality: weaving the threads of net-zero delivery" delves into the ways in which the delivery of infrastructure, and the frameworks and systems behind it, must change in order to enable a switch to a clean energy system. The new paper and partnership draw on research and analysis in Princeton's Net-Zero America study, released in December 2020, and widely considered the most granular analysis of pathways to get to net zero in the United States conducted to date.
Greig collaborated with the paper co-authors Clare Anderson, group sustainability lead at Worley, and Paul Ebert, group director, energy transition at Worley, on the report.
Read and download the full paper and executive summary here: https://www.worley.com/our-thinking/from-ambition-to-reality
Read the Net-Zero America study, executive summary, and see media coverage here: https://netzeroamerica.princeton.edu/