August 13, 2020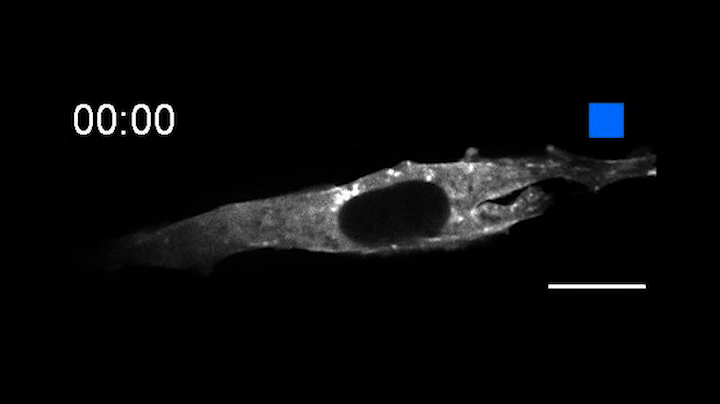 By Molly Sharlach, the School of Engineering and Applied Science
A Princeton team has developed a class of light-switchable, highly adaptable molecular tools with new capabilities to control cellular activities. The antibody-like proteins, called OptoBinders, allow researchers to rapidly control processes inside and outside of cells by directing their localization, with potential applications including protein purification, the improved production of biofuels, and new types of targeted cancer therapies.
In a pair of papers published Aug. 13 in Nature Communications, the researchers describe the creation of OptoBinders that can specifically latch onto a variety of proteins both inside and outside of cells. OptoBinders can bind or release their targets in response to blue light. The team reported that one type of OptoBinder changed its affinity for its target molecules up to 330-fold when shifted from dark to blue light conditions, while others showed a five-fold difference in binding affinity — all of which could be useful to researchers seeking to understand and engineer the behaviors of cells.
Crucially, OptoBinders can target proteins that are naturally present in cells, and their binding is easily reversible by changing light conditions — "a new capability that is not available to normal antibodies," said co-author José Avalos, an assistant professor of chemical and biological engineering and the Andlinger Center for Energy and the Environment. "The ability to let go [of a target protein] is actually very valuable for many applications," said Avalos, including engineering cells' metabolisms, purifying proteins or potentially making biotherapeutics.
The new technique is the latest in a collaboration between Avalos and Jared Toettcher, an assistant professor of molecular biology. Both joined the Princeton faculty in 2015, and soon began working together on new ways to apply optogenetics — a set of techniques that introduce genes encoding light-responsive proteins to control cells' behaviors.
"We hope that this is going to be the beginning of the next era of optogenetics, opening the door to light-sensitive proteins that can interface with virtually any protein in biology, either inside or outside of cells," said Toettcher, the James A. Elkins, Jr. '41 Preceptor in Molecular Biology.
Avalos and his team hope to use OptoBinders to control the metabolisms of yeast and bacteria to improve the production of biofuels and other renewable chemicals, while Toettcher's lab is interested in the molecules' potential to control signaling pathways involved in cancer.
The full article appeared first on the School of Engineering and Applied Science website.