August 13, 2019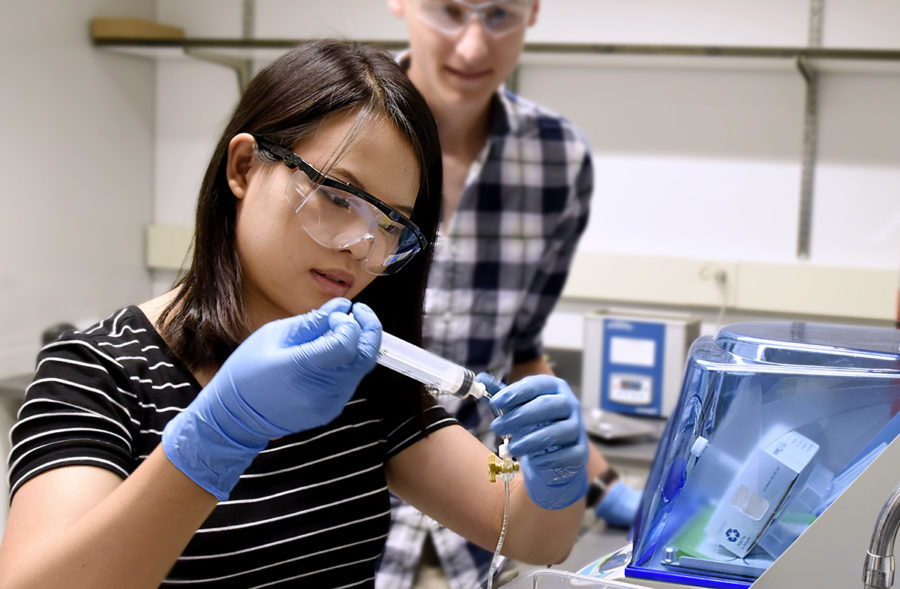 By Molly A. Seltzer
The last oily blobs in contaminated waterways are often removed using chains of common molecules, known as polymers, that are mixed with water and flushed through aquifers to rid chemicals. Why polymers aid in this process and exactly what happens when they are flowing through the rocks and water is unclear, limiting industry confidence in the effectiveness of using polymers for water cleanup.
Audrey Shih, a rising senior studying chemical and biological engineering, is tackling this challenge as part of an Andlinger Center summer internship. Shih is conducting research in the lab of Sujit Datta, assistant professor of chemical and biological engineering. In her research, Shih modeled how polymers behave in various environments to understand how they may work for remediating water sources, for example, after oil spills.
To do this, Shih and Christopher Browne, a rising third-year graduate student in Datta's lab, created a new test environment to simulate porous rock formations. The model rock environment is similar to an enclosed, micro-scale Plinko board. Instead of dropping a coin down the board and seeing how it trickles through the ridges, the researchers inject a mucus-like solution made of polymers and water, and watch where along the ridges, or simulated pores, the polymers bend and collapse. As the polymers stretch and relax through the ridges, they create turbulence and pressure. These swirls of liquid, or "eddies," that the polymers create are thought to be part of the mechanism that forces out the contaminants.
Shih was able to watch the polymers as they traveled through the fake rocks using a confocal microscope, which ultimately allowed her to explain their behavior. Shih made several different rock environments, changing the spaces between the ridges and number of ridges to resemble various types of rocks and their pore spaces.
Browne said this research bridges two fields that are typically studied separately: polymers and fluid dynamics in porous media, such as rocks.
"Audrey's idea is to watch a single polymer in a rock and understand what's happening in the rock based on what the polymer's doing," said Browne. 
Once the researchers understand how the polymers behave in various settings, they can then change the polymer to work in different environments or change the environment itself, which may be applicable for complex rock or water systems. Shih hopes to continue to gain insight on the process to eventually control the flow of the liquid polymer solution for use in aquifers.
"This study is particularly important in determining ideal operating conditions for the use of polymers to remove contaminants from porous groundwater aquifers," said Datta. "While using polymers for groundwater remediation shows promise, a general way to predict and control the polymer flow and resulting contaminant removal is lacking. Chris and Audrey's work helps to fill in this gap."
Flush outs of contaminated waterways can cost billions of dollars and even more with the polymers. With stronger scientific understanding of how the polymers behave, Shih hopes her research will help to instill more confidence in their effectiveness at cleaning up oil spills.
"Being in this lab has allowed me to do research that advances the pure science of it (polymer behavior), but downstream it's very applicable. It matters in helping to protect the environment, and that makes the work super interesting and super important," said Shih.
Shih's undergraduate research has also jumpstarted her scientific career. Shih is the second author on two papers based on her research in Datta's lab.  
"Audrey's work both helped advance the field and provides a launching point for graduate work and future scholarly endeavors," said Elke Weber, associate director for education at the Andlinger Center. "Enabling undergraduates to pursue meaningful research, learn about the research process, and even get their name in the literature is an incredible benefit of the Andlinger Center summer internship program."
Shih's summer research is supported by the Peter B. Lewis Fund for Student Innovation in Energy and the Environment and the Dede T. Bartlett P03 Fund for Student Research in Energy and the Environment, administered by the Andlinger Center for Energy and the Environment. Audrey Shih was one of 13 students supported by the fund to undertake work that addresses energy and environmental challenges this summer.