July 16, 2020
By Molly A. Seltzer
Making the latest climate science accessible to mayors, planners, and local officials is the only way coasts will be able to prepare for sea level rise and other impacts of climate change, experts said last month at the annual retreat of Princeton E-ffiliates Partnership (E-ffiliates). Although local officials are typically best equipped to understand their communities' needs, most lack the resources to explore the dangers and opportunities these threats present to infrastructure, the economy, and the country's social fabric.
"You can't turn to a small town in America and have them tell you what their risks are," Alice Hill, a senior fellow for climate change policy at the Council on Foreign Relations, said during the retreat on June 9.
In discussion with nearly two hundred researchers, students, and companies who gathered virtually, Hill added that climate experts need to make actionable data available to these local leaders so they can develop strategies on how best to deploy their limited resources most effectively. The day's discussion focused on using adaptation measures like green infrastructure and new zoning laws to help coastal communities increase their resilience to long-term challenges like sea level rise even as they rebuild from today's extreme weather.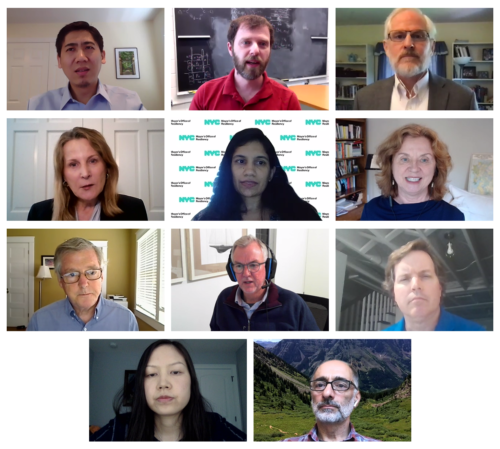 In the two-hour webinar, panelists said that fostering, strengthening, and encouraging resilience, or the ability to rebound from a disturbance, is urgent. Done successfully, building resilience can render communities safer, stronger, and more equitable. However, the panelists emphasized that this work requires reducing the information gap between the scientific community and practitioners, a divide that E-ffiliates, the corporate partnership program of the Andlinger Center, aims to bridge.
The day's agenda was led Richard Moss, a resiliency and adaptation expert, who has been a long-term contributor to the Intergovernmental Panel on Climate Change the US National Climate Assessment. Moss is a Gerhard R. Andlinger Visiting Fellow at the Andlinger Center for Energy and the Environment and a senior scientist at Pacific Northwest National Laboratory's Joint Global Change Research Institute at the University of Maryland.  In addition to the information gap, Moss added that adaptation can be more challenging because of how vulnerabilities are exacerbated by systems that prolong racism and inequality.
"Even if we manage to hold climate change to 2°C or less, we're going to need a lot of adaptation on the coasts – a median projection is for a foot or more of sea level rise by 2050 in New Jersey and other Mid-Atlantic states. If coastal development continues without adaptation, we're putting lives at risk, damaging the economy, and hurting communities that have been hurt before," said Moss.
He said coasts and shoreline counties are particularly important in the United States because they account for about 40% of the country's population and almost half of the national GDP. They are key places for tourism and recreation, trade, infrastructure, natural ecosystem services, and military bases.
Hill spoke on the first of two panels, which focused on resilience efforts at the national, city, and local levels. The second centered on industrial perspectives on resilient infrastructure, represented by E-ffiliates members PSEG and ExxonMobil.
"It's nearly impossible for any of us, any American, to get through a single day without eating, wearing, or using products that either come from or through U.S. coastal communities," said Hill.
Hill pointed to a 2019 Princeton study that said that the combined effects from coastal flooding, more intense storms, and sea level rise could mean that what was historically a 100-year flood could occur every single year in the Mid-Atlantic and New England, and every one to 30 years in the Gulf Coast and Southeast regions. The study was co-authored by Ning Lin, associate professor of civil and environmental engineering at Princeton, who presented at the second panel. Both "sunny day" tidal flooding and more intense storm surges mean beach erosion, the loss of more homes and displacement, infrastructure damage, and the spoiling of fresh water supplies.
Hill said that most countries, including the United States, are behind in building resilience. She cited the Global Commission on Adaptation's call for a "revolution in understanding and a revolution in planning," to help communities prepare for extreme heat events, wildfires, and hurricanes, which may occur simultaneously, and even amidst a pandemic. The experts emphasized that despite the uncertainty of when and how extreme events will occur, taking action now is critical to minimizing their damages, which could upend the economy, national security, and public health. Hill noted that for every dollar spent to prepare for a disaster, six dollars are saved in recovery costs. The panelists said that funding, tools, services, and leadership in both the public and private sectors are needed.
According to Skip Stiles, executive director of Wetlands Watch based in Norfolk, VA, local governments control nearly every piece of the pie necessary to develop an effective resiliency plan, including zoning, occupancy permits, and stormwater and sewer lines.
"However, there are about 39,000 general-purpose local governments in the United States and about another 48,000 special-purpose [branches] of government," said Stiles.
Elected officials are not trained in these subjects. Stiles noted that the officials are unlikely to have read the latest IPCC report. He added that local government staff capacity also is a barrier because most public servants are burdened by too many responsibilities and too few resources. Many towns don't have transportation engineers, GIS capability, certified floodplain managers, and often do not have adequate cell or broadband signal by their shorelines. He said assembling this "diffuse army" to make a national plan is difficult. Each of these towns has a different topography, geology, and pattern of home ownership.
Despite these complexities, Jainey Bavishi, director of the New York City Mayor's Office of Resiliency, emphasized that adaptation measures have the potential to make communities safer, stronger, and more equitable. She said that certain measures add a dual-benefit of providing recreational spaces in addition to flood protection. Bavishi pointed to New York City's plans for the Rockaways and four other areas that will provide more than one community benefit and help address some of the underlying inequities that make communities more vulnerable in the first place.
Getting agreement on the value of such diverse benefits can be challenging for companies, said Edward Gray, director of transmission and distribution engineering at PSEG, a New Jersey-based energy company and power and gas provider. In the second panel of the day, he said his company knows how to calculate the increased cost to ratepayers for infrastructure hardening and other efforts to reduce the risk of power outages, but the benefits are calculated through economic models that incorporate the value of lost loads and future avoided costs for customers. The cost of rate increases is definitive while the benefits, based on future storm events, can be considered speculative. The difference between hard costs, which become rate increases, and future avoided costs can make justifying the programs difficult and hard to pass, Gray said.
Princeton's Ning Lin spoke to how tropical cyclones and increased precipitation will lead to flooding rivers, which affect inland communities too, not just the coasts. Haroon Kheshgi, senior scientific advisor at ExxonMobil Corporate Strategic Research, spoke to the importance of information, and localized climate and meteorological data, in developing resilience strategies, and of continually incorporating data into existing management systems.
In the day's wrap-up, Moss, recommended developing new frameworks for both communicating and implementing resiliency plans based on the latest science. He also advocated for the development of a systematic approach to understanding barriers and pathways for implementing adaptation measures, noting the Andlinger Center's Rapid Switch project as a great example of how to frame and study  transitions. Moss reiterated how important it is to "bake resilience into ongoing processes and authorities," and to set technical best practice standards for how to apply climate science in professions such as planning, engineering, architecture, and public health. Moss added that the non-profit network he and colleagues are developing, the Science for Climate Action Network (SCAN), specifically aims to facilitate engagement between scientists and those working in the private and public sectors through workshops and customized resources.
Barry Rand, associate director for external partnerships at the Andlinger Center, said in closing statements, "I can clearly see that the issues discussed today require participation spanning the value chain of the public and private sectors." Rand, who is also an associate professor of electrical engineering and the Andlinger Center for Energy and the Environment, said companies that deal with energy and water resources, like several E-ffiliates members, are accustomed to assessing physical risk of their infrastructure and designing it to withstand trying conditions. He said they have valuable lessons to share, and E-ffiliates aims to provide a forum for the companies to communicate with other stakeholders in government, the non-profit sector, and academia.
The E- retreat is supported by E-ffiliates members including ExxonMobil, American Tower and PSEG. Princeton E-ffiliates Partnership is a membership program that engages corporations to collaborate with academic experts to advance research and help move energy and environmental technologies into the marketplace. This program is administered by the Andlinger Center for Energy and the Environment.