November 23, 2016
During his campaign, President-elect Donald Trump claimed climate change is a hoax, vowed to take the U.S. out of the Paris climate deal, and said repeatedly on the trail that he wanted to roll back many environmentally-friendly regulations instituted during President Barack Obama's administration. He also alarmed many environmentalists when he tapped Myron Ebell, a known climate change skeptic, to lead the transition at the Environmental Protection Agency (EPA).
As many scientists and concerned citizens grapple with the new political landscape, questions have arisen: Where does that leave the state of climate science, the scientific community as a whole, and the emerging landscape of sustainable solutions and technologies? What can be done to fight the already evident, damaging signs of climate change when the American government's role may be absent?
Despite some recent walk back on his climate change comments in The New York Times, Trump's approach still seems alarming due to his personnel choices, according to chatter among energy and environmental thought leaders on social media.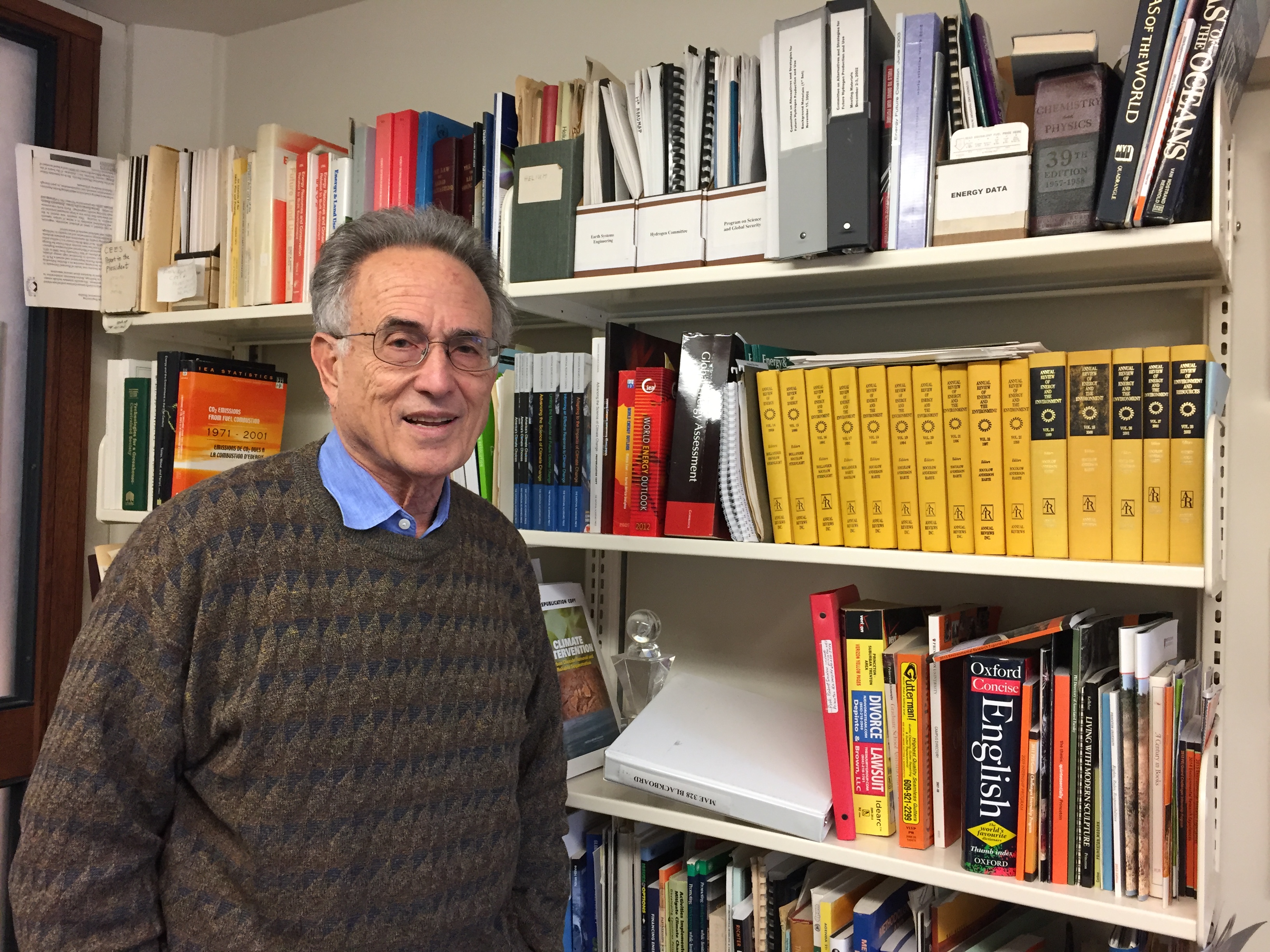 To explore these concerns, we turn to Robert Socolow, professor emeritus and senior research scholar at Princeton University's Department of Mechanical and Aerospace Engineering for the latest "The Andlinger Center Speaks." A trained physicist, his current research delves into global carbon management and fossil-carbon sequestration. Socolow recently led a team of 10 graduate students who co-authored the Andlinger Center for Energy and the Environment's latest Energy Technology Distillate, "Fusion Energy via Magnetic Confinement." This new report is a collection of concise articles about nuclear fusion energy with a focus on magnetic confinement reactors.
In response to the incoming Trump administration, Socolow published this week "A dangerous moment for climate change and for science" in the Bulletin of the Atomic Scientists. We refer to the article during the course of the following interview.
What could the effects of a Trump presidency possibly be on climate change?
I just came back from China, where I gave a seminar at Tsinghua University in Beijing in a workshop about climate change. At the event, a few of the leading people involved in China's policy making and analytical research on climate change made it clear that China would not modify its current path towards a carbon-neutral world, whatever we did in the United States.
Many other countries are saying the same thing. It's good news for the planet. We are probably not going to create collateral damage.
What are the possible effects of a Trump presidency on climate science and science in general?
My number one concern is the people around Trump; some of them have long been active in denouncing climate science. This makes me deeply anxious about the devaluing of science in general by people who are in positions of authority in government. The trashing of science has been going on for a long time; look at the Scopes Trial in 1925 when evolution was under scrutiny.
But this is the first time that a government body like the EPA, the U.S. Department of Energy, or the National Science Foundation could have people in charge who have not accepted that science is an extraordinarily productive and self-correcting way to understand the world around us. If we lose that, the kinds of conversations we can have around climate science will be very degraded.
Our universities have been a magnet for the smartest young people in the world, who have wanted to study here since they were kids. If we in the United States appear not taking science seriously, that magnetism will be diminished, as I explain in my commentary for the Bulletin of the Atomic Scientists. Before World War II, Germany was the top country for scientists. After the war, Germany could not recover that standing and America has been the beneficiary.
Could there be economic costs associated with the new anti-climate science administration?
A lot of effects that are very unfortunate could result. Some countries have talked seriously about adding a tariff to American exports, on the grounds that their country will incur costs for implementing climate change policies and America will not be incurring these costs.
Will the U.S. be left behind in terms of research and technologies under a climate-skeptic administration?
It's hard to say. We may lose an edge. Top scientists and engineers may decide that they'd rather work somewhere else.
What can be done to combat climate change dissidents and climate change itself?
As I espouse in my Bulletin commentary, I have two suggestions that should reduce the chances that climate science gets trashed.
Scientists must reach out and make new allies in industry and the military. They should court insurance companies too since they think about risk all the time. Oil companies can be allies as well because they would want a say in how we move toward less reliance on fossil fuels. Businesses in Silicon Valley would be partners.
Climate change is about managing risks. We know that there is a wide range of possible outcomes from what we are doing to the planet, varying from terrible to not so terrible in the short term. Business leaders see their job as managing risk all the time.
Another thing we must do is create stronger links between different research disciplines, especially between engineering and Earth science, the study of how the planet works.
An example is Howard Stone, the Donald R. Dixon '69 and Elizabeth W. Dixon Professor of Mechanical and Aerospace Engineering and chair of the Department of Mechanical and Aerospace Engineering at Princeton. Stone's expertise lies in studying the movement of complex fluids.
Right now, Howard and his postdoc, Bhargav Rallabandi, are working with scientist Mike Winton from the Geophysical Fluid Dynamics Laboratory to try to figure out how ice flows through a narrow channel like the Bering Straits. They have developed a numerical model that is below the usual resolution (subgrid) in climate models. It is a complicated system and Stone and his collaborators are trying to simplify and clarify it.
I wish there were many more examples of this. There could be many more scientists and engineers operating within their disciplines and looking at applications in Earth science that they don't normally look at.
Basically, climate science is too important to leave only to climate scientists.
Climate science needs all the help it can get as soon as possible because we are modifying a planet that we don't fully understand.
 The Andlinger Center Speaks is a Q/A series that features experts from the center addressing topical and timely energy and environmental issues.
For more information on the Andlinger Center for Energy and the Environment at Princeton University, contact Sharon Adarlo, communications specialist, at sadarlo@princeton.edu or (609) 258-9979.