July 12, 2023
'This is what saving the planet looks like': Retreat offers lens into the future of sustainable infrastructure
By Colton Poore
At first glance, the muddy trench outside of Guyot Hall, crisscrossed with metal pipes, might appear unremarkable. But on June 5, a group of industry experts crowded around the security fence to get a better view.
"This is what getting to net-zero campus emissions really looks like," said Forrest Meggers, associate professor of architecture and the Andlinger Center for Energy and the Environment, as the group of dignitaries peered into the hole, which was being fitted with new pipes for a more efficient campus heating and cooling system.
The tour of Princeton's ongoing sustainable infrastructure projects was part of the tenth annual E-ffiliates retreat, hosted by the Andlinger Center for Energy and the Environment, which convened corporate members, Princeton faculty, students, and campus partners around the topic of how to decarbonize the built environment, using Princeton's campus as a living case study.
"We didn't retreat this year. We're still on Princeton's campus, and that was deliberate," said Barry Rand, associate director of external partnerships at the Andlinger Center, at the beginning of the day.
The day-long retreat featured presentations and panels that explored various aspects of sustainable infrastructure, moving from thinking about change at the human scale all the way to the building scale – with plenty of physical movement along the way.
Messaging matters
The day kicked off with a set of presentations about effective ways to communicate about the disruption caused by sustainable infrastructure and construction projects.
"There are two things we know about change," said Elke Weber, the Gerhard R. Andlinger Professor of Energy and the Environment and professor of psychology and public affairs. "The first is that change is both inevitable and constant. And the second thing is that we, as humans, usually hate it."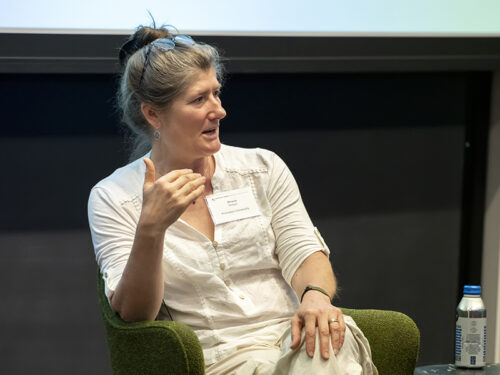 Despite people's natural aversion to a changing physical environment, Shana Weber, director of Princeton's Office of Sustainability, used lessons learned from the Princeton Builds campaign to provide practical insight into messaging strategies that counteract negative perceptions of construction. She argued that while easy-to-digest signage is important, campaigns should also establish some channel for communicating more granular information and explaining the visionary "why" behind construction.
John Pickering, chief behavioral scientist at Evidn, added that appealing to an individual's sense of identity with a group can be a powerful tool for overcoming negative perceptions. He referenced a pilot project at Icahn Laboratory to promote the importance of closing fume hoods for reducing carbon emissions on campus. Even though fume hoods have a small physical footprint, each hood can consume the same amount of energy as an entire residential home when left open. By installing signage that encourages users to close unused fume hoods by appealing to their identity as a member of the Princeton community, Pickering said the project has reduced fume hood energy usage in labs by 20%. The project is now in the process of expanding to other buildings on campus.
"The idea of having pride in Princeton is very powerful," Pickering said. "People that work here and people that study here think of Princeton as a leading institution that has the power to take ideas forward. And we can tap into that sense of pride to encourage sustainable actions."
Sustainable infrastructure in motion
After the presentations, Meggers led a guided tour of Princeton's campus to demonstrate existing infrastructure as well as new construction projects equipped with state-of-the-art energy features. For example, he pointed out the construction project for the future Hobson College, for which Princeton will seek Passive House certification, a stringent standard for energy efficiency in buildings.
"Energy efficiency is really something that needs to be thought about at the whole project level," Meggers said. "Projects need to be structured in such a way that promotes collaboration between architects, engineers, and other project actors, or else things like energy efficiency get siloed into only one part of the project and fall by the wayside."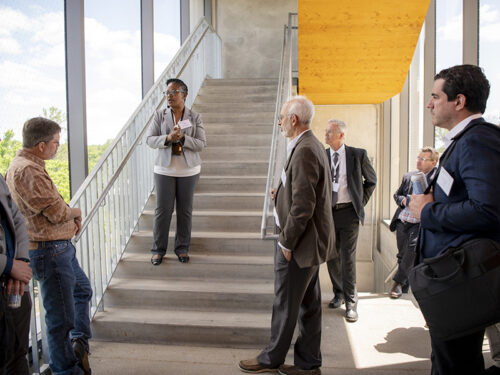 The tour led participants to a sustainability showcase at Stadium Drive Garage, where Edward (Ted) Borer, the director of Princeton's energy plants, explained Princeton's ambitious plan to reduce campus CO2 emissions. An important part of that plan is geo-exchange, an energy storage system for capturing, storing, and then reusing heat several months later. The geo-exchange systems will avoid the use of cooling towers to reject heat to the environment, which Borer said can be major energy sinks. Installing the systems will require drilling nearly 3000 bore holes on Princeton's campuses, of which over 1000 have already been installed.
"Occasionally, we hear complaints about all the construction on campus," Borer said. "We know it looks messy. But this is what saving the planet looks like. It takes this much effort to drive campus operations to net carbon neutrality. We're changing 150 years' worth of combustion-based heating and lighting to an electric-based system powered by renewable energy. We expect that much of what we're building today will last for another century."
Ijeoma Nwagwu, assistant director of academic engagement and campus-as-lab initiatives at Princeton's Office of Sustainability, added that the ongoing construction process is also an opportunity to educate the campus community and include them in efforts to collect real-time data.
"We have to seize the present moment as an opportunity to use our campus as a learning lab," Nwagwu said. "When students come to learn about the reasons for all the work we're doing, their anger at the inconvenience of construction vanishes. Instead, they become some of our biggest advocates."
Disrupting business as usual
After a quick trip back to the Andlinger Center aboard one of Princeton's 100% electric buses, participants settled in for the keynote address from Jeff Terry, vice president of corporate social responsibility and sustainability at GAF, which is North America's largest roofing and weatherproofing manufacturer. In his talk, Terry acknowledged the difficulty in making rapid changes in the building sector, which has traditionally prided itself on its durability and dependability.
"The built environment is the largest contributor to atmospheric carbon in the world today," Terry said. "As a sector, the built environment has been somewhat slow to the draw. But it's no longer something we can continue to ignore, and ultimately, driving change toward sustainability will give us a competitive advantage."
Terry highlighted ongoing work at GAF to close the carbon loop by developing ways to reduce the amount of roofing materials that end up in landfills, which he said will require technological innovation in addition to new ways of engaging with and educating GAF's network of contractors. He also spotlighted GAF's Timberline Solar shingles. These nailable solar shingles can be installed alongside a roof replacement, which Terry said is a prime example of an approach to business that marries sustainability with the dependability that consumers expect from the roofing industry.
"Changing the building sector takes pioneers," Terry said. "Anybody can be that pioneer, if they just make the effort."
The final panel of the day reiterated the value of innovators and first movers in helping companies incorporate sustainable infrastructure into their own operations.
Ed Knapp, chief technology officer at American Tower, discussed the challenges facing companies as they seek to meet sustainability targets while continuing to grow their operations. Because most sustainability targets are set against a historical reference point, Knapp said that balancing sustainability and organic company growth requires a re-think of traditional approaches for evaluating investments.
Stacy Mahler, head of sustainability for Siemens Smart Infrastructure in the U.S., agreed, saying that "At some point, we'll reach a tipping point where the current barriers to the energy transition start to go away, but we need some brave people to get us to that point. And there are a lot of those people working at universities who can lead the way."
"First movers are so, so important," echoed Peter Hirsch, Head of Sustainability at 2150, a venture capital fund that focuses on urban sustainability. "And I think academia can play an important role in creating models from day one that the private sector can then adopt, so companies can say, 'well, Princeton did it. Maybe we can do it as well.'"