May 7, 2019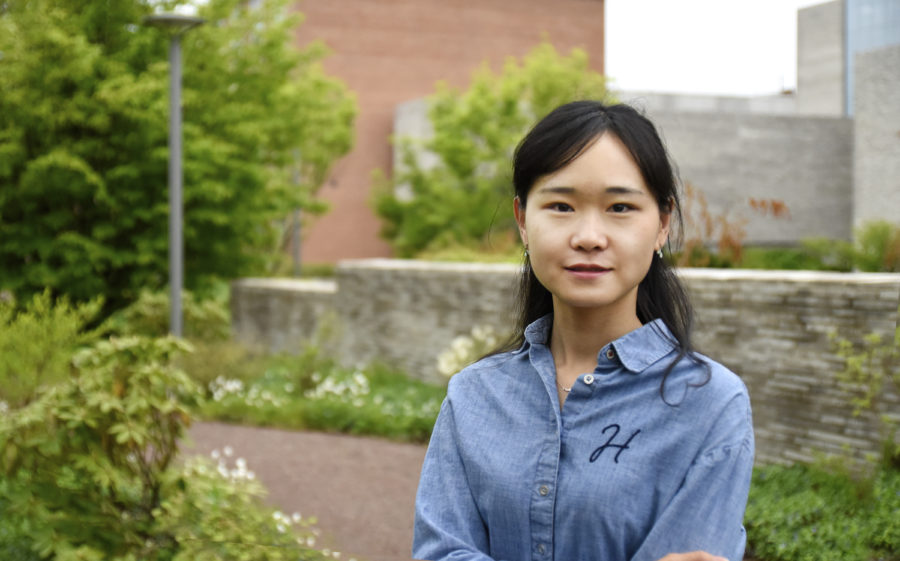 By Molly A. Seltzer
The Andlinger Center for Energy and the Environment has named Weitao Shuai, a fourth year graduate student in civil and environmental engineering, the Maeder Fellow in Energy and the Environment for the 2019-2020 academic year.
Each year, Princeton faculty members nominate candidates for this honor by drawing upon top graduate students performing research related to energy and the environment. Selection for the fellowship, which is supported by the Paul A. Maeder '75 Fund for Innovation in Energy and the Environment, is based on the researcher's accomplishments and potential.
Weitao Shuai received her bachelor's degree in environmental engineering from Peking University, where she studied soil treatment and remediation. At Princeton, Shuai focuses on environmental biochemistry under advisor Peter Jaffé, the William L. Knapp '47 Professor of Civil Engineering, professor of civil and environmental engineering, and associate director for research at the Andlinger Center for Energy and the Environment.
Shuai researches water treatment and methods for removing ammonium from water using bacteria under anaerobic conditions.
Her work at Princeton experimented with using iron to aid bacteria in cleaning water similar to agricultural runoff. The results have been published in several journals, including Science of the Total Environment and Applied and Environmental Microbiology. The Maeder Fellowship will support her upcoming research to develop a process that applies a small voltage to clean water, and does not require iron to help the reaction. The new process could cut energy use at wastewater treatment plants, where ammonium is typically removed through an energy-intensive process of producing oxygen and then injecting it into the wastewater.
Shuai said the fellowship will enable her to focus on building, fine-tuning, and optimizing reactors to improve this process.
"I believe the project that I am working on can make a contribution to building a more environmentally sustainable society," said Shuai. "The Maeder Fellowship offers me more opportunities to collaborate and communicate with researchers at the Andlinger Center, and also encourages me to continue my work on exploring energy-efficient water treatment solutions."
The research reflects the Andlinger Center's mission of developing solutions that address long-term energy and environmental challenges, including those at the intersection of complex energy and water systems. The research falls within one of the Center's four key focus areas, environmental sensing and remediation.
The Paul A. Maeder '75 Fund for Innovation in Energy and the Environment supports the Maeder Fellowship, awarded to one or two graduates each year who demonstrate potential to develop technical solutions to sustain our energy and environmental future. The Andlinger Center for Energy and the Environment administers the fund and fellowship. More information on the program and past recipients can be found here.