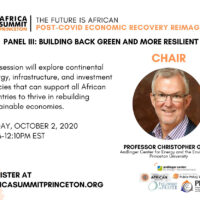 Date: October 2, 2020
Time: 11:00 am - 12:10 pm
Location: Virtual seminar
The Africa Summit at Princeton, a two-day student-run conference hosted at Princeton University annually, stimulates debate and dynamic discussions around the contemporary developments, challenges, and opportunities facing the African continent. By gathering renowned scholars, visionary politicians, and cutting-edge entrepreneurial minds with the passionate student bodies at Princeton and neighboring institutions, the Summit offers a unique platform to translate ideas and relationships into meaningful action.
2020 Theme: "The Future is African: Post-COVID Economic Recovery Reimagined"
Panel III: Building Back Green and More Resilient
The session, led by Chris Greig, will explore continental energy, infrastructure, and investment policies that can support all African countries to thrive in rebuilding sustainable economies. 
Register here: https://www.africasummitprinceton.org/