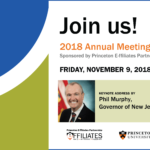 Date: November 9, 2018
Time: 8:00 am - 6:30 pm
Location: Maeder Hall Auditorium, Andlinger Center for Energy and the Environment
Andlinger Center for Energy and the Environment 
2018 Annual Meeting, 
Sponsored by Princeton E-ffiliates Partnership
The 2018 Annual Meeting will explore the technological challenges of bringing clean energy technologies to market. The conference will discuss research and development of wind energy, sustainable cements, and low-carbon hydrogen production to showcase how industry-academic partnerships can help society transition to sustainable energy systems and materials that yield long-term benefit to society. Keynote address by Phil Murphy, Governor of New Jersey.