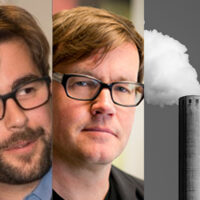 Date: March 17, 2021
Time: 3:30 p.m. - 6:00 p.m.
Location: Virtual
Hosted by Jesse Jenkins and moderated by Robert O. Keohane
Wednesday, March 17, 2021
3:30 p.m. – 5:00 p.m.
5:10 p.m. – 6:00 p.m. student engagement session
Putting a price on carbon dioxide emissions is widely considered a powerful climate policy tool that can harness market forces to drive innovation, the adoption of clean energy technologies, and other actions that reduce planet-warming emissions. But the politics of creating and maintaining carbon pricing policies can constrain implementation of carbon pricing, including direct carbon taxes and systems that cap and gradually reduce emissions and allow regulated entities to trade allowances to emit under that cap.
Danny Cullenward and David Victor, authors of Making Climate Policy Work (Polity Press), will explain the critique of carbon pricing policy and why they found carbon prices to be ineffective nearly everywhere they have been applied. Afterwards, Cullenward and Victor will discuss the topic with carbon pricing proponents Joseph Majkut, director of climate policy at the Niskanen Center and Suzi Kerr, chief economist at the Environmental Defense Fund, who will take a fresh look at the promise and peril of carbon pricing and how it can help inform more effective policy decisions.
This public event is hosted by Princeton University's Andlinger Center for Energy and the Environment, in partnership with the Niskanen Center and is co-sponsored by the Environmental Defense Fund and Princeton University's Center for Policy Research in Energy and the Environment.