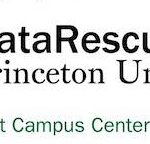 Date: May 19, 2017
Time: 10:00 am - 4:00 pm
Location: Multi-purpose Rooms, Frist Campus Center
DataRescue Princeton (#DataRescuePton) is an opportunity for Princeton University faculty, staff, and students to help preserve a wide range of climate and environmental data resources accessible on government agency web sites.
The goals of DataRescue Princeton and its sister events throughout the country are to ensure that important scientific data be responsibly archived so as to be permanently findable, accessible, and usable and to raise awareness of the significance of this data in improving our understanding of issues that are important in our communities and everyday lives.
Programmers, researchers, librarians, science enthusiasts, and volunteers of all kinds  and skills are welcome to join us on Friday, May 19, 2017 from 10:00 am – 4:00 pm(Multi-purpose Rooms, Frist Campus Center).
Register by Thursday, May 18th.

This event is organized by representatives from the Princeton Institute for Computational Science & Engineering (PICSciE), Office of Information Technology (OIT), and Princeton University Library and co-sponsored by the Center for Digital Humanities (CDH),  Princeton Environmental Institute (PEI) and the Andlinger Center for Energy and the Environment (ACEE)  in conjunction with the national initiative directed by the Environmental Data and Governance Initiative (EDGI) and PPEH DataRefuge.