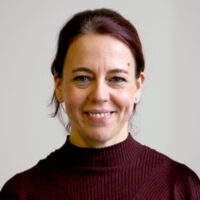 Date: October 5, 2023
Time: 12:30 p.m. - 1:30 p.m.
Location: Maeder Hall Auditorium
Collaborative sustainability research for enhanced societal impact
Monica Contestabile
Chief Editor, Nature Sustainability
Abstract:
The seminar will cover why interdisciplinary, cross-domain, multisector, and integrated systems thinking are all needed approaches to address the most pressing sustainability challenges society is facing; it will also cover the extent to which the education and research communities, funding agencies, and the publishing landscape are transforming their visions, priorities, and practices to respond adequately.  The seminar will then go through the inherent challenges and advantages of going beyond conventional disciplinary research, including from the point of view of publishing such more complex research outputs. It will consist of examples of editorial practices adopted at Nature Sustainability to promote inter-disciplinarity and trans-disciplinarity followed by questions and answers and a general discussion.
Bio:
Contestabile joined the Nature family in 2011 as a senior editor at Nature Climate Change, where she handled original research and review articles across the entire breadth of social sciences, and interdisciplinary articles integrating natural and social science disciplines in the context of climate and global environmental change. She became the launching chief editor of Nature Sustainability in 2016. Contestabile completed her doctoral studies in environmental and development economics at the University of Naples Federico II, Italy; she then held a visiting professor position at University Tecnológico de Monterrey, Mexico, and subsequently joined the sustainable consumption team at WWF-UK where she gained invaluable experience about the challenges of bridging the gap between research and policy domains. Contestabile is based in Berlin.