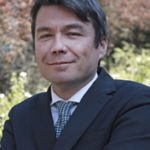 Date: September 22, 2017
Time: 12:30 p.m. - 1:30 p.m.
Location: Maeder Hall
Minister of the Environment for the Government of Chile, Marcelo Mena, will be giving a special guest seminar on "Chile's Energy and Environment" at the Andlinger Center for Energy and the Environment at Princeton University.
This special guest seminar will be held on Friday, September 22, 2017 from 12:30 p.m. – 1:30 p.m. in Maeder Hall at the Andlinger Center. Lunch will be served at 12:00 noon in the auditorium lobby of Maeder Hall.
ABSTRACT
An analysis of the command and control and carbon taxes that have transformed Chile's energy sector into one of the world's most vibrant in terms of investments in renewable energy. Also, a glimpse at the effort to address air quality issues due to wood burning, and how cities are transforming their heating systems to clean the air. Finally, a review on the extensive ecological conservation effort in Chile, which has recently created one of the largest national parks and marine protected areas in the world. A discussion on how a country that has grown on natural resources is now looking to provide the basis for sustainable and inclusive development.
BIO
Marcelo Mena received his biochemical engineering Ph.D. at the University of Iowa's Center for Global and Regional Environmental Research, and was a postdoc at MIT's Joint Program for the Science and Policy of Global Change. He was also a Fulbright Visiting Scholar at the University of California-Fresno and has been named a Distinguished Alumnus at the University of Iowa and Universidad Católica de Valparaíso. He served as the Vice Minister of the Environment from 2014-2016 and currently serves as Minister of the Environment for Chile.