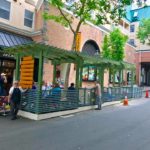 Date: June 7, 2017
Time: 1:00 pm -
Location: jaZams, 25 Palmer Square East, Princeton
All are welcome to attend the official media event of the "Princeton Parklet Energy Playground" on June 7 at 1 p.m. in front of jaZams, 25 Palmer Square East in Downtown Princeton.
The event will feature brief comments by project sponsors and a demonstration of the parklet. Also known as "street seats," parklets provide a means for the community, artists, arts organizations, schools, residents, and business owners to participate in designing and repurposing a parking space into a public art-based space. Andlinger Center for Energy and the Environment is one of the main sponsors. Lynn Loo – center director, the Theodora D. '78 and William H. Walton III '74 Professor in Engineering, and professor of chemical and biological engineering – will give remarks at the event.
The parklet on display features sustainable energy technologies, such as battery storage and a bicycle power generator. Two jointly-appointed Andlinger Center faculty members – Forrest Meggers, assistant professor of architecture, and Daniel Steingart, assistant professor of mechanical and aerospace engineering – participated in the construction and design of this public art installation.
On June 10 from 3 to 5 p.m., there will also be a community reception. Ice cream, refreshments, and activities for children will be offered to the public.
Besides the Andlinger Center, other main sponsors for the project are the following: Princeton University's School of Architecture, jaZams, Arts Council of Princeton, Joseph Hobart Weiss Architect, NRG Energy, and Hamilton Building Supply Company.
Additional sponsors are the following: Davidge Design Studio, Kopps Cycles, MacLean Agency, Nassau Inn/Palmer Square, Princeton Public Library, Thames and Kosmos, ThinkForm Architects, Teresa's Caffe, Municipality of Princeton, Smith's Ace Hardware, and Sustainable Princeton.
For more information on these two events and the project, go to the website of the Arts Council of Princeton.