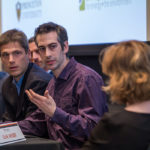 Date: November 10, 2017
Time: 9:00 a.m. - 6:30 p.m.
Location: Maeder Hall
The Andlinger Center for Energy and the Environment and Princeton E-ffiliates Partnership will host their Annual Meeting on Friday, November 10, 2017 at Princeton University.
Fred Krupp, President, Environmental Defense Fund, will give the keynote address on technological innovations to decarbonize our economy. The Meeting's morning session will examine electrification of transportation. Lunch will be followed by two faculty research presentations on reducing energy consumption with psychological interventions and cool buildings with less cooling. The late afternoon session will explore coastal resilience, and the day will conclude with refreshments and a student poster competition.
The annual meeting aims to catalyze the exchange of ideas and spark future collaborations by bringing together corporate leaders, researchers, policy experts, faculty, students and postdocs.