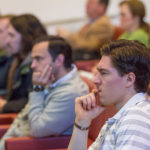 Date: November 11, 2016
Time: 8:00 am - 6:30 pm
Location: Maeder Hall, Andlinger Center for Energy and the Environment
Princeton E-ffiliates Partnership will host its Fifth Annual Meeting on Friday, November 11, 2016 at Princeton University.
Ralph Izzo – chairman of the board, president, and chief executive officer at Public Service Enterprise Group (PSEG) – will give the keynote address.
This event aims to catalyze the exchange of ideas and spark future collaborations by bringing together corporate leaders and researchers, policy experts, faculty, students, and postdocs for a day of talks, including panel discussions on the energy-water nexus and the role of behavioral science in environmental policy, faculty research presentations, and a student poster session.
For more information and to register, click on this link.