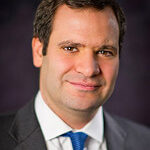 Date: October 11, 2018
Time: 12:30 p.m. - 1:30 p.m.
Location: Maeder Hall
Robbie Diamond, of Securing America's Future Energy (SAFE), will present "Self Driving: Are we on "Autopilot" to the future?" as part of the 2018/2019 Highlight Seminar Series.
ABSRACT
Autonomous vehicles (AVs) are already on the roads, and promise to reinvent our transportation system. As AVs are introduced alongside electric powertrains, ride-sharing business models, and V2V and V2I connectivity, there are significant opportunities to realize greater system efficiencies, reduce the cost of travel, save tens of thousands of lives every year, offer safe and affordable transportation to people with disabilities, and mitigate our oil dependence. In addition to exploring the wide swath of benefits offered by AV technology, this presentation will discuss near and long-term regulatory challenges facing an autonomous and electric transportation future, and the political pitfalls that could arise.
BIO
Robbie Diamond is the Founder, President and CEO of Securing America's Future Energy (SAFE). In 2006, he came together with Frederick W. Smith, Chairman, President, and CEO of FedEx Corporation, and General P.X. Kelley, USMC (Ret.), 28th Commandant of the Marine Corps, to form SAFE's Energy Security Leadership Council, a group of prominent business leaders and retired senior military officers dedicated to combating the nation's dangerous dependence on oil.
Diamond is also the President and CEO of the Electrification Coalition, a nonpartisan, not-for-profit group of business leaders committed to promoting policies and actions that facilitate the deployment of electric vehicles on a mass scale.
Diamond helped found and sits on the Board of Rhombus Energy Solutions, a company that provides intelligent power conversion solutions primarily for energy storage applications in the commercial and micro grid segments as well as fast bidirectional charging solutions. In addition, Diamond helped found and sits on the Board of HCT-Sun, a rooftop solar company that focuses on commercial and industrial rooftop development and operations in Mumbai, India.
Diamond earned an Honours Bachelor of Arts from the University of Toronto in Peace and Conflict Studies and Political Science, as well as a Master of Arts in Law and Diplomacy from The Fletcher School.
The 2018/2019 Highlight Seminars Series will be held on Thursdays from 12:30 p.m. – 1:30 p.m. in Maeder Hall at the Andlinger Center. Lunch will be served at 12:00 noon in the auditorium lobby of Maeder Hall.