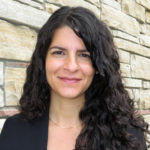 Date: February 27, 2020
Time: 4:30 p.m. - 5:30 p.m.
Location: Maeder Hall Auditorium
Lynn Badia, Colorado State University
Maeder Hall | 4:30 p.m.
The Nation As Energy: Imagining Society Through Energy Intensity
Abstract
While the availability of global energy statistics may be taken for granted today, at the mid-twentieth century such information fell within the purview of a new military program that attempted to map the global fossil fuel and nuclear energyscapes with new precision. In the final years of World War II, the United States government assembled an unprecedented team of engineers to comprehensively map and monitor global energy flows for the first time. The government tasked the engineers with devising an engineering strategy for controlling the "war potential" of Germany and Japan; their solution was a strategy of managing international activity through energy.
By creating a new historical account from documents at the U.S. National Archives, this talk traces a regime of global energy mapping to the creation of the "War Detection Plan" and "industrial disarmament" strategies by the U.S. Government. This talk will examine the energopolitical context from which this representational horizon of knowing energy extraction, translation, and use emerged, and it investigates how energy management reconfigured the way nations were mapped and imagined at the midpoint of the twentieth century. I argue that this new regime of expertise, analysis, and representation provided the framework for mapping ideas of "energy intensity" onto narratives of cultural progress that continue to inform debates about energy transition in the present moment.
Bio
Lynn Badia is Assistant Professor of English and Environmental Humanities at Colorado State University. She is a Research Lead at CSU's Energy Institute, where she also directs the education abroad program "Interdisciplinary Perspectives on Energy Transitions in Europe." In 2015, Badia was a Visiting Scholar at the University of Cambridge, as part of the Climate Histories Research Group at CRASSH Cambridge and Cambridge Interdisciplinary Research on the Environment. Recently, she was a Banting Postdoctoral Fellow (2015-2017) and the Canada Research Chair in Cultural Studies Postdoctoral Fellow (2014-2015) at the University of Alberta, focused on research in the field of Energy Humanities.
Professor Badia's research is concerned with questions about scientific knowledge and the natural world from the nineteenth century to the present day, and she combines work in the fields of the history and philosophy of science, cultural studies, and literary studies. Her work is published in and forthcoming from a range interdisciplinary venues, such as American Quarterly, Cultural Studies, Resilience: A Journal of Environmental Humanities, Open Library of the Humanities, and Nineteenth-Century Contexts among others. She is currently completing her second monograph, Imagining Free Energy: Fantasies, Utopias, and Critiques of America, which introduces the concept of "free" or unlimited energy as a critical framework for understanding the conditions of American society since the beginning of the industrial era.
Sponsors
Andlinger Center for Energy and the Environment
Center for Policy Research on Energy and the Environment
Open to the public
Add to Calendar
02/27/2020 04:30 PM
02/27/2020 05:30 PM
America/New_York
Seminar: Lynn Badia, Colorado State University, The Nation As Energy: Imagining Society Through Energy Intensity
Maeder Hall