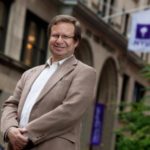 Date: May 17, 2018
Time: 12:30 p.m. - 1:30 p.m.
Location: Maeder Hall
Professor Steven Koonin, of New York University, will speak on the topic of smart cities and urban resilience in a talk entitled "Urban Data" as part of the 2017/2018 Highlight Seminar Series at the Andlinger Center for Energy and the Environment at Princeton University.
ABSTRACT
For the first time in history, more than half of the world's population lives in urban areas; in just a few more decades, the world's population will exceed 9 billion, 70 percent of whom will live in cities. Enabling those cities to deliver services effectively, efficiently, and sustainably while keeping their citizens safe, healthy, prosperous, and well-informed will be among the most important undertakings in this century. I will review how we have established a center for urban science with a focus on bringing informatics to the study and operation of urban systems. I will touch on the rational, the structure, and the substance of the Center's work and the ways in which it will enrich NYC and contribute to global issues. Taxis, lights, phones, and buildings will all enter into the discussion in novel ways.
BIO
Steven E. Koonin has been the director of the Center for Urban Science and Progress since its creation in 2012 by New York University, where he is also a University Professor, a Professor of Information, Operations, and Management Sciences in the Stern School of Business and a Professor of Civil and Urban Engineering in the Tandon School of Engineering. Prior to his current roles, Dr. Koonin served as Undersecretary for Science at the U.S. Department of Energy from 2009, following his confirmation by the U.S. Senate, until 2011. Prior to joining the government, Dr. Koonin spent five years, from 2004 to 2009, as Chief Scientist for BP, p.l.c. From 1975 to 2006, Dr. Koonin was a professor of theoretical physics at Caltech and was the institute's Provost from 1995 to 2004. Dr. Koonin was a director of CERES, Inc., a publicly traded company pursuing genetically enhanced bioenergy crops, from 2012 to 2015 and has been a Director of GP Strategies, a global performance improvement company, since 2016. His memberships include the U.S. National Academy of Sciences, the American Academy of Arts and Sciences, and the Council on Foreign Relations. He is a former member of the Trilateral Commission. He has been a member of the JASON advisory group from 1988 to 2009, and from 2011 to present, and served as the group's chair from 1998 to 2004. He also has served as an independent governor of the Los Alamos and Lawrence Livermore National Security LLCs since 2012 and of the Sandia Corporation from 2016 to 2017 and was a member of the Secretary of Energy's Advisory Board from 2013 to 2016. Dr. Koonin holds a B.S. in Physics from Caltech and a Ph.D. in Theoretical Physics from MIT and has been a Trustee of the Institute for Defense Analyses since 2014.
The 2017/2018 Highlight Seminars Series will be held on Thursdays from 12:30 p.m. – 1:30 p.m. in Maeder Hall at the Andlinger Center. Lunch will be served at 12:00 noon in the auditorium lobby of Maeder Hall.