November 11, 2021
By Molly A. Seltzer
The chair of Denmark's largest energy company told a Princeton audience that his firm's shift from selling oil and gas to wind and other renewable electricity showed that moving to clean energy not only was good for the planet but also good for business.
"It's not a sacrifice, it's an opportunity," said Thomas Thune Andersen, chairman of Ørsted, a Danish energy multinational company that was formerly oil and gas company DONG Energy.
Andersen was the keynote speaker at the Andlinger Center's 2021 Annual Meeting on Wednesday, October 27, which convened corporate leaders and academic researchers to discuss the role of business in thwarting climate change. He detailed Ørsted's transformation from Denmark's largest petrochemical business into the one of the world's most environmentally sustainable companies. Ørsted is among the world's largest offshore wind developers and is moving to be carbon neutral by 2025. The company is a developer of Ocean Wind, a proposed wind farm off the New Jersey coast near Atlantic City.
"It's a mindset. You have to decide to be a renewables company," Andersen said.   
In conversation with Yueh-Lin (Lynn) Loo, former Andlinger Center director and current chief executive officer of the Global Centre for Maritime Decarbonisation, Andersen spoke to the challenges involved in divesting from oil and gas, but said that it created value in the long term. He added that the shareholders and the leadership team were both on board with the shift, which was critical to bringing it to fruition.
Andersen said it was important not just to invest in low-carbon technologies, but to divest from carbon-intensive ones, which allowed Ørsted to specialize, create value, and build long-term momentum. He said that by focusing on project execution, the company was able to bring down the cost of capital for building offshore wind farms and the cost of electricity generated from the farms much more quickly than initially planned.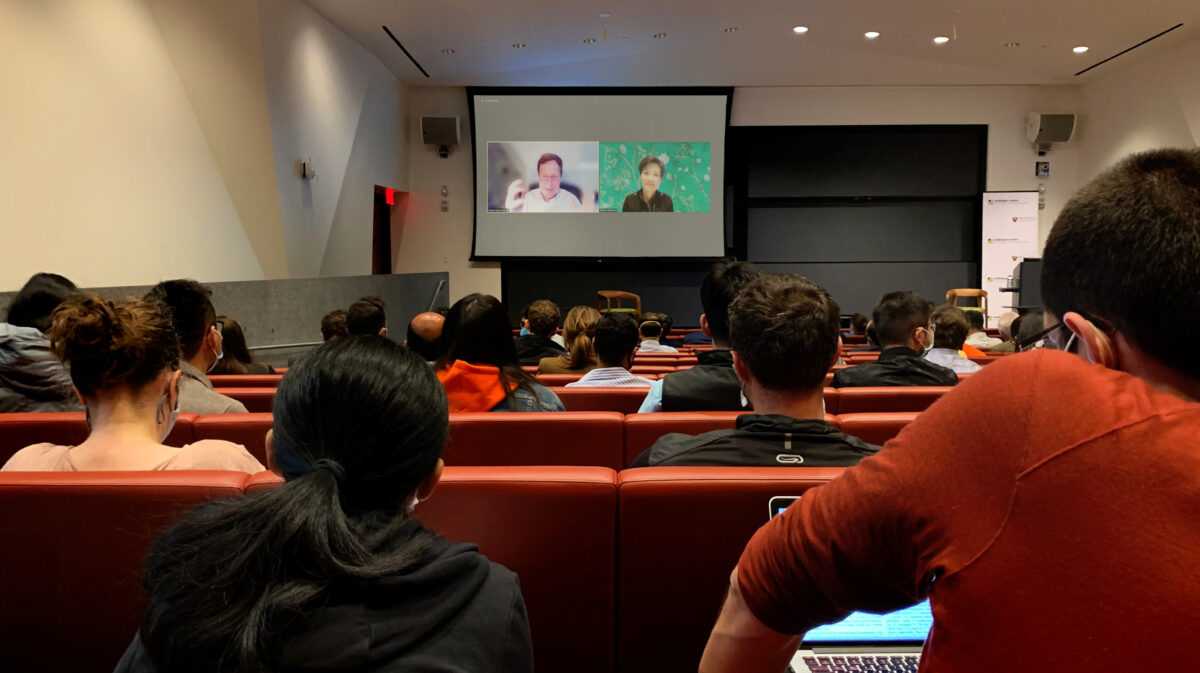 Ørsted was highlighted as an example of what companies could achieve with vision and dedication to transformation. Claire Gmachl, interim director of the Andlinger Center, opened the meeting by noting that companies must play a real, substantive role in delivering a clean energy transition. They need to be engaged from the start in helping to bring it about and sharing best practices, she said.
"Today we are magnifying conversations that are happening in board rooms and research labs all in one space," said Gmachl, who is also the Eugene Higgins Professor of Electrical Engineering.
Gmachl noted that the Andlinger Center strives to bring stakeholders together to develop and implement clean energy solutions, and does so, in part, through E-ffiliates, the corporate membership program that the Center administers, and co-sponsor of the Annual Meeting.
The keynote was followed by a panel discussion about traditional hydrocarbon industries, featuring senior executives from ExxonMobil, Dow Inc., and Occidental Petroleum. An underlying theme was that oil and gas will still be used in the next 10 years for materials, plastics, transportation, and other sectors. The executives spoke about investing in alternative technologies, such as large-scale carbon capture systems and algal biofuels. Dow and Occidental delved into their goals for offsetting all emissions, including from their supply chains, by 2050. ExxonMobil shared its current efforts to reduce emissions and its new focus on deploying low-carbon technologies.
On a panel about technology disrupters, the CEOs from three clean energy and electrification companies spoke about big batteries, climate science, and U.S.-based solar manufacturing. Jane Hunter, CEO of Tritium, a company that designs, manufacturers, and sells fast-charging electric vehicle batteries, said some of the current challenges include long product lead times and supply chain issues, labor constraints, and inflation, but that electric vehicles (EVs) are a definitive part of the energy transition. Hunter said that EVs outnumber hydrogen vehicles 100 to one, and that EVs will make life better in communities all over the globe with better air quality, less noise pollution, and a positive charging experience at public infrastructure, home or at work.
Mark Widmar, CEO of First Solar, said that policy environments and investment timeframes should align with corporate cycles of innovation to accelerate technology development and deployment. He said that electrification is taking hold but there are many linked technologies that need to be invested in and scaled up, such as green hydrogen and electricity storage systems. Brent Alderfer, founder of Community Energy, spoke to other innovations, including attribution science, a field that helps link extreme weather events to climate change, which he called a game changer for corporate responsibility, reinvention, and reinvestment in a net zero carbon economy. He said either companies are going to get on board or they will be left behind by true disruptors, not just companies that are continually innovating, but ones that make the core competencies of traditional industry players irrelevant.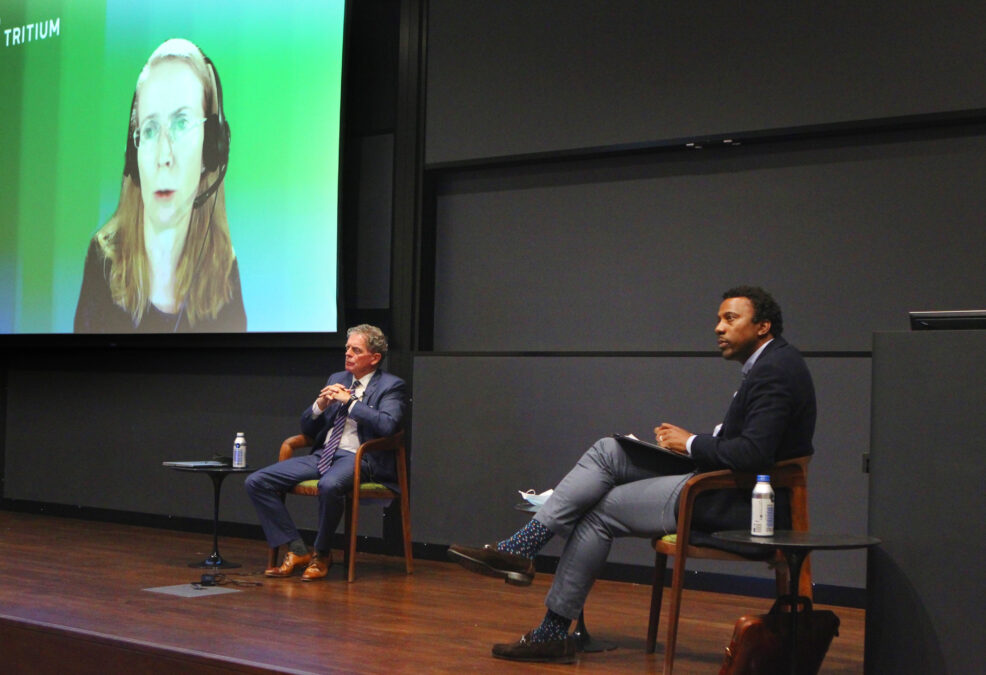 Other panelists called for a step change in the pace of investment. In a panel on facilitators of energy transition, Mercator Partners co-founder and chief investment officer Scott Hobart said capital is not being allocated quickly enough to accelerate clean energy development and construction.
"This is currently holding back solar and wind deployment rates along with critical transmission investments," he said. "It's even more problematic for asset-heavy technologies that are going to be important in years to come, like hydrogen and carbon capture and sequestration."
Chris Ashton, CEO of the project and asset service firm Worley, said senior leadership's dedication is critical to becoming a sustainable company. He said digital tools and standardization must be used to help transform and accelerate project execution.
Scott Corwin, the U.S. lead for sustainability and climate change at Deloitte, said that collaboration within industries was critical to the required systems-level shifts necessary to meet climate goals. He said that individual companies could not independently transform themselves fast enough to achieve climate goals, and that the model for business will have to shift. Corwin said traditional competitors will need to work together to collaborate, share infrastructure, funds, lobbying power, and other resources to move faster than usual on projects aligned with climate goals.
"The question is how to break down traditional barriers to execute these absolutely essential projects," Corwin said.
Deloitte, Community Energy, ExxonMobil, Mercator Partners, and Worley are all members of E-ffiliates. To see all E-ffiliates members and learn more about the program, visit https://acee.princeton.edu/e-ffiliates/.