November 9, 2022
Net-zero requires a rethink of geopolitics, experts say at annual meeting
By Colton Poore
The CEO of an Australian company with the only large-scale rare earths separation facility outside China made it clear in her keynote address that technology alone will not be enough to achieve the clean energy transition.
"Rather more challenging than the technology are the social implications of the energy transition, as energy is one of the critical enablers to improved outcomes for individuals and communities," Amanda Lacaze, CEO of Lynas Rare Earths, told an audience of scientists and industry leaders at Princeton University.
The eleventh annual meeting of the Andlinger Center for Energy and the Environment on October 14 highlighted the critical roles that geopolitics and climate change will play in affecting global supply chains and either assisting or hindering the transition to net-zero.
Lynas Rare Earths is one of only two miners and the only separator of rare earths outside China. Rare earths such as lanthanum and neodymium are critical components of most modern electronics and the technologies needed for the clean energy transition. Over time, rare earths production has become increasingly concentrated in China, but countries are now looking for ways to diversify their supply chains following shifts in the geopolitical landscape.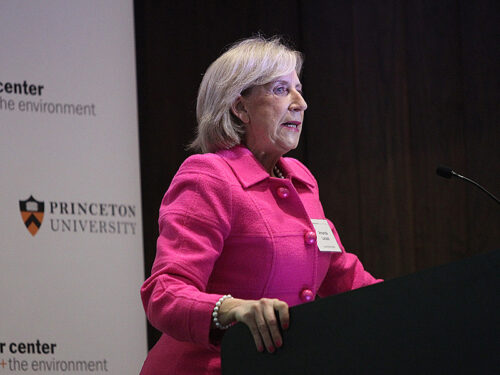 Lacaze charted the trajectory of Lynas Rare Earths and admitted that the road to the company's current success was long and winding. "We survived because we had a world-class resource, low-cost operations, and the support of the Japanese government," she said. Lacaze explained that a patient partnership between Lynas and the Japanese government allowed the company to weather the journey of learning to process rare earths effectively and endure extended periods of low market pricing that put other companies out of business.
Because it established strong partnerships, Lynas Rare Earths is now expanding. The company is building a new processing facility in Kalgoorlie in Western Australia, and it is on track to double its throughput by 2025. But Lacaze offered her company's trajectory as a lesson: if governments want to diversify their supply chains, they need to take a long-term approach to industry development. She argued that governments need to identify opportunities to create critical mass, including co-locating facilities and sharing infrastructure. Governments also need to sustain support until companies become competitive with established market players rather than scatter funding across many different companies and wait for competition to sort out the winners and losers.
"At Lynas, we are confident we have the experience to continue to grow and that will help with supply chain vulnerability in the short term. But developing a larger and more vibrant supply chain will need more than Lynas, and doing that will require governments to be more creative than they are today," she said.
Collaborating for a shared future
Matthew Levinger, research professor of international affairs at The George Washington University, echoed Lacaze's sentiments on long-term partnership-building in a panel on climate change and conflict. "The technological solutions won't work unless we are able to deal with these profound social challenges," he said. Marcus King, Professor of the Practice in Environment and International Affairs at Georgetown University, said that climate change is increasingly catalyzing social instability and necessitates an urgent update to existing geopolitical relationships.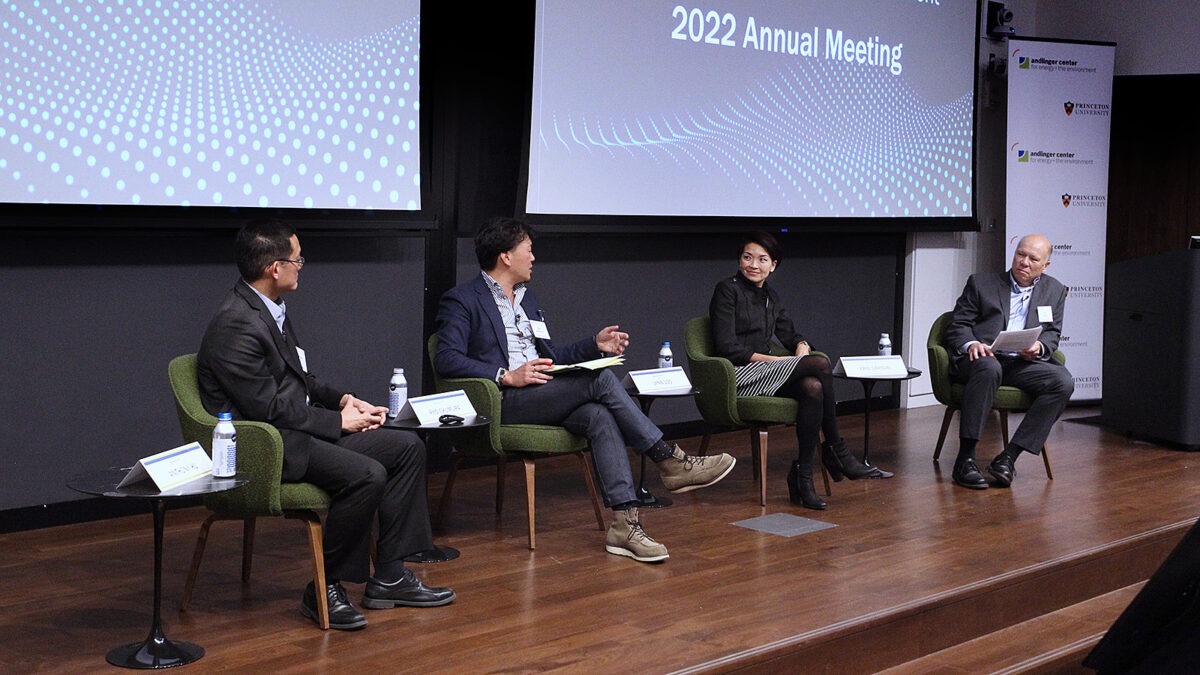 A panel on the future of seaborne trade provided a case study of one industry in which global relationships are key, the maritime shipping industry. Maritime shipping supports about 90% of global trade and is responsible for about 3% of global greenhouse gas emissions, which is more than most countries. "Shipping is kind of in the background," said Yueh-Lin (Lynn) Loo, CEO of the Global Centre for Maritime Decarbonisation and former Andlinger Center director. "But it is integral to the global supply chain."
Decarbonizing shipping will require the production and widespread deployment of low- and zero-carbon fuels. Shipping is also likely to face international challenges associated with risks and liability as countries navigate their energy transitions. To illustrate her point, Loo, who is also the Theodora D. '78 and William H. Walton III '74 Professor in Engineering, highlighted carbon capture and sequestration as an example of an issue requiring international cooperation in which the shipping industry will likely feature as a major player. "Where you capture carbon dioxide and where you sequester carbon dioxide is probably not going to be in the same place," Loo said. "Technical hurdles aside, there are transboundary CO2 handling issues that need to be addressed."
As nations move to address international energy and climate issues, Levinger stressed that they must not lead with competition but instead identify shared goals to create space for international collaboration. "Our approach should be to cooperate where possible and compete where necessary — not the reverse," he said.
Morielle Lotan, CEO and founder of MILE Ventures and Climate180, argued that top-down lessons on collaboration should be replicated from the bottom up. Addressing the startup world, she pointed out that many innovative solutions are currently being lost in the noise of competition. She also offered a challenge to the realm of private capital being deployed for decarbonization. "What if capital was deployed together instead of recreating the classical model of competition that we are used to seeing?" she proposed. "What if we are missing an opportunity as people to come together and really think about collaborative solutions?"
Mobilizing capital and showing up for clean energy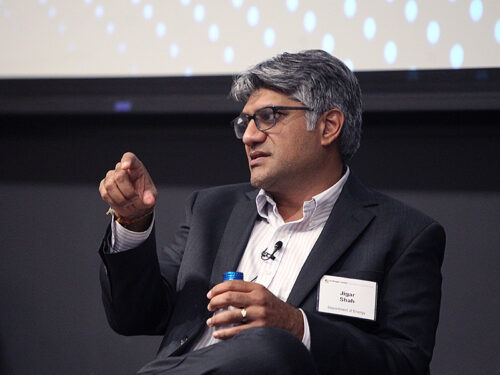 Zooming in from a global context to United States policy, the afternoon keynote discussion between Jigar Shah, director of the U.S. Department of Energy Loan Programs Office, which works to mobilize capital for clean energy, manufacturing, transportation, and tribal energy projects, and Jesse Jenkins, assistant professor of mechanical and aerospace engineering and the Andlinger Center for Energy and the Environment, identified new domestic opportunities that provide hope for the transition to net-zero.
"I think for the first time in a long time folks are optimistic, which is good," Shah said, referencing the passage of recent legislation such as the Inflation Reduction Act that provides new financial tools to encourage clean energy development.
Even with new resources becoming available, Shah acknowledged that net-zero will challenge institutions to make conscious changes to their supply chain and organizational infrastructure to meet clean energy targets. He commended the research that Princeton did on the Net-Zero America study, which provides a blueprint for multiple pathways to decarbonization in the U.S., but he maintained that clean energy projects still need significant buy-in from organizations and individuals to come to fruition.
"I do think that in this country we have somehow been lulled to sleep through this notion that there's some sort of spreadsheet math equation, and when you move the bar this way, then stuff just happens," Shah said. "But there has to be someone who wants a project. If the private sector doesn't show up, then all the government enablement in the world falls flat."
In responding to Shah's challenge to the private sector, speakers on a panel about mobilizing capital and deploying infrastructure on a global scale said that clean energy developers and investors need creative approaches to de-risk and streamline clean energy projects.
Sri Sekar, Deloitte's climate finance lead for international development, said that "the big development finance institutions have no problem making the commitments. The problem is actually getting the climate funds to productive use."
Panelists suggested that financial institutions need new mechanisms by which to disburse climate funds more effectively and that more cooperation is needed on clean energy projects to actualize them at a pace and scale that is sufficient to meet current targets.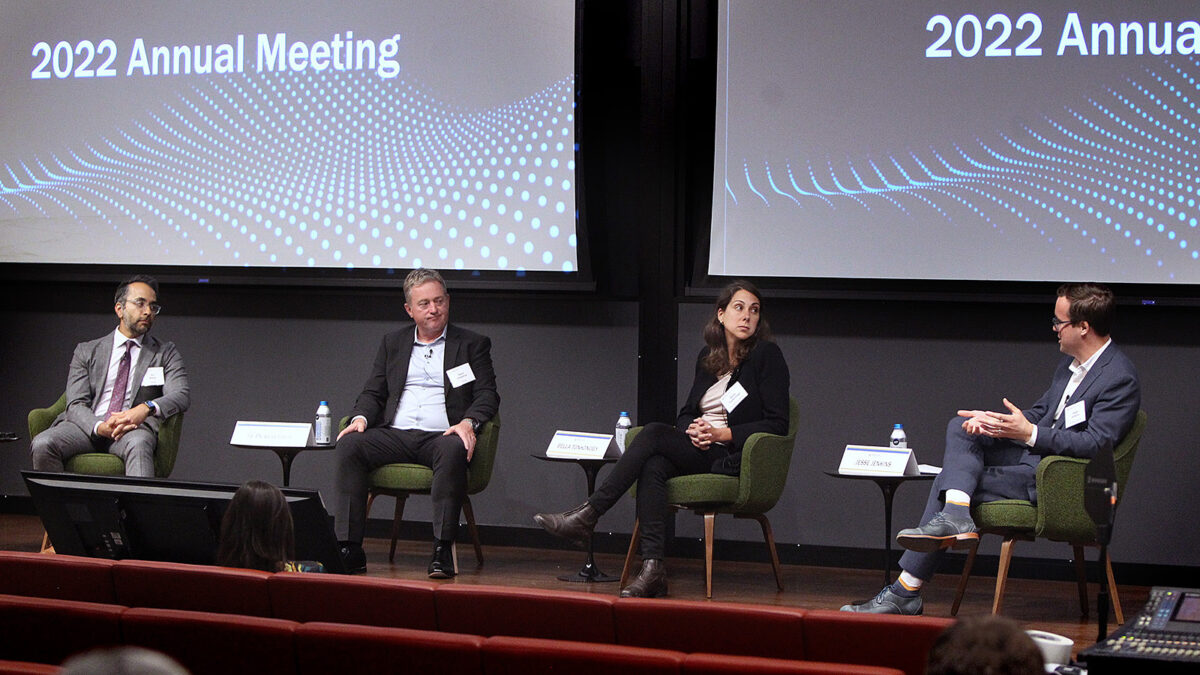 Sean Kelleher, senior group director of Finance America's at Worley, outlined the challenge facing Australia, a major energy exporter, over the next 30 years. In a few short decades, he said that Australia needs to replicate the entire world's renewable energy fleet, which took 100 years to develop, to meet its pledge to get to net-zero by 2050 and decarbonize its fossil fuel exports. "In many of these situations, you can't do this on a discrete project-by-project basis," he said. Instead, he argued that a large-scale, programmatic approach is necessary if the public and private sectors want to honor their carbon pledges.
Bella Tonkonogy, the U.S. director of Climate Policy Initiative, pointed out existing programs like Scaling Solar through the World Bank Group that help nations streamline the process of developing large-scale, low-cost solar projects, and she suggested that others might learn from their model. "We are at a place where incremental improvements year on year are no longer sufficient," said Tonkonogy. "We need to be making step changes in investments."
That sense of urgency for the energy transition permeated the day's discussions, as was the growing need to build patient international collaboration. "We need everybody involved in the energy transition. Industry can't do it alone. Academia can't do it alone. Governments and nonprofits can't do it alone. We need to partner," said Andrea Goldsmith, dean of engineering and the Arthur LeGrand Doty Professor of Electrical and Computer Engineering, in her remarks for the day. "We need to change business as usual."
Deloitte and Worley are members of E-ffiliates, a program that brings together Princeton researchers with industry partners to develop solutions to contemporary energy and environmental challenges.
Watch a recap of the keynote talks and panel discussions on the annual meeting videos page.