September 27, 2021
By Engineering Communications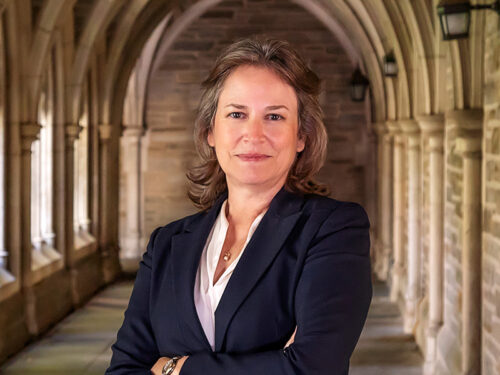 Emily Carter, former dean of engineering and an eminent researcher in a wide range of science and engineering fields related to sustainability, will return to the Princeton University faculty effective Dec. 10.
Carter, who served from 2019 to now as executive vice chancellor and provost of the University of California, Los Angeles, had been a Princeton faculty member for 15 years and will return as the Gerhard R. Andlinger '52 Professor in Energy and the Environment and Professor of Mechanical and Aerospace Engineering and the Andlinger Center for Energy and the Environment. She also will serve in a newly created role of senior strategic advisor for sustainability science at the Princeton Plasma Physics Laboratory (PPPL), a U.S. Department of Energy national laboratory at Princeton.
Carter said her return to Princeton reflects her decision to focus fully on helping solve problems of climate change and environmental sustainability. Before becoming dean of engineering in 2016, Carter was the founding director of Princeton's Andlinger Center for Energy and the Environment, now one of the world's leading centers for energy technology research and energy systems analysis.
"In the last year, it has become clearer to me than ever that we have a small window of opportunity to make a difference on averting the worst effects of climate change," Carter said. "Climate change has only accelerated. In California we have witnessed some of the worst wildfires in history. I have been horrified, and feel the need to return fulltime to advancing the science, engineering and policy we need to protect our planet and humanity."
Dean of Engineering Andrea Goldsmith said she is thrilled to welcome Carter back to Princeton and its engineering faculty. "Emily Carter is a pre-eminent researcher and leader with incredible vision and impact," Goldsmith said. "Even while serving in major leadership roles at Princeton and UCLA, Emily maintained a world-class research group advancing knowledge in the critical area of sustainable energy. She brings her knowledge, experience and leadership in climate and sustainability back to Princeton at a time of major growth in those research areas across the University, which will help ensure Princeton continues to lead in knowledge creation and impact in these areas."
Carter also will bring her expertise to PPPL, a national center for research on harnessing nuclear fusion as a near-limitless source of clean energy and related areas of advanced science and technology.
"Emily Carter is an international leader in sustainability science, from carbon utilization to renewable energy to fusion. I am absolutely delighted that Emily has agreed to help the Laboratory contribute to these critical priorities of U.S. Energy Secretary Jennifer Granholm," said Steve Cowley, PPPL director.
Carter's role at PPPL builds on previous experience advising national labs. She has been a member of the advisory board of the Lawrence Berkeley National Laboratory for the past five years, and previously served on the Scientific Policy Committee of the SLAC National Accelerator Laboratory.
Her work in theoretical chemistry and applied mathematics has bridged fundamental science and practical applications. Her research spans the fields of chemistry, physics, applied mathematics and engineering and has included creating quantum mechanical tools for understanding and analyzing the behaviors of large numbers of atoms and electrons in materials. This highly influential work led in recent years to Carter's research on the discovery and design of materials for generating clean electricity from sunlight and from fuel cells; making fuels and chemicals catalytically from carbon dioxide, water, air, and excess renewable energy; and investigating lightweight metal alloys for fuel-efficient vehicles and fusion reactor walls. A sought-after public speaker on sustainable energy, she is the author of more than 400 publications and has delivered more than 500 invited and plenary lectures worldwide.
Carter is the recipient of numerous honors, including election to the National Academy of Sciences, the American Academy of Arts and Sciences and the National Academy of Engineering. She is also the recipient of several major prizes, including the 2017 Irving Langmuir Prize in Chemical Physics from the American Physical Society and the 2018 Award in Theoretical Chemistry from the American Chemical Society.