August 8, 2023
Gerhard R. Andlinger Visiting Fellow to triangulate water research, policy, and practice
By Colton Poore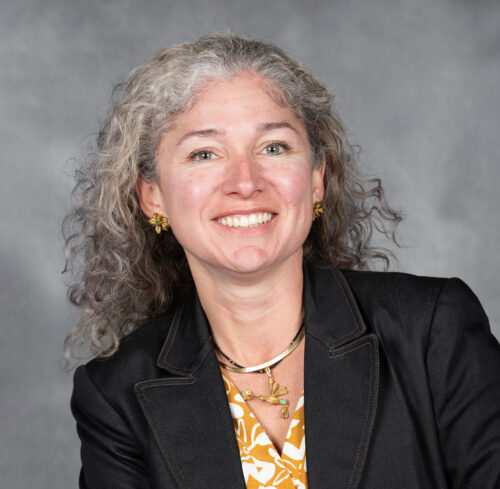 Working to connect researchers, policymakers, and practitioners to develop integrated solutions for decarbonizing the water sector and cleaning up pollutants, Angela Fasnacht has joined the Andlinger Center for Energy and the Environment as a Gerhard R. Andlinger Visiting Fellow.
As a visiting fellow, Fasnacht will leverage her experience and connections in the water utilities sector to advance holistic approaches for decarbonizing the water sector and mitigating the impacts of pollutants such as PFAS (per- and polyfluoroalkyl substances).
Fasnacht brings 26 years of experience working in water utilities across the U.S., Latin America, and East Africa. She has worked at organizations ranging from grassroots nonprofits to large corporations, in roles that span facilities design and operations, research and innovation, organizational success and efficiency, and executive membership.
"My background will offer a bit of a reality check," Fasnacht said. "The experience I have as a practitioner allows me to ensure that the research solutions being developed are practical, economical, and sustainable."
During her fellowship at Princeton, Fasnacht plans to develop and offer a course on decarbonization in the water sector that bridges the gap between researchers, operators, and policymakers. In the course, Fasnacht will work with graduate students to construct a comprehensive database of global policy solutions that are in place regarding decarbonization in the water sector. By understanding policies currently in effect worldwide, Fasnacht said students will identify which policies have been effective and where there is still room for improvement.
"In my experience working in the water sector, I've seen that most of the work being done is targeted to operators or engineers," Fasnacht said. "We have to be more diverse in the ways that we engage with the sector. We need to engage policymakers and regulators, because they're the ones that might be championing and enforcing important policies. And we need to engage with students, who represent the next generation of the workforce that will be solving these challenges."
In addition to the challenge of decarbonizing the water sector, Fasnacht will work closely with her faculty host, Peter Jaffé, the William L. Knapp '47 Professor of Civil Engineering, to develop a more holistic approach to understanding and managing PFAS. Sometimes referred to as "forever chemicals" for their long lifespan and for being difficult to remove from soil and groundwater sources, removing or degrading PFAS has emerged as a focal point of numerous research efforts. In light of recent action from the U.S. Environmental Protection Agency to address the contaminants, Fasnacht will work with Jaffé to organize a PFAS summit at Princeton to identify current research priorities.
Beyond what she plans to bring to the Andlinger Center, Fasnacht said the fellowship will give her a fresh perspective on the water sector. She plans to use her time at Princeton to find ways of thinking outside the box in order to address the challenge of cleaning up the world of water utilities.
"This fellowship program offers a wonderful opportunity to take a step back and identify long-term priorities in the water sector, which is difficult to do as a practitioner caught up in the day-to-day duties of operating a facility," Fasnacht said. "I'll have the opportunity to work hand-in-hand with Princeton faculty and students to explore various solutions to important challenges in the sector, and then I'll be able to triangulate what I learn here with my own years of experience as a professional in the field."