December 9, 2021
By The Office of Engineering Communications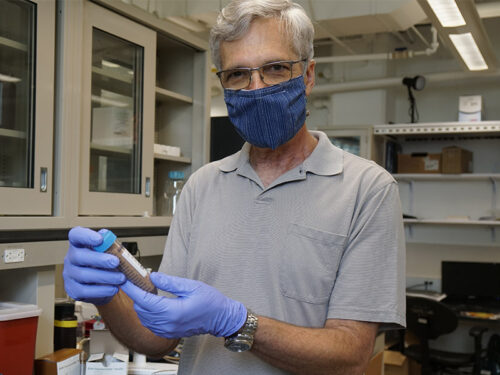 Professor Peter Jaffé told a joint hearing of the U.S. House of Representatives on Tuesday that the federal government could provide key assistance and guidance for scientists and policymakers seeking to better understand a class of environmental contaminants has become known as "forever chemicals."
Jaffé, the William L. Knapp '47 Professor of Civil Engineering, is an expert in the large group of chemicals classified as PFAS, or per- and polyfluoroalkyl substances. The chemicals, widely used by industry, earned the name forever chemicals because they break down very slowly. The U.S. Environmental Protection Agency has found the chemicals are present in the blood of people around the world and are also found at low levels in food.
In recent years, Jaffé's research team has examined ways to mitigate PFAS contamination and to remove the chemical from groundwater and the environment.
Two House committees, the Subcommittee on the Environment and the Subcommittee on Research and Technology, held a joint hearing on Dec. 7 to seek information that could lead to possible regulation of the chemicals and new methods for dealing with their presence in the environment. Besides Jaffé, witnesses, who testified online, included experts from Harvard, the State of Michigan, and the Battelle Memorial Institute.
In his testimony, Jaffé told members that the federal government should supply critically needed direction to efforts to better understand the chemicals and their effect on people and the environment.
"The large number of PFAS and the wide range of properties provide a unique challenge for conducting research on PFAS and regulating them," said Jaffé, who also serves on the faculty of Princeton's Andlinger Center for Energy and the Environment and the High Meadows Environmental Institute.
Jaffé said the expense and difficulty of analyzing the chemicals could be addressed through greater funding of research as well as the creation of dedicated government efforts to research the chemicals. He said a better understanding of PFAS's interaction with the environment would help mitigation efforts. He also said research should focus on better understanding groups of the chemicals rather than focusing on their multitude of individual forms, which science estimates at over 4,700. Jaffé suggested that the government create a database of the chemicals available to researchers.
Once scientists better understand the chemicals, policymakers can make regulatory judgments based both on the prevalence of the chemicals in the environment and the health risks they may pose, Jaffé said.
A full version of the hearing can be viewed on the House website at: https://science.house.gov/hearings/forever-chemicals-research-and-development-for-addressing-the-pfas-problem