August 5, 2021
By Molly A. Seltzer
Two graduate students have been awarded the Maeder Graduate Fellowship in Energy and the Environment for innovations to improve buildings and other infrastructure. Karina Alventosa seeks to overcome technical hurdles preventing the widespread adoption of environmentally-friendly cement alternatives, and Tianran Liu aims to build a cheap and stable solar cell that is transparent enough to be used for window-integrated applications. With broad deployment, both technologies have the potential to make buildings, which are a significant producer of greenhouse gas emissions, more efficient and disrupt the building sector at large.
A new vision for a building basic: cement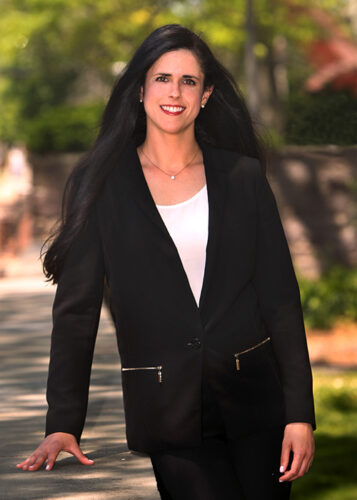 Concrete is responsible for eight percent of carbon emissions globally and is the most-used material globally besides water. Cement powder, called Ordinary Portland Cement (OPC) powder, is the primary ingredient in concrete and involves an energy-intensive process of mining limestone and then heating it to very high temperatures to create. Because so much is made each year, around 4.1 gigaton of cement powder, cement and concrete contribute an outsized amount of carbon emissions. Claire White, associate professor of civil and environmental engineering and the Andlinger Center for Energy and the Environment, runs the sustainable cements group at Princeton. A graduate student in White's group, Alventosa is working to improve an alternative type of concrete made with metakaolin, a heated product of kaolin clay. Kaolin clay, traditionally used to make porcelain, is commonly available and not difficult to mine. The alternative formula cuts emissions from concrete between 50-70%, depending on the method used to produce it.
Alventosa, who worked as a structural engineer prior to pursuing a Ph.D., said researchers need to resolve technical challenges to pave the way for the material's adoption. Alventosa said a similar concrete technology to the heated clay has already been demonstrated in buildings, sidewalks and other construction projects around the world. The material hasn't been widely accepted though, in part, because the construction industry has historically been resistant to change, she noted. To combat the construction industry's reticence to use new products,  Alventosa's work focuses on improving the performance of the concrete in high-temperature conditions like those experienced in intense wildfires. Alventosa is assessing the feasibility of decreasing the pH, set time, and water usage of the concrete to make it behave more like OPC concrete during its placement. She is also augmenting the ingredients to further improve its ability to resist degradation when exposed to high temperatures. She hopes that her research will demonstrate that new types of sustainable concrete can be developed, and that with her knowledge of the industry, she can bridge the gap between university research and practical concrete applications. She will focus on continuing to explore these challenges with the fellowship.
"Sustainable cements are the future and this fellowship will provide me with a unique opportunity to focus on increasing the resiliency of the alkali-activated metakaolin microstructure at high temperatures," Alventosa said. "I'm really grateful for the Andlinger Center. It's been a sustainability oasis for me at Princeton."
Striving for stable, large-area and transparent solar cells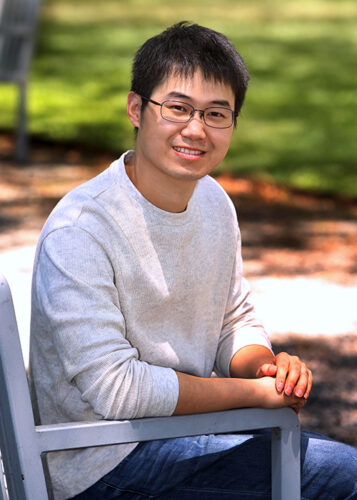 Transparent solar cells allow the passage of visible light while harvesting enough energy to adjust window shading to help control the amount of heat and light entering a building. Tianran Liu is working to develop highly transparent and colorless solar cells based on a new material system, inorganic perovskites, a crystalline material typically made of metal halides.
Liu is a graduate student in Lynn Loo's research group. Loo is the Theodora D. '78 & William H. Walton III '74 Professor in Engineering and a professor of chemical and biological engineering.
The inorganic solar cells Liu is studying hold promise because they are inexpensive, easy to make, suitable for large-area production and avoid some limitations associated with the organic solar cells, which were previously proposed for power-window applications. The fragile organic system degrades during manufacturing and in operation. This new robust system would allow for high-yield production and stable operation, which makes it more commercially attractive. Liu said the Maeder Fellowship will allow him to address some of the challenges associated with the inorganic perovskite cells, including how to increase the solar cell voltage output. One of the most interesting features of the inorganic solar cell Liu is working on is controlling the level of transparency. Liu said the inorganic solar cell he has created is more transparent than any solar cell created to date, and therefore, will not impact the aesthetics of a building. He said he is excited to further explore the potential transparent solar cells, and to make bigger solar cells that can cover the area of full windows.
Most other solar cells, like commonly available silicon ones, are not transparent; they absorb light in the visible region of the solar spectrum. Since the newly developed solar cells only utilize UV light to produce electricity and not visible or infrared light, the solar cells are able to maintain transparency and color neutrality, and keep the clear look of the glass on which they are placed, which is important for maintaining the aesthetic of glass buildings. Liu hopes that the technology could reduce the amount of energy that buildings need to operate, and help provide some power to support the operational loads.
"Especially for skyscrapers that have a lot of windows, it will be interesting to learn if marrying  those transparent solar cells with electrochromic windows substantially offsets the building's energy use by dynamically controlling the amount of sunlight coming into the building," said Liu.
Liu said this work meets all criteria of an ideal UV-absorbing transparent solar cell, including high transparency, color-neutrality, operational stability, scalable production and sufficient power output for a given application.
The Paul A. Maeder '75 Fund for Innovation in Energy and the Environment supports the Maeder Fellowship, awarded to one or two graduates each year who demonstrate potential to develop technical solutions to sustain our energy and environmental future. The Andlinger Center for Energy and the Environment administers the fund and fellowship. More information on the program and past recipients can be found here.