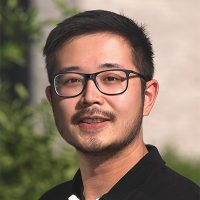 Date: July 15, 2021
Time: 11:00 a.m. - 12:00 p.m.
Location: Virtual over Zoom
Sunxiang Zheng
Harvesting Natural Energy for Water Vaporization: A New Route Towards Sustainable Desalination
Thursday, July 15, 2021
Bio
Sean Zheng's research focuses on developing novel nanomaterials and technologies for energy-efficient carbon capture and mineralization, collaborating with Prof. Z. Jason Ren and Prof. Claire White. Zheng received his PhD degree in Environmental Engineering in 2020 from University of California, Berkeley. Before that, he obtained his B.S. degree from Zhejiang University of Technology (China) in 2013, and M.S. degree in 2015 from University of Maryland, College Park.
Abstract
As available fresh water resources continue to decline, alternative water sources will become a critical component of sustainable water systems. Centralized desalination facilities using thermal or membrane-based technologies have emerged as an important strategy to mitigate water stress worldwide, but high energy demand and complex infrastructure limit their implementation in rural areas and underdeveloped regions.
Natural evapotranspiration is the largest desalination mechanism in the global water cycle. Inspired by this, we have developed new desalination methods powered by natural energy (e.g. solar, wind). This talk will provide an overview of this emerging technique and introduce a continuous desalination process using natural wood-derived materials. Taking advantage of the water lifting capability of wood xylems, we designed a tall "engineered tree" that draws from multiple environmental energy sources including solar, wind, or ambient heat in the air to produce fresh water at a rate of 4.8 to 14 liters m-2 h-1. Although drought-stricken regions without safe or stable water sources are prime candidates for this device, its use of ambient energy sources could make it attractive to small communities or commercial buildings in developed areas, and it would also be beneficial for off-grid homes and emergency preparedness.
About the New Light Series
New Light: Rising Stars in Energy and the Environment is a summer webinar series to spotlight associate research scholars, postdoctoral research fellows, and other early-career researchers affiliated with the Andlinger Center for Energy and the Environment. Weekly webinars feature a diverse range of researchers working on cutting-edge topics across disciplines who seek to solve society's most pressing problems in energy and the environment. View the full line-up.