New Light: Rising Stars in Energy and the Environment spotlights a diverse selection of researchers across disciplines working on cutting-edge approaches to solve society's most pressing problems in energy and the environment. This year, two hybrid seminars will be held in Maeder 103, with two speakers giving 20-minute presentations on each date.
Wednesday, July 13
12:00 p.m. – 1:30 p.m.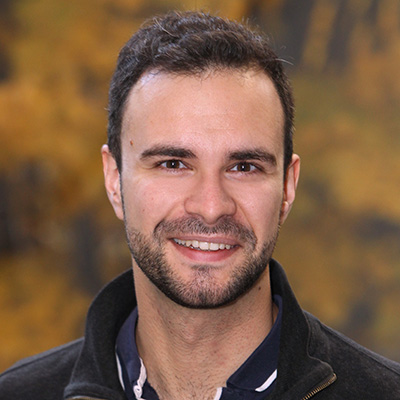 Fernando Temprano-Coleto
Many of our most pressing environmental problems are critically mediated by transport processes. A quantitative understanding of mass, charge, momentum and energy transport, usually manifested through various competing mechanisms, is therefore critical in the effective design of viable technological solutions. I will discuss three specific applications in which transport plays a key role: (1) carbon capture in liquid-infused micro-textures, (2) the sustainable extraction of minerals (such as Lithium) using differential evaporation, and (3) water remediation through the manipulation of suspended solids with concentration gradients (an effect known as diffusiophoresis). A combination of theory and model experiments is used to discern which specific mechanisms (convection, reaction, diffusion, electromigration…) are dominant in each of these cases. This leads to quantitative predictions that widen our fundamental understanding of the natural world, also bridging the gap with the real-world applications that our society needs to preserve the environment.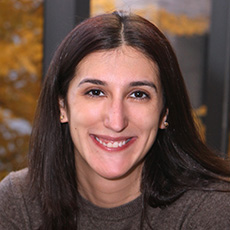 Holly Caggiano
The social dimensions of a renewable energy transition in the United States are a subject of rapidly progressing research that explores mechanisms driving both individual and collective actions necessary to build momentum for change. Despite these efforts, sociopolitical barriers to large-scale energy infrastructure deployment persist as a major obstacle to reaching national emissions goals. Even as polls find overwhelming public support for renewable energy technology across the US, individual projects are often contested within communities, necessitating coordination between diverse groups of actors with different goals and values. This talk will introduce preliminary findings from case-study research on large-scale solar PV development, exploring both individual preferences and shared narratives that influence decision making about local and state-level energy systems change. This research effort explores opportunities for creative models of stakeholder engagement and community participation in energy systems change that prioritize procedural and distributional justice.
Wednesday, July 20
12:00 p.m. – 1:30 p.m.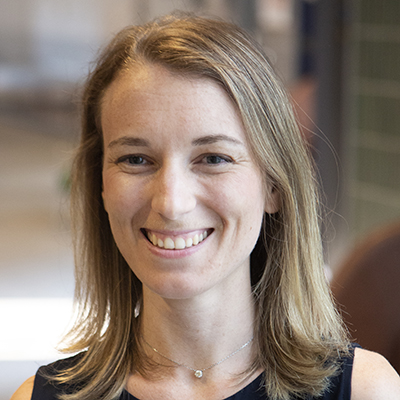 Julie Euvrard
With the goal of reducing solar energy costs further, new materials such as organic semiconductors are considered as a replacement for silicon. In this presentation, we will explore some fundamental properties of organic semiconductors that determine solar cell efficiency. Indeed, efficiency gains cannot be achieved without an in depth understanding of the underlying physics, the key to fine tweaking and optimization. In particular, we will determine how molecular arrangement, determined by "order" and "packing", impacts the fate of charge transport. How ordered your desk is may influence how efficiently you work, and your state of mind. More importantly, however, is the way that folders are arranged (packed) on a desktop: files from the same projects are best placed together. The same idea holds true for organic semiconductors. Crystallinity (order) is an important lever to improve the efficiency of charge carriers traveling in the material, yet the way molecules pack in the crystalline phase is more important. We observe that, by tuning order and packing in organic semiconductors, the transport mechanism gradually evolves between two cases. Our results therefore provide guidelines for the design of new and efficient organic solar materials.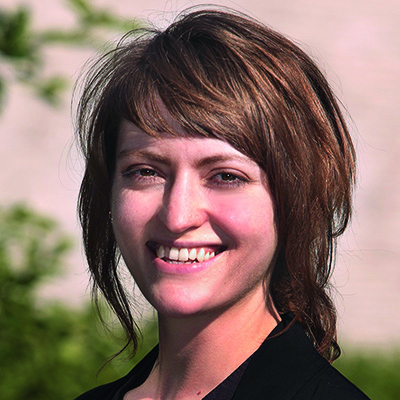 Allyson McGaughey
The recovery and reuse of freshwater and other valuable resources from waste streams is increasingly urgent as we seek to achieve a sustainable, circular water economy. While membrane separation processes have enabled energy-efficient separations for many applications, membrane fouling has hindered water and resource recovery – especially from challenging, high-concentration wastewaters. Recently, polymer brush materials have emerged as an attractive option to achieve ultra-high fouling resistance with ultra-thin, durable surface layers. However, current brush fabrication methods are complex and oxygen-sensitive, with limited potential for commercial scale-up. In this presentation, we demonstrate scalable fabrication of fouling-resistant polymer brushes on membrane substrates for the first time. We systematically investigate the relationships between fabrication methods, material properties, and performance. Our results provide new, fundamental understanding of material design to enable water and resource recovery from more and more challenging waste streams.