April 22, 2021
By Molly A. Seltzer
This Earth Day we are unearthing some of our best stories from the last year, from understanding the Texas Freeze to learning how to fight the pandemic and climate change simultaneously. The works represent a sampling of research results, forthcoming research and the wonderful scholars in our community.
We hope you are inspired this Earth Day as we are each and every day to get involved and help develop and deploy energy and environmental solutions. To keep up with the latest research and stay connected, join our newsletter. Also, follow us on Twitter and Facebook.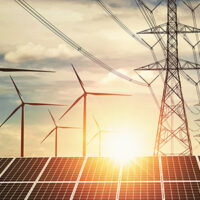 1. With a massive, nationwide effort the United States could reach net-zero emissions of greenhouse gases by 2050 using existing technology and at costs aligned with historical spending on energy, according to a recent study led by Princeton University researchers. The Net-Zero America transition scenarios aim to inform U.S. policy and investment decisions around achieving net-zero emissions by 2050 and provides guidance at a highly granular level to move pledges to concrete action.
2. A clean slate and a breath of fresh air have long been known as keys to rejuvenation, but no one would expect them to help solar farms. According to a new study, cleaning solar panels in heavily polluted regions and improving overall air quality increases solar photovoltaic (PV) electricity generation. The research by Denise Mauzerall, Charles Xiaoyuan Li, and Mike Bergin investigates how particulate matter in the atmosphere or deposited onto the solar panels reduces the panels' efficiency, and how regular cleaning and air quality improvements can ensure they are producing more energy more consistently.
3. In a study published in a special COVID-19 edition of the journal Applied Energy, researchers led by Forrest Meggers showed how their upgraded radiant cooling system could enable significantly more fresh air in buildings while substantially decreasing energy costs.
4. Paul Chirik discovers a new molecule and process for chemically recycling plastics, and recovering the original molecules, similar to getting back ingredients after baking a cake. In this Q&A, he comments on what challenges are left to refine the chemical process and how it could help manage carbon around the world.
5. The nation set its gaze on Texas as the winter-battered state recovers from the widespread effects of freezing temperatures. Jesse Jenkins explains the confluence of factors contributing to the extreme energy system failures and potential measures to prevent an emergency of greater magnitude in the future.
6. Two projects were awarded funds for Innovative Research in Energy and the Environment, granted each year by the Andlinger Center. One investigates how to build more resilient cities and infrastructure to combat the effects of future pandemics and other shocks. The cutting-edge research evaluates how people have changed their behavior during the pandemic, where the gaps are in public services during crises, and what cities have learned around the world. The other aims to understand how to design offshore wind farms for maximum power output. The Biden administration has put forth plans for building up the East Coast of the United States with offshore wind, and this research lays the groundwork for designing farms that not just rely on single turbine capacity for high outputs but also rely on well-designed layouts for optimizing wind farm performance and reducing the effect of turbine wake on other turbines nearby.
7. Our newest Distinguished Postdoctoral Fellow, Sunxiang (Sean) Zheng, works with Claire White and Z. Jason Ren on a system to capture carbon dioxide from industrial plants and convert it into carbon monoxide, a base component of syngas, metals and a variety of acids and alcohols. Capturing carbon dioxide at power plants typically requires highly corrosive solvents, and most methods demand large energy expenditures to isolate and store the carbon; in power plants, for example, carbon capture requires 20-30% of the plants' total energy output. Zheng will work to synthesize a new membrane to capture carbon dioxide and make the gas more easily convertible into carbonate minerals or hydrocarbons that can be used as fuel sources. Carbon capture has been proposed as a key way to prevent carbon from entering the atmosphere and mitigating further global warming.
8. In a panel during the virtual Princeton University Reunions, experts Elke Weber, Jesse Jenkins, Bob Keohane, and Rob Socolow chimed in on the parallels between the climate change and coronavirus crises, and how the two converge and diverge. Among the highlights are the effects on the economy and public health, the global and intergenerational features, the effects on inequality, and the role of science in policy responses.
9. Barry Rand and a team of researchers have significantly improved the material's stability and performance by better managing the heat generated by the perovskite LEDs.
10. Making the latest climate science accessible to mayors, planners, and local officials is the only way coasts will be able to prepare for sea level rise and other impacts of climate change, said experts at the 2020 annual retreat of Princeton E-ffiliates Partnership (E-ffiliates).  In discussion with nearly two hundred researchers, students, and companies, one panelist said that climate experts need to make actionable data available to local leaders so they can develop strategies on how best to deploy their limited resources most effectively. The day's discussion focused on using adaptation measures like green infrastructure and new zoning laws to help coastal communities increase their resilience to long-term challenges like sea level rise even as they rebuild from today's extreme weather.