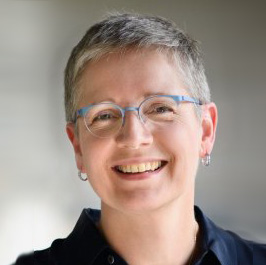 Claire F. Gmachl
"This past year saw exceptional growth in external partners, connecting our students and researchers to real-world problems they are hungry to solve."
Since August 2021, I have been privileged to lead the Andlinger Center as interim director. This has been a year of unprecedented disasters: record heat waves, wildfires, extreme drought, and historic floods that punctuate the massive changes in earth's climate caused by increased atmospheric greenhouse gases.
On top of this is a persistent energy crisis in Europe, the war in Ukraine, and supply chain issues reverberating from the COVID-19 pandemic. We are an institution pledged to solving some of the world's most pressing—and often intertwined—energy and environmental problems, and the stakes have never been higher. Three areas of work put the Andlinger Center in a special position to offer solutions.
First, our researchers are tackling fundamental questions to improve humanity's relationship with the environment. The faculty find synergies, with each other and with external partners, identifying solutions to aid in the global energy transition. Befitting the multi-dimensional nature of these questions, their research spans all scales, from the microbial realm, where José Avalos designs sustainable approaches to biofuels and chemicals, to energy systems, where Jesse Jenkins models technological pathways towards emissions goals, to the societal level, where Elke Weber identifies policy directions to address climate change. As we build on our strengths, we have also grown our cross-disciplinary impact with the addition to our faculty of Kelsey Hatzell, an expert in energy storage materials. And our research funding programs continue to support innovative collaboration through co-mentored distinguished postdoctoral fellows, and grants to inter-disciplinary research teams exploring new materials for energy storage, carbon capture, and sustainable electronics.
This past year saw exceptional growth in external partners, connecting our students and researchers to real-world problems they are hungry to solve. Princeton E-ffiliates Partnership (E-ffiliates) has been growing steadily and strategically. We targeted key areas that diversify E-ffiliates, strengthen our collaborative research, and ensure our perspective and knowledge base is robust. We deliberately expanded membership from the financial sector, and we increased opportunities for cooperation between members, academics, and other stakeholders in addressing global energy challenges. This strong engagement of practitioners is invaluable; it underscores the vibrancy of the Center and the relevance of its work.
Since its inception, the Center has built a powerful network of educational and career development paths focused on energy and environment. With increasing interest, undergraduate students are enrolling in certificates programs and participating in weeks-long summer internships. Working alongside graduate students and postdocs, they are also showcasing their award-winning research at conferences, then transitioning to top companies and institutions after graduation, like Sydney Hughes, recipient of our Senior Thesis Prize, now a Princeton Sachs Global Fellow at the Technical University of Munich.
The Andlinger Center is playing a pivotal role, on campus and globally, in finding solutions to society's most complicated problems. I am proud of our staff and faculty for their creativity, resilience, and determination, which has us poised for even greater future impact.
Claire F. Gmachl
Interim Director of the Andlinger Center for Energy and the Environment
Eugene Higgins Professor of Electrical Engineering
Head of Whitman College